Agencies
Trekking Agencies
Nepal Hiking Team
Nepal Hiking Team (NHT) have proudly been helping fellow travelers from all parts of the world since 2009.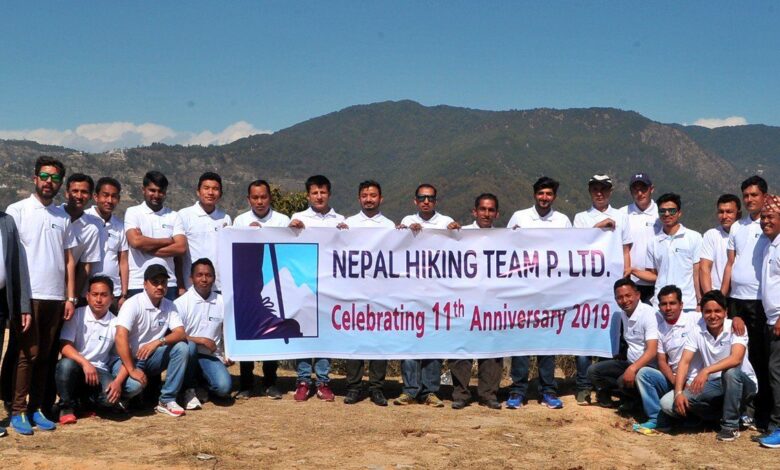 Based in Kathmandu, Nepal, Nepal Hiking Team offers a wide range of journeys from cultural tours and gentle trekking to strenuous expeditions. By focusing on these beautiful and diverse countries, we are able to organize our trips to deliver the best possible service.
Nepal Hiking Team is a tour and trekking company established by Guides and Porters entrepreneur. All helpful members of staff of Nepal Hiking Team have many years of tour, trekking and mountaineering experience. Most of our team members grew up living with the Himalayas and they wish to share its natural beauty and culture with other guests.
We are striving to instil respect for these sacred mountain ranges, while helping to preserve their historic surroundings, people and culture. Our company has been registered with Nepal Government as a recognized leading trekking company and is a member of TAAN (Trekking Agencies Association), KEEP (Kathmandu Environment Educational Program), Village Tourism Promotion Forum Nepal (VITOF-Nepal), Nepal Tourism Board (NTB), NMA (Nepal Mountaineering Association), Pacific Asia Travel Association (PATA), etc. We have a good infrastructure and a competent team to support any or most of the leisure and adventure activities in Nepal.
We take pride in our biggest asset: that is our staff of happy porters, talented support crew, and expert trek leaders and tour operators. With this team we are able to support any or most of the leisure and adventure activities in Nepal, Tibet, India, and Bhutan. We provide the utmost care for every aspect of your trip, from altitude connected concerns to hygienic food provision in camps.
We customize tours and treks to meet the needs of individuals and groups with special areas of interests. Travel with us, our knowledgeable travel executives will strive to make your vacation a memorable one. Our mission is to continually strive for excellence by offering the best value and service to our clients.
Our success is founded on our dedication to fulfilling your expectations and is the direct result of repeat business and referrals. All of our trips can be tailor-made to suit your interests and timescales. We have considerable experience in organizing private itineraries; just let us know what you are looking for.