Everest Trekking
Travel Activities
Trekking
Jiri to Everest Base Camp Trek
This article covers the Jiri variation to the Everest Base Camp by providing detailed maps, itinerary and by answering various question on the logistics of the trek, the best times to trek, what to pack and more.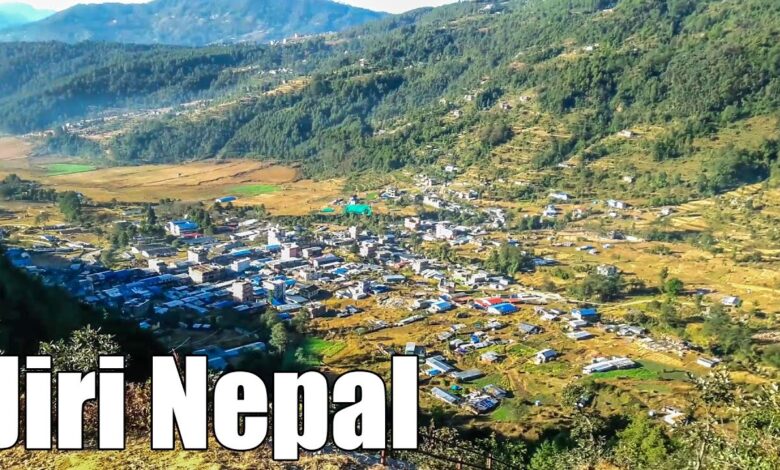 Jiri to Everest Base Camp Trek is the most classical trek in Nepal. This is the most primitive trail that lead the expedition of Sir Edmund Hillary and Tenzing Norgay Sherpa. The expedition is first to reach the summit of Everest for the first time. With the construction of the new motorway, the trek no more begins from Jiri but Shivalaya.
Jiri to Everest Base Camp Trek is an unbelievable journey and is a longer version of the classic "Everest Base Camp Trek" witout fly to Lukla. Instead you are driven to the village of Jiri and start the trek from there.
You will experience fantastic nature and culture, you will see the most magnificent sunrises and sunsets, you will gasp at the size of the mountains, your feet will hurt, you will meet tons of nice people and you will never ever forget this journey.
The north-eastern region of Nepal is called Khumbu and is the home of the Sherpa-people and Mount Everest. Many trekkers in the area fly to Lukla and others travel by road to Jiri to start their trek there.
A few days of trekking through the highlands bring you to the entrance to Sagarmatha National Park and the village of Namche Bazaar – where the Everest Base Camp treks start.
The Everest base camp trek that passes through Sherpa villages, glaciers and finally to the lap of the world's highest mountain. Mt Everest has been ranked 4th best treks in the world by Lonely Planet, the leading travel guide book publisher in the world.
The Jiri to Everest Base Camp Trek could be considered the 'purest' and most authentic trek in the region as it follows the same trails that the early pioneers in the 1950s would have used.
Instead of taking the short flight from Kathmandu to Lukla, the Jiri variation starts with a 8-hour long jeep ride to the town of Jiri where the trek begins.
Out of the 21-day journey, 16 days will be spent trekking for an average of 5/6 hours per day. The remaining days are spent travelling or acclimatizing to the high altitudes of the region.
You should be prepared for unpredictable weather in Nepal all year round and it's best to avoid the harsh winter and summer monsoon seasons. The most popular times for Nepal trekking are late September to November and March to May. This varies depending on which route you choose, so double-check the best window for your specific trek.
Know before you go Jiri to Everest Base Camp
The Drive Kathmandu to Jiri – Bhandar will be 9 to 10 hours
This activity is subject to weather conditions on the day. If weather is not suitable for flying, the flight may be rescheduled
If the flight (Lukla to Kathmandu) is cancelled, you can wait for next day
Check all of your necessary things to carry
Warm clothes and comfortable walking shoes are recommended
Jiri to Everest Base Camp Highlights
Deurali , Nice valley view and Himalayas
Lamjura Pass , Highest pass below Lukla
Namche Bazar, Sherpa Capital
Syangboche, Best View point Mt. Everest and other Himalayas view.
Tengboche, Biggest Buddhist Monastery in Khumbu region and Mt. Everest
Everest Base Camp, Close view of Khumbu Icefall
Kalapather, Close view of Mt. Everest and Himalayas
Lukla, Gate way to Everest region
Jiri to Everest Base Camp Trek Facts
| | |
| --- | --- |
| Trip Duration | 20 days trip |
| Tour Location | Kathmandu – Jiri – Junbeshi – Lukla – Namche- Everest Base Camp – Kathmandu |
| Trek Grade | Difficult |
| Highest Elevation | 5,545 meters / (18,514 feet) | Kala Patthar |
| Pickup Points | Kathmandu International Airport |
| Trip activities | Pickup + Kathmandu Sightseeing + 16 Days full board hiking + Guide and Porters. |
| Group Size | 2-20 Persons. |
---
Day 01: Arrive at Tribhuwan International Airport (TIA), Kathmandu and transfer to hotel.
Once you land in Tribhuwan International Airport (TIA), our airport representatives will kindly receive you and take you to your booked hotel, in a private car. Our representatives will brief you about the Jiri to Everest Base Camp trek. After checking in, you can either explore this vibrant and exciting city on your own, or, take a cozy rest at your hotel.
Airport to Hotel Time:
30 Minutes
|
Accommodation:
Hotel
Day 02: Pre-trip Meeting and Sightseeing around Kathmandu valley.
After finishing our day first of the amazing trip, we are followed by day second with an exciting Kathmandu touring program which will be headed by one of our professional guides who will take you for sightseeing around the holy Hindu temple known as Pashupatinath, the ancient Kathmandu and Patan Durbar Square, the well renowned Monkey Temple known as Swayambhunath and the great symbol of peace, Boudhanath. We will be heading for the sightseeing after fully getting active with our amazing breakfast and head back in time for our pre-trip meeting.
Kathmandu Sightseeing: 6 hours | Accommodation: Hotel
Day 03: Drive from Kathmandu – Jiri – Bhandar (2,200m). 9-10 hours.
The private vehicle drive from Kathmandu to Jiri is a scenic drive. The first part of your journey drive eastwards from Kathmandu passing Bhaktapur, Dhulikhel, Dolalghat. You depart from the main road and head towards Jiri passing through a green hills scenery as well as snowcapped mountains. The road is quite narrow but it is smooth. Jiri is a town named after Jirel. After Jiri the road becomes bumpy and up and down to Bhandara where you spend the night in a lodge.
Drive: 9-10 hours | Accommodation: Lodge
Day 04: Trek Bhandar to Sete village (2,645 m). 4-5 hours
The start of your trek is a gentle descent to Kenja (1600m.) where you could enjoy your lunch. After your lunch, the route goes steeply up to Sete. En route you can enjoy the agricultural farm scenery where locals work hard. In addition to this, you will pass through Sherpa villages with beautiful mountain views.
Trek Duration: 06 hours | Accommodation: Lodge
Day 05: Trek Sete (2400m) to Junbesi (2675m) via Lamjura Pass (3500m). 6-7 hours
Your day begins with a steep climb for roughly two hours passing through Dagchu and Goyem – small Sherpa settlements. Then your trek goes gently upwards to the Lamjura Pass (3500m) through rhododendron forest. After the pass, the rest of the trek is rather relaxed and steeply descends to Junbesi. On this route you can enjoy views of some of the snowcapped mountains such as the "Goa of the Solu". Besides this, you might see some wildlife such as monkey and many species of birds.
Trek Duration: 07 hours | Accommodation: Lodge
Day 06: Trek Junbesi (2675m) to Nunthala (2,430m). 6-7 hours
Today starts with a gentle ascent to Phurtung (2900m). From this place you can get your first view of Mount Everest(8,848m) including Thamserku (6623m), Kantega (6780m), Kusum Kangaru (6370m) and Mera Peak (6650m). The route from here is mostly flat and gently descends to Ringmo Khola (2500m). Immediately after Ringmo Khola, your trail goes steeply up for one and half hour to the Takshindo La Pass (3100m). From this point, you have and excellent view of the mountains. At the end of the walk there is a steep decent to the town of Nunthala(2200m) through a small Sherpa settlement and forests.
Trek Duration: 07 hours | Accommodation: Lodge
Day 07: Trek Nunthala (2200m) to Bupsa (2350m). 6-7 hours
You start with a gentle descent to the Dudh Koshi river (Milk River) for an early two hours passing through agricultural farming land and small Sherpa and Rai settlements. From the Dudh Koshi river, your trail is gently ascends all the way to Kharikhola (2050m) passing through Juving (1680m) – a pretty big Rai village and farming lands. From Kharikhola your trail follows a flat path for roughly 45 minutes and then goes steeply up to the camp (Bupasa) where you could visit the old ruins of a Buddhist Monastery.
Trek Duration: 06 hours | Accommodation: Lodge
Day 08: Trek Bupsa (2350m) to Surkhe (2400m). 5-6 hours
At the beginning of the day, you ascend steeply for the first two hours to Khari La Pass (2880m). On your way passing through rhododendron and oak forest including a small Sherpa settlement and tea shops. From this point, you get an excellent view of different mountains such as Numbu (6960m), Cho-oyu (8201m), Gyangchung Kang (7922m) and Thamserku (6629m). Now, your trail gently decends and is pretty flat to Chaubar (2730m) passing through Bamboo forest and Puiyan (2770m) with a view of the Khumbu Valley as well as beautiful mountains. At the end of the day, your trail steeply ascends up to Surkey – a small Sherpa village at the bottom of the Lukla valley.
Trek Duration: 06 hours | Accommodation: Lodge
Day 09: Trek Surkhe (2400m) to Phakding (2,645m). 4-5 hours
The first part of the trek is a gentle ascent for two hours to Chhiplung (2700m) – a junction road to Jiri and Lukla passing through Mushe (2650m). From this place, the road is quite broad and busy. Now, your trail is almost flat and gently descends and ascends to Phakding. This is a short trek after three long days of trekking. We suggest that you explore your surroundings in Phakding.
Trek Duration: 05 hours | Accommodation: Lodge
Day 10: Trek to Namche Bazar (3446m). 6-7 hours
Along todays route you can enjoy the views of waterfalls, crossing the suspension bridge, and enter into the Sagamartha National Park after check in at the counter. The park plays a significant role in preserving the biological diversity and the rare flora and fauna. Crossing the bridge at the confluence of the glacial Rivers, we have to cross a high bridge and climb uphill. From here we can see Mt. Everest while we gradually ascend and reach the heart of the Khumbu region, Namche Bazar, which is also known as the Sherpa capital. The striking views of Everest, Ama Dablam and Kongde Ri will make you smile before reaching the Namche Bazar.
Trek Duration: 07 hours | Accommodation: Lodge
Day 11: Acclimatization day at Namche Bazaar. Day hike to Khunde and Khumjung Village.
The day is spent in the Namche Bazaar to acclimatize and accustom the body to the beginning of thin air. However, the day is not only used to relax and there will also be a small trip to the local museum where they celebrate and exhibit the traditional customs of the Sherpa people. From the museum you can get a glimpse Mt. Everest on the horizon. You can also choose to walk up to the old Syangboche airport, close to the Everest View Hotel. From here there is a beautiful view of the Himalayas and the fantastic sunrises and sunsets over the Khumbu peaks.
Acclimatization Day: | Accommodation: Lodge
Day 12: Trek to Tengboche Monastery (3,860m). 5-6 hours
The tour continues along the effervescent river Dudh Kosi which offers magnificent mountain views. As you approach Tengboche, you can see the local monastery. Behind the ornate walls of the monastery you will find a six-meter-high statue of Buddha, as well as llamas' musical instruments and cutters. Depending on how the day's trek has gone, you will be able to attend the morning ceremony or evening.
Trek Duration: 06 hours | Accommodation: Lodge
Day 13: Trek Tengboche Monastery to Dingboche village (4450 meters). 5-6 hours
From Tengboche Monastery it goes downhill to Debuche and on the way you will cross a suspension bridge at Imja Khola. Then it goes back uphill, past thousands of mani-stones (stones on which Buddhist prayers are written) to Pangboche. The walk continues to the cozy and traditional little Sherpa village of Dingboche. From here you can enjoy the magnificent views of Lhotse, Island Peak and Ama Dablam. A good amount of time is spent on the trip to Dingboche (4450 meters), so you avoid being affected by the altitude.
Trek Duration: 06 hours | Accommodation: Lodge
Day 14: Acclimatization day. Optional day hike to Chhukhung Ri.
This is your chance to rest up before the last leg of our adventure! Savor a full day of exploring Dingboche and the surrounding valleys of Chhukung and Imja, the latter of which links with Island Peak, the high passes of Amphu Laptsa, and Makalu Barun National Park. Taking an optional trek to the valleys will pay off in rewarding views, but taking it easy is the most important thing today. You'll need your rest for the penultimate day of ascent tomorrow.
Acclimatization Day: | Accommodation: Lodge
Day 15: Trek Dingboche village (4450 meters) to Lobuche (4930 meters). 4-5 hours.
Today the trek continues along the Khumbu Glacier. Along the way you will pass a memorial stone in honor of the climbers who have died on the surrounding peaks. The route continues uphill and ends at 4910 meters altitude in Lobuche – a "village" that can be more accurately described as a couple of cabins at the foot of the massive Lobuche peak. During the move, breathing problems may occur due to the altitude.
Trek Duration: 05 hours | Accommodation: Lodge
Day 16: Trek Lobuche (4920m) – Gorak Shep (5130m) – Everest Base Camp (5340m) and back Gorakshep (5130m). 7-8 hours
Today is a very long, hard day as we leave very early, following the Khumbu Glacier northwards to Gorak Shep (5,184m). The trail undulates up and down the moraine with some short steep sections. The trail is rocky as we are now on the lateral moraine of the Khumbu Glacier. It will take us about 3 hours to reach Gorak Shep where we will have a rest and something to eat. From here to base camp and back there are no lodges so we will fill our water bottles and take some snacks for the walk to Everest Base Camp. We start by walking across the sandy flat at Gorak Shep and climb onto the lateral moraine of the Khumbu glacier. The trail ascends the side of the glacier for a couple of hours before finally descending onto the rocky glacial moraine itself. The trail winds up and down through fascinating ice seracs to the area known as Everest Base Camp, where in spring, we might see in the distance some of the expedition teams as they prepare to climb the mountain. From the Base Camp we get fantastic close up views of the Khumbu Ice Fall and we can appreciate just how difficult it is for the climbers to negotiate a route through the huge blocks of ice. Nuptse towers above us and Pumori rears up behind us. After a short photo stop by the Base Camp rock we retrace our steps to Gorak Shep.
Trek Duration: 08 hours | Accommodation: Lodge
Day 17: Morning climb to Kala Patthar (5,545m) and trek down to Pangboche. 6-7 hrs
We have another hard day as we climb steeply above Gorak Shep to the small peak of Kala Pattar, 'Black Rock', at 5,545m from where we can look down over the base camps of the various Everest expeditions. This climb affords a magnificent view of the Khumbu Glacier and above all a close-up view of the world's highest mountain. We return to Gorak Shep and retrace our steps to Lobuje for lunch and then continue on down the valley to the lower altitude of Pangboche for the night. (Please note that the walk to Everest Base Camp and the climb of Kala Pattar are both very tough. Sometimes we may change the order in which we tackle the walks depending on the group's ability and weather conditions).
Trek Duration: 07 hours | Accommodation: Lodge
Day 18: Trek to Namche Bazar (3,446m). 6-7 hours.
Leaving behind the village of Phortse, we trek towards Namche Bazaar. Following the flow of Dudh Koshi River, we retrace our trail to Namche passing through a forested trail leading to the settlements of Monjo, Sanasa, Khyangjuma, and then Namche. Feel free to explore the restaurants and pubs in the vibrant town
Trek Duration: 07 hours | Accommodation: Lodge
Day 19: Trek down to Lukla (2,800m). 6-7 hours
Retracing our steps along the valley, we pass through a variety of settlements and forests before a gentle climb to Lukla. We savour our final mountain sunsets of the trek as we complete this exhilarating journey. Our last evening of the trek is a perfect time to celebrate a successful journey and say thanks to the team, especially the porters who will return to their villages from here.
Trek Duration: 06 hours | Accommodation: Lodge
Day 20: Fly from Lukla to Kathmandu. 35-40 minutes.
We catch an early morning scenic flight back from Lukla to Kathmandu. Upon reaching, we transfer you back to the hotel in Kathmandu. Later in the evening, a small farewell dinner will be held to celebrate the completion of the journey. Overnight in hotel.
Flight Duration: 35 Minutes | Accommodation: Hotel
Day 21: Transfer to International Airport for your onward destination.
This has been a long holiday in Nepal, but we are sure that you have enjoyed a wonderful vacation with lasting memories for a long time to come. After you've had breakfast, our office escorts & our vehicle will be on standby at your hotel to transfer you to the airport for your flight back home. We look forward to meeting you again in this amazing country of Nepal.
Hotel to Kathmandu Airport Duration: 30 Minutes
Arrival and departure transfers to and from Kathmadu International Airports.
4 Nights accommodation at Kathmandu with BB Plan.
Full day Kathmandu sightseeing tour with private vehicle and english speaking cultural guide.
Private Transfers Kathmandu to Bhandar for members and a guide.
Three meals a day (BLD-tea-coffee) and twin sharing teahouse accommodation during trek.
15 Kg Baggage allowance for trekking per person carrying by porter (s).
Experienced trekking guide during trekking as per group size.
National Park entry fee (Sagarmatha National Park).
Khumbu-Pasang Lhamu Village entry permits.
Lukla to Kathmandu flight ticket.
All wages and medical insurance for the guide and porters.
First Aid medical kits for the Group and the staffs.
Free assistance service for cargo and duty clearance in domestic flights.
Our service charge and Government Taxes levied in Nepal.
Wages, meals and accommodation of your guide and porters.
Insurance and trekking gear for your guide and porters.
Complete pre-departure information.
1 farewell dinner in Kathmandu
Nepal entry visa fees
Extra night accommodation and meals behind schedule (Foods and accommodations before and after the trek)
All kind of beverages (coke, beers, water etc).
Additional cost by out of management control due to the landscape, weather condition, illness, change of government policies, strikes, and physical condition, etc.
Surplus luggage charges for domestic airport
Personal expenses such as snacks, laundry, telephone, WIFI, hot shower on a trek.
Travel insurance which has to cover emergency rescue evacuation from the high-altitude up to 5000 m.
Personal trekking equipment for this trek
Tips and Gratitudes for guide/drive.
| NO.OF.PERSON | AVAILABILITY | USD PRICE | INR PRICE |
| --- | --- | --- | --- |
| 2-4 | Guaranteed | USD 1590 | INR 72340 |
| 5-8 | Guaranteed | USD 1520 | INR 68740 |
| 9-15 | Guaranteed | USD 1480 | INR 64450 |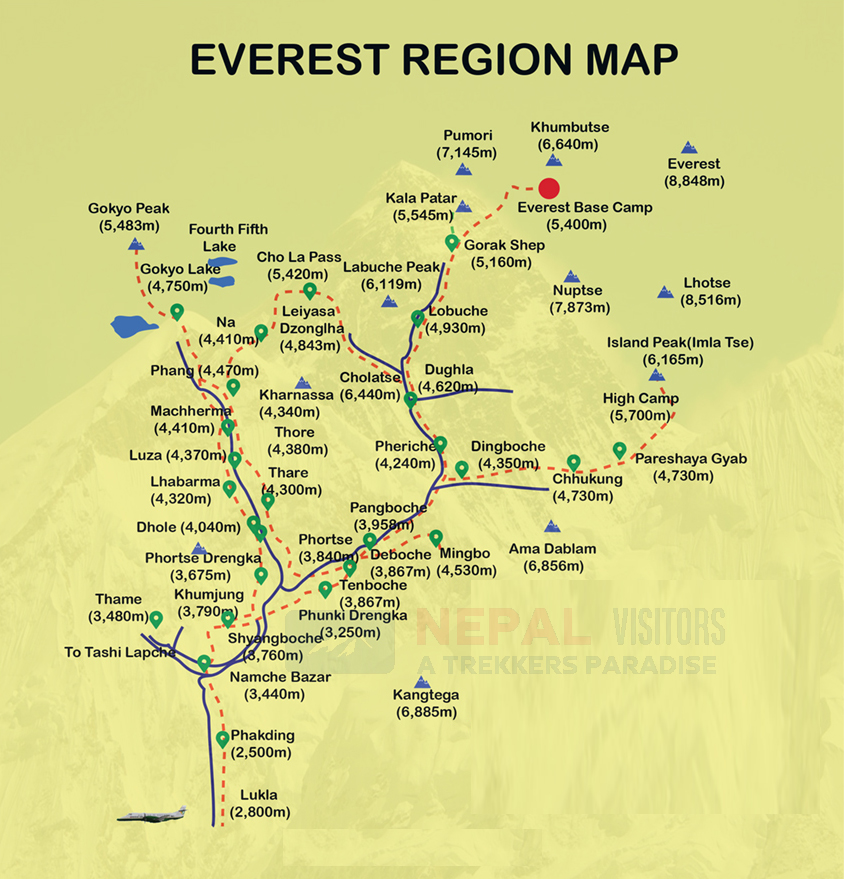 Best time to go Jiri to Everest Base Camp
The best seasons for Jiri to Everest Base Camp are spring and autumn. March, April, May and October, November are great times to go trekking. It is usually clear weather and beautiful sunshine in the morning. During the afternoon, some clouds often form from the evaporation of the snow in the mountains, and it often clears up again in the evening. In the mountains, the temperature varies greatly depending on the height and time of day. In the middle of the day it can easily be snug at even high altitude with up to 20 degrees at 4,500 -5,000 meters altitude. When the sun goes down, the temperature drops dramatically and it can easily drop to minus 10 ° C at night at the same altitude.
Jiri to Everest Base Camp Trek Difficulty
Jiri to Everest Base Camp Trek takes some serious effort. But to complete this journey, do you need to be in great shape? The simple answer is NO!. You can go at a slow speed, your own pace and still make it Jiri to Everest Base Camp Trek. Going slow is actually going to assist you acclimatize better.
You should be able to walk 8 to 12 km in a day. Be able to walk for at least an hour on intense inclines. Unless you plan to hire a porter, you can carry a bag while doing all of this.
When you're ready, it's hard to measure. It's not like a Marathon or anything else you've most likely ever done. There were people on the trail who were overweight and going incredibly slow but to celebrate the achievement they were right there with us at the base camp.
We recommend doing some 4 to 6 hours treks at home so your body gets used to this kind of workout duration. Start about 5-7 weeks before you leave and build up time and distance slowly so that your body is comfortable with trekking for a solid 6 hours by the end of it.
Jiri to Everest Base Camp Trek Cost
The typical Jiri to Everest Base Camp Trek will cost in the region of $1,800 to $2,500. These are guided tour packages that will include all board and lodging, travel expenses, guides and porters and meals on the trip. We recommend using a Sherpa guide that is charging around $2,000 per person, as packages cheaper than this are likely to be of a lesser quality due to cost cutting.
Tour packages will not include the cost of a Nepal visa – US$ 40 for a one month multi entry visa. They will also not cover and travel insurance expenses or personal expenses on the trip.
Jiri to Everest Base Camp Trek Insurance
Yes, trekking at altitude in Nepal comes with various risks that will not be covered by typical travel insurance policies. We recommend taking out insurance that covers trekking up to altitudes of 6,000m as well as any trekking related injuries and altitude related sicknesses.
Read our detailed insurance companies that aims to help you find the best policy for this type of trek.
Alternatively, use the quote calculator below from our recommended partner, World Nomads. They offer insurance that covers guided hikes up to 6000m and include a premium for Helicopter Evacuation in Nepal.
What to Pack for Jiri to Everest Base Camp Trek
Hiking Cloths: The sun is strong and you will be sweating a lot while hiking so we would recommend something light and breathable like a weather-proof outer-shell jacket together with a fleece jacket and a regular shirt inside. Here are jackets we recommend you get for the trip: fleece jacket and the beautiful orange Columbia outer-shell jacket.
Teahouse Clothing: When you are idle, you will need something that can keep you warm. A big down jacket is recommended for when you are in the teahouse. Most teahouse's bedrooms are NOT equipped with a heater so you will definitely need a good down jacket.
Head Lamps: Important in the early mornings and in case you have to hike at night (I do not recommend this). Here is a headlamp I use during this hike: Ultra Bright Cree Headlamp.
First Aids: Bandages in case of blisters, Tylenol for headaches, Diamox for Altitude Sickness etc.
Sunglasses: The sun is extremely strong up there.
Buff: To warm up air before you breath in to prevent the nasty case of Khumbu Cough afterward.
Wet Wipes: The next best thing from actually having a shower in the mountains. You will thank yourself for it after 10 days of not showering.
Good Sturdy Shoes: Make sure you have waterproof sturdy shoes in case of rain. Break into your shoes first if you bought a new one. You wouldn't want to be the hikers with blisters all over his/her feet at the end of the trek. This Timberland Shoes is my go-to hiking boots in most situations and I recommend you carry high ankle shoes like the Columbia Newton Ridge shoes just in case.
Money: Get enough cash out in Pokhara for all the days you are trekking as they are no way you will be able to get money out along Annapurna Base Camp trek.
Sleeping Bag: Bedrooms in teahouses can get really cold at night and there's nothing worse than not being able to sleep after an 8-hours hike day. We would recommend getting the -10°C one in either Thamel, Kathmandu or Pokhara. We got mine in Pokhara and still using it today (2019). You can also get the Coleman North Rim Sleeping Bag online prior to your trip.
Toiletries: Wet wipes, tissue papers, toothbrush, toothpaste, sunscreens, lip balms etc.
Snacks: Prepare some snacks to Treat yo self so you don't have to buy an overpriced Snickers bar up there. You deserve it!
Get Maps.me: Download Maps.me app on your phone and download the Nepal map for offline navigation. They do have the trail map available and it's quite accurate. The app is available on both Android and iOS.
Large Backpack (60+L): And of course, a backpack big enough to fit all these stuff so you can carry up the mountain. I highly recommend the 65L Osprey Atmos AG Backpack with their mesh grid back support that makes your backpack lighter, a good capacity to carry everything you need for you trip, and you can't beat the Osprey lifetime guarantee.
Summary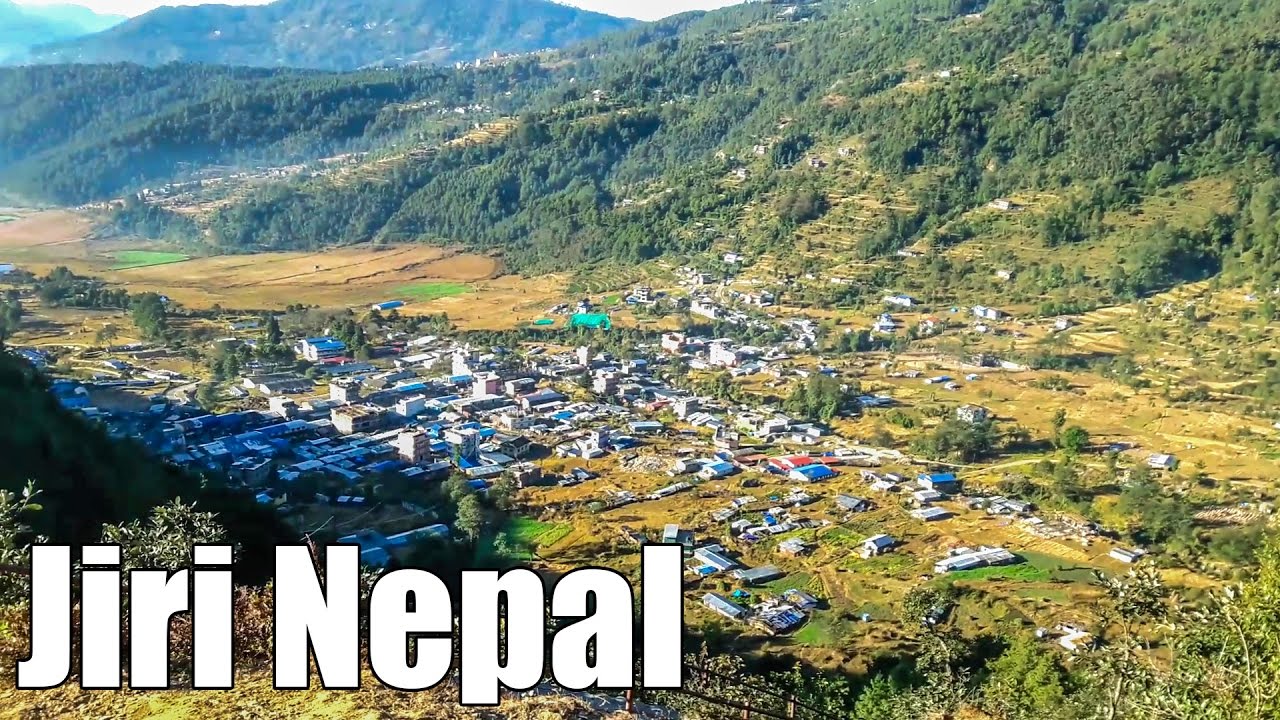 Brand Name
Product Name
Jiri to Everest Base Camp Trek
Price
Product Availability