Trekking
Tiji Festival Trek
Tiji Festival Trek is an exotic festival tour to unspoiled and ancient Tibetan villages at Lo Manthang, Upper Mustang.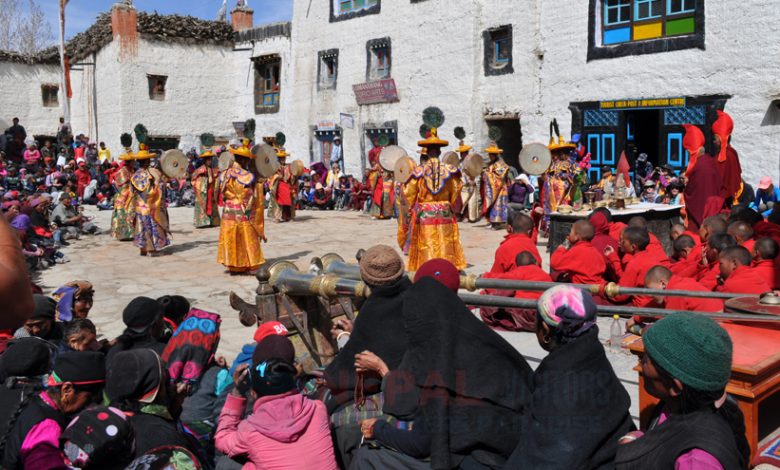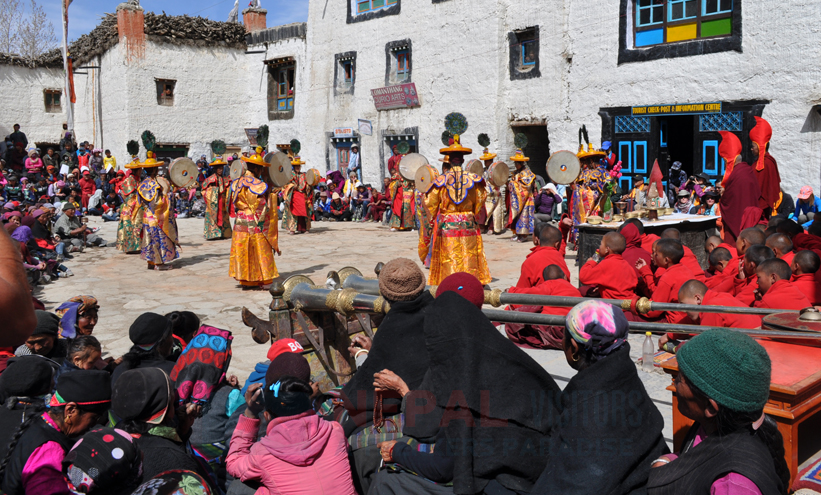 Mustang, formerly Kingdom of Lo, is a remote and isolated region of the Nepalese Himalayas. The Upper Mustang was a restricted demilitarized area until 1992.
Upper Mustang is very scenic, its attracts many tourist to discover an isolated region for centuries. Highest altitude of Trek is 3840 meters / 12598 feet above sea level.
Mustang is hidden behind the spectacular Himalayan ranges. The sandy terrain, amazing yak caravans, exquisite mountains views, ancient monasteries, Tibetan culture, and the spiritual values of the region make Mustang Tiji Festival Trekking a delight for the visitors.
The festival trek starts from Kathmandu and ends in the same city. A single day of our trek includes not more than 5 to 7 hours of walking. Mustang Trekking is the best during all the time in a year even in Monsoon season as entire Upper Mustang lies in a rain-shadow area in the trans-Himalayan mountain region.
---
Tiji Festival Trek Facts:
Tiji Festival Trek Dates
05th, 06th, and 07th May 2024
Trip Duration
18 nights / 19 days
Trek Location
Kathmandu + Pokhara + Jomsom + Muktinath + Charang
+ Lo Manthang + Yara + Ghara + Tange + Tetang
Trek Grade
Moderate
High Elevation
3840 meters / 12598 feet
Pickup Points
Tribhuvan International Airport
Trip Activities
English Speaking Trek Guide + 14 days hiking + City Tour.
Group Size
2-15 Persons.
---
Tiji Festival Trek Highlights
Attend the colorful annual Buddhist Tiji Festival (3 days).
Explore the long-forbidden walled city of Lo Manthang.
Visit three World Heritage Sites of the Kathmandu Valley.
Experience spectacular flights between Kathmandu Pokhara and Jomsom.
High-altitude landscapes of the Himalayas.
27th April 2024 Day 01: Arrival in Kathmandu (1,350m/4,428ft)
After landing at the Tribhuwan International Airport, we will be greeted by a representative of Himalayan Trip Nepal will drop us off at our hotel. We then check-in at the hotel, freshen up and take a rest. In the evening, briefing with trekking guide. Overnight in Kathmandu.
Included: Accommodation
28th April 2024 Day 02: Trek Permit Preparation and Kathmandu Valley Sightseeing Tour
Enjoy a sightseeing tour to the UNESCO listed cultural heritage sites in Kathmandu. Visit Kathmandu Durbar Square, Swayambhunath Temple, Boudhanath Stupa and Pasupatinath Temple. Enjoy the artistic palace, art, culture, paintings and history of Nepal. Overnight at hotel.
Included meals: Breakfast, Accommodation
29th April 2024 Day 03: Drive from Kathmandu to Pokhara (820m/2689ft): 5-6 hours
We have breakfast then leave for Pokhara, also known as The Lake City owing to the large number of lakes in the city. Upon our arrival in Pokhara, we are rewarded with magnificent views of the Himalayas including Dhaulagiri (8,167m/26,794ft), Manaslu (8,156m/26,759ft), Machhapuchhre (6,993m/22,943ft), the five peaks of Annapurna and others. We then check-in to our hotel and take a rest. We enjoy boating in the Fewa Lake and stroll in the city's quaint streets. Overnight in Pokhara.
Included meals: Breakfast, Accommodation
30th April 2024 Day 04: Fly to Jomsom (2,713m/8898ft) and trek to Kagbeni (2,810m/9,216ft): 3-4 hours trek
Today we will take an early morning flight to Jomsom which is famous for its apples, strong winds and the landscape. We begin our trek on an open trail alongside a beautiful valley. We pass through Eaklibatti village before reaching Jomsom which is ideally located at the bank of two rivers. The village is beautiful with flat-roofed houses and also has ruins of an old fortress. Overnight in Kagbeni.
Included Meals: Breakfast Lunch Dinner
01st May 2024 Day 05: Kagbeni to Chhuksang (3,050m/10,004ft): 5-6 hours
We get our permits checked then begin our trek on a trail alongside the Kali Gandaki River. We walk on sand amidst strong winds before ascending on a hill. We reach the Tangbe Village and admire its narrow alleyways, white-washed houses, barley and buckwheat fields, and apple orchards. We continue our walk and pass another village and cross a river on our way. Overnight in Chhuksang.
Included Meals: Breakfast Lunch Dinner
02nd May 2024 Day 06: Trek from Chhuksang – Syangbochen (3720m). 6/7 hours
From Chele, trail leads ascending to Samar. After that it climbs above Samar to a ridge, descends into a large gorge past a Chorten painted in red, black, yellow and white, all pigments made from local rock.
From there one can enter another valley filled with juniper trees and drops to Bhena (3800m) and trail ascends goes to the place of Giling Walking time takes approximately 6/7 hours, Overnight at Lodge.
Included Meals: Breakfast Lunch Dinner
03rd May 2024 Day 07: Trek Syangbochen to Tsarang (3,620m/11,873ft): 7-8 hours
We ascend to the Yamda La pass at 3,850m. On the way, we pass by a few teahouses, chortens and beautiful villages. We trek through poplar forests and barley fields and reach Nyi Pass at 4,010m. From here, we descend to Ghami which is one of the biggest villages in the Lo region. The village is beautiful with fields surrounding the entire village.
Our trek today begins with a descent through a rough and often slippery trail. We then cross a suspension bridge over the Ghami Khola and begin ascending. The pathway is beautiful with mani walls along the trail. Next, we cross the Tsarang La Pass at 3870m and reach Tsarang village.
The village lies atop the Charang Chu canyon with a huge fortress and a red gompa towards its east. Overnight in Tsarang.
Included Meals: Breakfast Lunch Dinner
04th May 2024 Day 08: Tsarang to Lo-Manthang (3,730m/12,234ft): 3-4 hours
We begin our trek by descending to a canyon and cross a river before beginning our uphill trek to Lo La pass which at 3950m. From the top of the pass we can admire the beautiful Lo Manthang village. From the pass we descend to Lo Manthang which is a beautiful walled village. From here the views of the Himalayas including Nilgiri, Tilicho and Annapurna I, Bhrikuti Peak as well as Damodar Kunda (pond) is quite good. Overnight in Lo-Manthang.
Included Meals: Breakfast Lunch Dinner
05th May 2024 Day 09: Lo – Manthang (3730 m) – the celebration of the first day of Tiji festival
Today is the first day of Tiji Festival. We spend our day observing the dances and celebrations. Horse racing and a giant tug-of-war are the major attractions. Tibetan women in their traditional clothing with colorful jewelry, monks in their robes and dancers in elaborate costumes make the entire environment vivid and vibrant.
Included Meals: Breakfast Lunch Dinner
06th May 2024 Day 10: Second day of Tiji festival
We can enjoy a colorful ceremony accompanied by an unusual dance of Tibetan lamas. It is done to chase away all the hungry and evil spirits from the village. We can see many people across the region participating in this ritual of purification and renewal. After the observation, we can explore the intimate alleyways and courtyards of the city or simply rent a horse and visit some of the other villages in the area.
Included Meals: Breakfast Lunch Dinner
07th May 2024 Day 11: Last day tiji Festival, Explore Lo Manthang/ Acclimatization
Lo Manthang is a walled town of the remote Upper Mustang region of Nepal. We spend the day touring three major gompas of the town namely Jhampa, Thupchen and Chhoeda. All of these gompas have undergone expert restoration over the last two decades. We can also trek to Tingkhar which is a beautiful village located north-west of Lo-Mangthang. Overnight in Lo Manthang.
Included Meals: Breakfast Lunch Dinner
08th May 2024 Day 12: Lo-Mangthang to Drakmar (3810 m/12,500ft): 6-7 hours
We trek on a different route when returning from Lo-Manthang. Our trail passes through Gyakar village which houses a century old Ghar Gompa with beautiful rock paintings. According to a local legend, anyone who makes a wish at the Gompa will have it fulfilled. We explore the Gompa and continue our trek to Drakmar for an overnight stay.
Included Meals: Breakfast Lunch Dinner
09th May 2024 Day 13: Trek to Shyangmochen (3800m/12465ft) Duration: 5 – 6 hrs
Our trail descends as we pass the stone walls and fields of Drakmar and then climbs up to a ridge. We descend to the lower part of Ghami and then to Jaite (3820m). We further descend to Chhung-Kah and follow the trial to Tama Gaon (3710m). We continue our descend until we reach Shyangmochen.
Included Meals: Breakfast Lunch Dinner
10th May 2024 Day 14: Trek to Chhusang (2980m/9775ft) Duration: 6 hrs
We follow a stream all the way down to Chhusang. We can also take an alternative route to Samar by visiting Ranchung Cave which is 30-minutes longer than the usual route.
Included Meals: Breakfast Lunch Dinner
11th May 2024 Day 15: Chhusang to Jomsom (2700/8856ft). Trek Duration: 6-7 hrs
We start our trek early in the morning and continue to Kagbeni. After completing the upper Mustang trails, we join the normal route and head on to Jomsom for an overnight halt.
12th May 2024 Day 16: Fly back to Pokhara.
We take an early morning flight to Pokhara. The airplane passes through a gorge between Annapurna and Dhaulagiri mountains making the flight itself an amazing experience. After arriving in Pokhara, we can spend the rest of the day in leisure. Overnight in Pokhara.
Included Meals: Breakfast, Hotel
13th May 2024 Day 17: Drive from Pokhara to Kathmandu
After breakfast, we say goodbye to the beautiful northern skyline of Pokhara and drive towards Kathmandu. This will be a journey along river banks with wonderful views of terraced hills and the rural Nepalese lifestyle. After reaching Kathmandu, we take a rest or do some souvenir shopping. To celebrate the successful completion of our journey, we will have a farewell dinner in the evening. Overnight in Kathmandu.
Included Meals: Breakfast, Dinner, Accommodation
14th May 2024 Day 18: Final departure
Our Upper Mustang Trek in Nepal comes to an end today! A representative from Himalayan Trip Nepal will takes us to the airport approximately three hours before the scheduled flight. On our flight back home, we take with us amazing memories of our Lo Manthang trip and Nepal.
Included Meals: Breakfast
International & domestic airport transfers as per the itinerary.
2 nights accommodation in Kathmandu with Bed and Breakfast plan.
2 nights accommodation in Pokhara with Bed and Breakfast plan.
18 breakfast, 14 Lunch, 15 dinner during the trip.
Kathmandu Sightseeing by professional English speaking tour guide.
Kathmandu – Pokhara – Kathmandu domestic flight.
Pokhara – Jomsom – Pokhara Flight.
3 meals a day during the trip (Breakfast, Lunch & Dinner) as mention in itinerary.
Accommodation while trekking in twin sharing basis in guesthouses.
Annapurna conservation area permit and TIMS card.
Upper Mustang Restricted area permit fee.
Professional government license holder English speaking trekking guide.
Sleeping bag and duffel bag during the trek. (Refundable after finish the trip)
Medical supplies (first aid kit will be available).
1 farewell dinner in Kathmandu
All government and local taxes.
All entrance fees for sightseeing places
Alcoholic, hot and cold drinks.
Your international flights
Nepal visa fees & airport taxes
Personal travel insurance (strongly recommended)
Gear or equipment for your trek
Personal expenses along the trek
Tiji Festival Camara fees, and other donation
If you would like to ride on pony
Tips for your city guide, drivers, hotels, restaurants, etc.
Extra night accommodation then mention plan
| NO.OF.PERSON | AVAILABILITY | PRICE USD | INR |
| --- | --- | --- | --- |
| 2-4 | Guaranteed | USD 2250 | INR 115000 |
| 5-8 | Guaranteed | USD 2050 | INR 99000 |
| 9-15 | Guaranteed | USD 1940 | INR 96000 |
What is Mustang famous for?
Mustang is famous for adventure sports such as cycling, rock climbing, trekking, horse racing, and riding. The geographical structure of Mustang is composed of highlands and lowlands with plains, which makes it suitable for mountain cycling and trekking.
Is Tiji Festival Trek suitable for Kids?
Tiji festival overland tour is suitable for kids with families. Nepal law requires that children under age 12 are accompanied by a parent or guardian while trekking. And if you are planning for a family trek, We generally suggest you to book private trip and schedule a few extra days.
---
Upper Mustang Tiji Festival Trek 2024 Dates
Upper Mustang Tiji Festival is a 3 days-long festival celebrated in the – Upper Mustang, Lo-Manthang. The mysterious Buddhist festival one of the main celebrations in the upper Mustang. Tiji festival is going to celebrated according to the Tibetan calendar. Upcoming Tiji festival 2024 dates is going be 05th to 07th May 2024.
However, day 2nd and 3rd is the main time and colorful with the various mask dance performance by Buddhist monks and lamas. Sign up with Mustang Trekking today if you are interested in this festival trek to Mustang.
Flexible Itineraries for Tiji Festival Trek
Our eighteen days itinerary for Tiji Festival Tour is designed for both experienced as well as beginner trekkers. Upper Mustang is basically a moderate level trekking destination.
So, if you have a time limitation and still want to explore the region, you can join us at Himalayan Trip. Follow this article if you want to know more about your incredible trip to Upper Mustang.
Accommodation, Food And Drink Facility
Upper Mustang is a camping / teahouse trekking route. You will find teahouses and lodges at various places on the trek where you can stay for overnight. Do not expect the facilitated tea houses. Offer basic meals in a communal eating hall along with bedrooms, usually with two single beds.
The Tiji Festival Trek | Documentary
Getting travel insurance
It's always better to be safe than sorry. Especially for an intense experience like Upper Mustang Lo Manthang Trek, I recommend purchasing travel insurance for your own peace of mind.
There has been numerous insurance company of choice because of their comprehensive health coverage with 24/7 medical emergency assistance. As well, the process to making claims is super easy and smooth!
Book with Local Operator
We invite you to group join Mustang Trekking 2024. Whether it's a cultural tour, gentle walking holiday or strenuous trek, our holidays in Nepal are led by professionally-trained English speaking leaders.
They have an intimate and expert knowledge of the history, culture and nature of Nepal and will make your trip a memorable experience.
Thus hurry up and reserve your place to witness this Tiji festival 2024 in Lo Monthang, Upper Mustang.
Summary
Event
Location
​
Nepal Visitors

,

Baghdol -4, Lalitpur

,

Patan

,

Bagmati

-

44607
Starting on
Ending on
Description
Tiji Festival Trek 2024 gives you an opportunity to observe one of the biggest and most popular festivals held in Lomangthang of Upper Mustang region. This festival is often held in the spring season to celebrate the start of a new season.
Offer Price