Travel Activities
Trekking
Annapurna Sanctuary Trek -14 Days
The Annapurna sanctuary trail starts in rice paddies and leads through a gorge of bamboo and forests to end among glaciers and soaring peaks – an unparalleled mountain adventure.
The Annapurna Sanctuary a magnificent spot at 4,130m/13,550 is a high glacial basin lying 40 km directly north of Pokhara. The Annapurna Sanctuary Trek is the perfect first Himalayan trek. It offers wonderful walking and superb views without undue acclimatisation problems and all within 14 days, Kathmandu to Kathmandu.
Here you will have a spectacular view of these giants including the immensely impressive south face of Annapurna 1. The Annapurna Sanctuary is a high oval-shaped glacial basin surrounded by the Annapurna massif. The only entrance to the sanctuary is between the Hiunchuli and Machhapuchhre mountains. It's ecologically important and its remoteness has allowed the plant and animal life here to develop differently from other parts of the Annapurnas. It's also a sacred place to the local Gurung people, who believe that a number of Buddhist and Hindu deities live here.
Take a 10-day trek Itinerary through the remote and imposing mountains of the Annapurna Range. Begin and end the journey in Kathmandu with its colourful temples, city squares, and great shopping. With the support of a team of expert Sherpas, the challenging trails of Annapurna will reward you with a stunning combination of towering peaks and dramatic valleys. Rest and relax overnight in tea houses, where you'll reconnect with ancient ways long forgotten by the modern world.
---
Quick Facts about Annapurna Sanctuary Trek:
Trip Duration
18 nights / 19 days
Total Distance:
115 kilometers (Approximately)
Trek Location
Kathmandu + Pokhara + Ghandruk + Poon Hill +
Chhomrong + Annapurna Sanctuary
Trek Grade
Moderate
High Elevation
Annapurna Base Camp 4,130 m (13,550 ft)
Pickup Points
Tribhuvan International Airport
Trip Activities
English Speaking Trek Guide + 10 days hiking + City Tour.
Group Size
2-15 Persons.
---
Annapurna Sanctuary Highlights
Himalayan flight Kathmandu – Pokhara – Kathmandu.
Popular trekking route in Annapurna Region, most beautiful treks.
Walking through the ethnic groups with their culture and verity vegetation forest.
Unquestionably beautiful 360 degree views of the mountain ranges.
Massive Annapurna glacier some distance of the Annapurna Base Camp (4,130m).
Teahouse Trekkers lodge facilities managed by ACAP.
This is combination of the mountain scenery and cultural.
Drive beautiful city Pokhara to Phedi or Nayapul.
Day 01: Arrival in Kathmandu 1,350m/4,429ft
Day 02: Kathmandu: sightseeing and trek preparation 1,350m/4,429ft
Day 03: Fly to Pokhara and trek to Ulleri 2,050m/6,726ft 6 hrs hiking
Day 04: Trek Ulleri to Ghorepani 2,850m/9,351ft 4-5 hrs hiking
Day 05: Trek Ghorepani to Tadapani with a visit to Poon Hill 2,700m/8,859ft 6-7 hrs hiking
Day 06: Trek Tadapani to Chhomrong 2,170m/7,120ft 6 hrs hiking
Day 07: Trek Chhomrong to Bamboo 2,310m/7,579ft 4-5 hrs hiking
Day 08: Trek Bamboo to Deurali 3,230m/10,598ft 3-4 hrs hiking
Day 09: Trek Deurali to Annapurna Base Camp via Machhapuchhre Base Camp 4,130m/13,551ft 5-6 hrs hiking
Day 10: Trek Annapurna Base Camp to Bamboo 2,310m/7,579ft 7-8 hrs hiking
Day 11: Trek Bamboo to Jhinu Danda 1,760m/5,775ft 5-6 hrs hiking
Day 12: Trek to Naya Pul then drive to Pokhara 827m/2,713ft 6 hrs hiking
Day 13: Fly from Pokhara to Kathmandu 1,350m/4,429ft 25 min flight
Day 14: Final departure
International & domestic airport transfers as per the itinerary.
2 nights accommodation in Kathmandu with Bed and Breakfast plan.
2 nights accommodation in Pokhara with Bed and Breakfast plan.
13 breakfast, 10 Lunch, 11 dinner during the trip.
Kathmandu Sightseeing by professional English speaking tour guide.
Kathmandu – Pokhara – Kathmandu domestic flight.
Pokhara – nayapul – Pokhara private car/jeep.
3 meals a day during the trip (Breakfast, Lunch & Dinner) as mention in itinerary.
Accommodation while trekking in twin sharing basis in guesthouses.
Annapurna conservation area permit and TIMS card.
Professional government license holder English speaking trekking guide.
Sleeping bag and duffel bag during the trek. (Refundable after finish the trip)
Medical supplies (first aid kit will be available).
1 farewell dinner in Kathmandu
All government and local taxes.
All entrance fees for sightseeing places
Alcoholic, hot and cold drinks.
Your international flights
Nepal visa fees & airport taxes
Personal travel insurance (strongly recommended)
Gear or equipment for your trek
Personal expenses along the trek
Tips for your city guide, drivers, hotels, restaurants, etc.
Extra night accommodation then mention plan
| NO.OF.PERSON | AVAILABILITY | PRICE USD | INR |
| --- | --- | --- | --- |
| 2-4 | Guaranteed | USD 1190 | INR 95000 |
| 5-8 | Guaranteed | USD 1050 | INR 82000 |
| 9-15 | Guaranteed | USD 960 | INR 75000 |
How hard is the Annapurna Sanctuary Trek?
Annapurna Base Camp trek is not considered to be a difficult trek because this trek is very adventurous and the key factors of the trek are to walk slow and steady. So this trek is considered to be a moderate trek.
Is Annapurna Base Camp Trek Safe?
The circuit is very tough at times, and the high altitude and unpredictable weather of the Annapurna mountain range can make crossing the Thorong La Pass a dangerous task – particularly if you're not prepared.
Do I need a sleeping bag for Annapurna Circuit?
Blankets are provided and necessary but often a little bit dirty. You should really take your own sleeping bag, especially if you'll be trekking during the prime season.
Is there any luggage limit for porter?
We provide one porter for two trekkers to carry 18 kgs of luggage (maximum 9 kg for each trekker). Please be sure your porters are not overloaded because they do not carry only your equipment but also lift your spirit to reach new heights, and your love, affection and generosity can be the reason for them to work hard to take you to your destination.
Do I Need Vaccinations for This Trip?
Nepal features dense jungle, as well as high elevation. The Centers for Disease Control and World Health Organization both recommend the following vaccines for Nepal: typhoid, hepatitis A, hepatitis B, rabies, Japanese encephalitis, and influenza.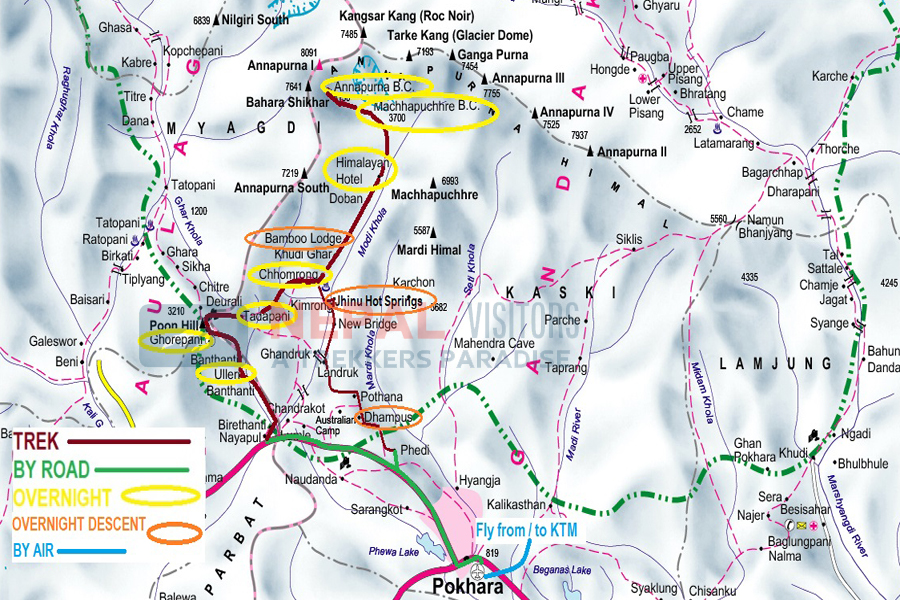 ---
When to Go Annapurna Sanctuary
The best time to trek the Annapurna Base Camp is during the shoulder seasons of either April – May (Spring) or October – November (Autumn) which are considered to be pre-monsoon and before winter respectively. The weather is mildly hot during the day while hiking and cold at night depending on the altitude.
Travel Insurance for Annapurna Sanctuary
It is very important that you have travel insurance when you are trying to tackle such a feat and the travel insurance has to cover activities such as hiking in a country like Nepal. We would recommend WorldNomads.com if you are looking to find the right kind of travel insurance for this. They have a simple and flexible search system that allows me to find the exact insurance.
You may prefer a policy that pays doctors or hospitals directly rather than you having to pay on the spot and claim later. In Nepal, most medical treatment must be paid for at the point of delivery. If your insurance company does not provide upfront payment, be sure to obtain receipts so you can reclaim later.
What to Pack for Annapurna Sanctuary Trek
Hiking Cloths: The sun is strong and you will be sweating a lot while hiking so we would recommend something light and breathable like a weather-proof outer-shell jacket together with a fleece jacket and a regular shirt inside. Here are jackets we recommend you get for the trip: fleece jacket and the beautiful orange Columbia outer-shell jacket.
Teahouse Clothing: When you are idle, you will need something that can keep you warm. A big down jacket is recommended for when you are in the teahouse. Most teahouse's bedrooms are NOT equipped with a heater so you will definitely need a good down jacket.
Head Lamps: Important in the early mornings and in case you have to hike at night (I do not recommend this). Here is a headlamp I use during this hike: Ultra Bright Cree Headlamp.
First Aids: Bandages in case of blisters, Tylenol for headaches, Diamox for Altitude Sickness etc.
Sunglasses: The sun is extremely strong up there.
Buff: To warm up air before you breath in to prevent the nasty case of Khumbu Cough afterward.
Wet Wipes: The next best thing from actually having a shower in the mountains. You will thank yourself for it after 10 days of not showering.
Good Sturdy Shoes: Make sure you have waterproof sturdy shoes in case of rain. Break into your shoes first if you bought a new one. You wouldn't want to be the hikers with blisters all over his/her feet at the end of the trek. This Timberland Shoes is my go-to hiking boots in most situations and I recommend you carry high ankle shoes like the Columbia Newton Ridge shoes just in case.
Money: Get enough cash out in Pokhara for all the days you are trekking as they are no way you will be able to get money out along Annapurna Base Camp trek.
Sleeping Bag: Bedrooms in teahouses can get really cold at night and there's nothing worse than not being able to sleep after an 8-hours hike day. We would recommend getting the -10°C one in either Thamel, Kathmandu or Pokhara. We got mine in Pokhara and still using it today (2019). You can also get the Coleman North Rim Sleeping Bag online prior to your trip.
Toiletries: Wet wipes, tissue papers, toothbrush, toothpaste, sunscreens, lip balms etc.
Snacks: Prepare some snacks to Treat yo self so you don't have to buy an overpriced Snickers bar up there. You deserve it!
Get Maps.me: Download Maps.me app on your phone and download the Nepal map for offline navigation. They do have the trail map available and it's quite accurate. The app is available on both Android and iOS.
Large Backpack (60+L): And of course, a backpack big enough to fit all these stuff so you can carry up the mountain. I highly recommend the 65L Osprey Atmos AG Backpack with their mesh grid back support that makes your backpack lighter, a good capacity to carry everything you need for you trip, and you can't beat the Osprey lifetime guarantee.
Summary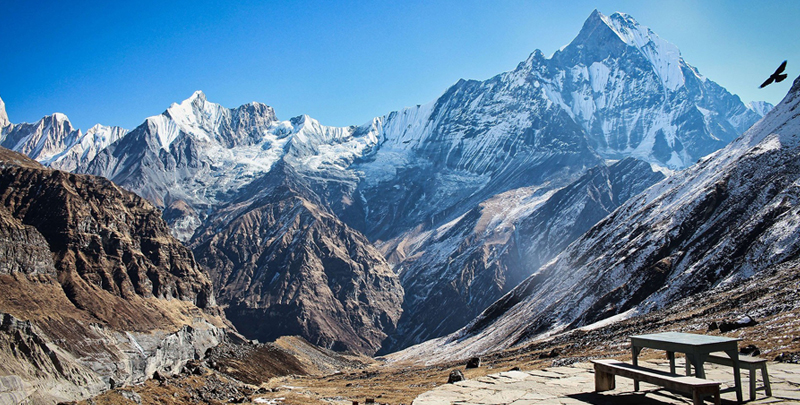 Brand Name
Product Name
Price
Product Availability