Travel Activities
Trekking
Manaslu Region
Manaslu region is untouched and newly famous trekking region of Nepal. It is located in the west-central part of Nepal. The Manaslu Trek (or Manaslu Circuit Trek) is a 16-day tea-house trek that circumnavigates the 8th highest peak in the world (8,156m/26,758ft).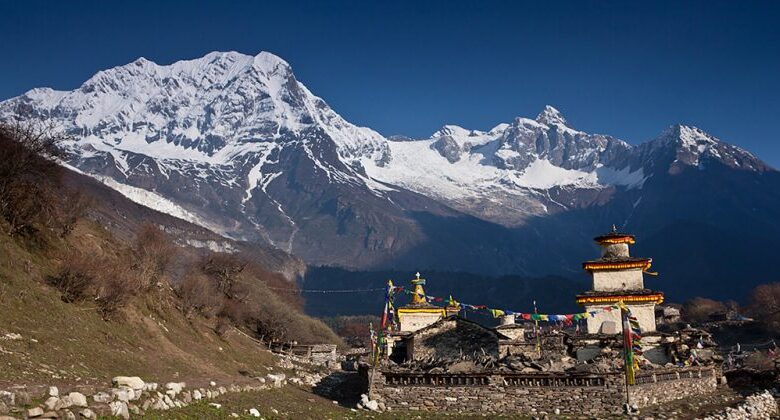 The Manaslu region, which was officially opened to foreign tourists only in 1991. A pristine trekking allows you to circle around Mt. Manaslu, the world's eighth highest peak. Trek along the less travelled trails through rural Nepal. With epic views that have to be seen in all their glory. Manaslu region offers a very different experience from treks in the Everest and Annapurna regions.
Manaslu region is pleasant off the beaten trails in the Gorkha district of Nepal. The month of December serves as an opportunity for the adventurers to trek this peaceful trail. You can enjoy the breathtaking views of the snow-capped mountains of the Annapurna-Manaslu range in all its glory.
This virgin trail is less crowded than the other popular treks like the Everest Base Camp Trek and Annapurna Circuit Trek. Mt. Manaslu is the world's eighth highest mountain at 8163m and we trek along the foothills of this magnificent mountain.
The Manaslu region offers a variety of trekking options. Building of tea-houses means the trek can be completed using local accommodation. The trek requires a Restricted Area Permit of $70 per week. It depends on season and that trekkers travel in a group of at least two persons with a registered guide. The trek lies on the newly developed Great Himalaya Trail.
Manaslu Region Highlights
Jaw-dropping natural beauty of the forests, rivers, and flora in the Manaslu region.
Friendly people, rich culture of the region which includes both Nepalese and Tibetan ethnic groups.
Larky La Pass (5167 meters), the highest point on the trek.
Stunning view of some of the highest peaks in the world- Manaslu, Cheo Himal, Himlung Himal, Nemjung, Gyaji Kang, Kang Guru, and Annapurna II.
Abundant wildlife including Tahr (Mountain Goat), Agali (Blue Sheep), Pika (Highest living Mammal), Himalayan Marmots and, if you are lucky Snow Leopard.
Experiencing the warm hospitality of the Nepalese people
Flora and Fauna of Manaslu Region
The Manaslu region is home to 33 species of mammals including snow leopard, musk deer and Himalayan tahr. There are over 110 species of birds and three species of reptiles and over 1500-2000 species of flowering plants. Manaslu is the home of some of the highly endangered animals including snow leopard and red pandas. Some of the wildlife that can be found includes grey wolf, Asian black bear, lynx, Himalayan goral, woolly hare, Himalayan mouse hare, and black-lipped pika.
Best time To go Manaslu Region
The best time to go trekking in Nepal is from September to November. The weather is generally dry and clear, with warm sunny days and excellent visibility. The Manaslu Circuit trek is possible throughout the year. Every season has its own perks and variety of adventures. However, Spring and Autumn are the best time to trek Manaslu because of the moderate weather and stable climate the season offers.
The region experiences four distinct seasons. Each month of the season like every season has its own unique appeal and drawbacks. Manaslu Circuit region like the rest of Nepal experiences four different seasons. These are Spring, Summer, Autumn, and Winter. Each of these lasts around 3 months.
Each of the different months of the year offers a unique perspective of the Manaslu region to the traveler/trekker. Depending on what you prefer and expect, you can take the decision of when you do your Manaslu Circuit Trek.
Permits of Manaslu Region
The permit cost for Manaslu Trek depends on the month and number of days you will spend in this region. To trek to Manaslu region, you will need three kinds of permits issued by the Government of Nepal.
Manaslu Restricted Permit
September to November: USD 100 per person for the first seven days and an additional USD 15 per person per day from the eighth day onwards.
December to August: USD 75 per person for the first seven days and an additional USD 10 per person per day from the eighth day onwards.
Manaslu Conservation Area Permit (MCAP)
Entry fee for SAARC Nationals is Nepali Currency 200 per person and for other Nationals is Nepali Currency 3,000 per person.
Annapurna Conservation Area Permit (ACAP)
Entry fee for SAARC Nationals is Nepali Currency 200 per person and for other Nationals is Nepali Currency 3,000 per person.
Tsum Valley Restricted Permit (Optional: if you want to go to the Tsum Valley)
If you choose the Tsum Valley trek, it costs USD 35 for each person per week.
Where to get the permit for Manaslu Region:
Permits and TIMS cards can be purchased with a trekking agency they will arrange.
Manaslu Trek Difficulty
In few years, the Manaslu Circuit trail has become a popular alternative to the Annapurna Circuit and Everest Base Camp trek.
Manaslu circuit trek is one of the off-beaten treks in Nepal takes you through the remote villages, lush green forest, passing several rivers, waterfalls, and witnessing the adorable mountain vistas.
This adventurous trek start from the lower altitude 700 m below to higher altitude 5,213m. Thus, the major Manaslu Circuit trek difficulty like on many high altitude treks is your ability to adjust to high altitude.
This trek is a moderately difficult trek. The physical condition of the trekker has a lot to do with the Manaslu Circuit Trek difficulty. Manaslu Trek is one of the challenging treks in Nepal that takes you through the remote villages of the Himalayan region. It is one of the off-beaten treks in Nepal.
Manaslu Region Accommodation Facility
Manaslu region one of the best tea house treks in Nepal and is a great alternative of Annapurna Circuit trek. Many trekkers prefer to stay in teahouses as it is convenient and easy. However, if you prefer to go camping trek then it is possible too.
The cost of accommodation varies depending on the season you trek and the altitude you ascend during the trek.
The cost of accommodation ranges from the US $3-$5 in peak seasons in lower altitudes. But, as you trek higher, the accommodation charge increases to around the US $7-$10.
While in the off-season, you can find a room for the US $2-$3 in lower altitudes. But as you ascend higher, the cost increases to around the US $5-$7.
The main problem might come at a place called Dharmashala where there is only one lodge with around eight rooms. Which why it is advised to book in advance, otherwise you will have to spend the night in tents.
Manaslu Trekking Routes
Take a bus from Kathmandu to Arughat of Gorkha. From there, you can take a jeep or walk for 5 hours to get to Solti Khola from where the trek normally starts. It's completely up to you where you start your trek from.
After Soti Khola, it's time to stretch your happy feet along. The official Manaslu trek ends at Besisahar. However, you can cheat a little by catching a bus from Dharapani.
Phone and Mobile Network Access
Networks in the region are pretty poor so tour operators advice to take a CDMA SIM along with you as NTC and NCell don't have proper connectivity around the region.
Besides the telephone network, the power in Manaslu Circuit is supplied through solar panels or local hydropower projects. Some places do not have access to power. The charging is easily facilitated in places supported by the hydropower projects. But you will definitely face difficulties in charging phones where solar power is used. And some lodges have even started to charge at a certain rate per hour.
How to Book Manaslu Trek
If you want to have everything packaged together in an inclusive tour, there are no shortage of options out there.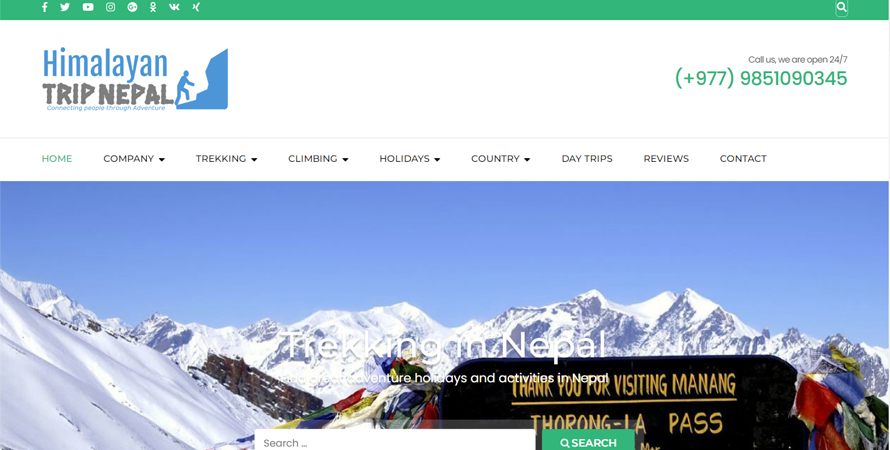 Group tours with local company such as Himalayan Trip Nepal include everything (hotels, Kathmandu sightseeing, etc.). This national companies tend to work with the very best local trek operator, so you can expect very professional service, highly experienced guides and a pricetag to match.