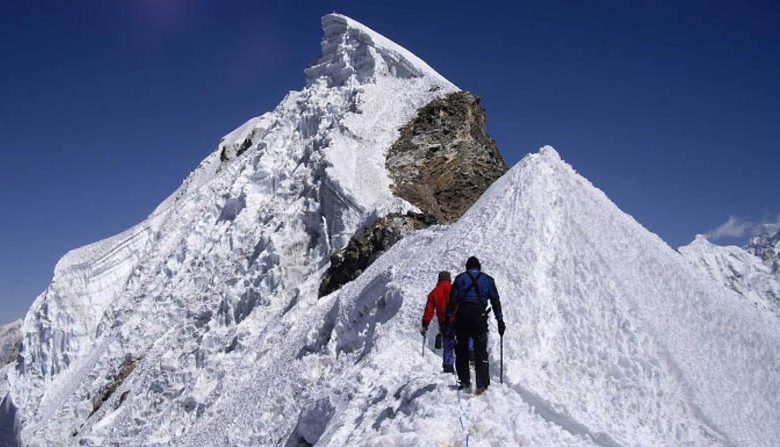 Government of Nepal has decided to royalty free peaks in certain Mountains. The glorious peaks of Nepal are calling out for climbers (first-timers and experienced) from all over the world. Come and get an everlasting taste of the magnificent Himalayas here in Nepal!
Apart from your travel expenses, you are required to pay royalty fees for your climb. Climbing the popular peaks include expensive royalty fees. These fees also depend on the season of your travel. Spring and Autumn are more expensive than winters as spring and autumn are the peak seasons for outdoor activities in Nepal.
However, there are some peaks that you can climb without paying any royalty fee.
100% Royalty Free Mountains list in Nepal
| Number | Name of the Peak and Mountain | Altitude in Meter | District | Zone |
| --- | --- | --- | --- | --- |
| 1. | Fimkof Himal | 6697M | Bajhang | Seti |
| 2. | Fimkof West Peak | 6645M | Bajhang | Seti |
| 3. | Radsha Urai Peak | 6593M | Bajhang | Seti |
| 4. | Surma-Sarovar, North Peak | 6523M | Bajhang | Seti |
| 5. | Api Himal | 7132M | Darchula | Mahakali |
| 6. | Api west Himal | 7100M | Darchula | Mahakali |
| 7. | Saipal Himal | 7031M | Darchula | Mahakali |
| 8. | Saipal, East Himal | 6882M | Darchula | Mahakali |
| 9. | Jethi Bahurani Himal | 6850M | Darchula | Mahakali |
| 10. | Bobaye Peak | 6808M | Darchula | Mahakali |
| 11. | Nampa Peak | 6755M | Darchula | Mahakali |
| 12. | Nampa, South Peak | 6580M | Darchula | Mahakali |
| 13. | Mt.Rokapi | 5467M | Bajhang | Seti |
| 14. | Mt. Korko | 6053M | Bajhang | Seti |
| 15. | Mt. Roma | 5407M | Bajhang | Seti |
| 16. | Mt. Dhaulagiri | 6632M | Bajhang | Seti |
| 17. | Mt. Khiuri Khala | 5806M | Bajhang | Seti |
| 18. | Mt. Nampa II | 6700M | Bajhang?Darchula | Mahakali/Seti |
| 19. | Mt. Nampa III | 6618M | Bajhang/Darchula | Mahakali/Seti |
| 20. | Mt. Yokopahar-(Nampa 7) | 6401M | Bajhang/Darchula | Mahakali/Seti |
As per the decision of Ministry of Culture, Tourism and Civil Aviation, mountains of the height less than 5800m will be promoted as trekking peaks and royalty fee has been waived for those peaks. Hence, the following peaks managed by NMA are free of royalty fee:
100% Royalty Free Peaks in Nepal Under NMA
| Number | Name of the Peak and Mountain | Altitude in Meter | District | Zone |
| --- | --- | --- | --- | --- |
| 1. | Tent Peak | 5663M | Mustang | Dhaulagiri |
| 2. | Mardi Himal | 5587M | Kaski | Gandaki |
| 3. | Yala Peak | 5732M | Rasuwa | Bagmati |
| 4. | Chukung ri | 5550M | Solukhumbu | Sagarmatha |
75% Royalty Free Mountains in Nepal:
| Number | Name of the Peak and Mountain | Altitude in Meter | District | Zone |
| --- | --- | --- | --- | --- |
| 1. | Bhemdang Ri | 6150M | Rasuwa | Bagmati |
| 2. | Leonpo Gang (Big White Peak) | 6645M | Rasuwa | Bagmati |
| 3. | Gindharva | 6248M | Kaski | Gandaki |
| 4. | Gyalzen Peak | 6151M | Rasuwa | Bagmati |
| 5. | Bhairab Takura (Madiya Peak) | 6799M | Rasuwa | Bagmati |
| 6. | Nepal Peak | 6910M | Taplejung | Mechi |
| 7. | Phurbi Chyachu | 6631M | Rasuwa | Bagmati |
| 8. | Ohmi Kangn | 6829M | Rasuwa | Bagmati |
| 9. | Kirat Chuli (Tent Peak) | 7365M | Taplejung | Mechi |
| 10. | Urknmang | 6151M | Taplejung | Mechi |
| 11. | Kang Sar Kang | 7485M | Kaski | Gandaki |