Blogs & Articles
Top Handicraft Products to Buy in Nepal
Nepal is a famous place for handmade goods and Also, the country is best known for its art and architecture. It has its unique Metalwork, clothing materials, tea, sculpture, paper made materials, dolls, trekking gear, jewelry, etc. These are things a tourist can buy from Nepal.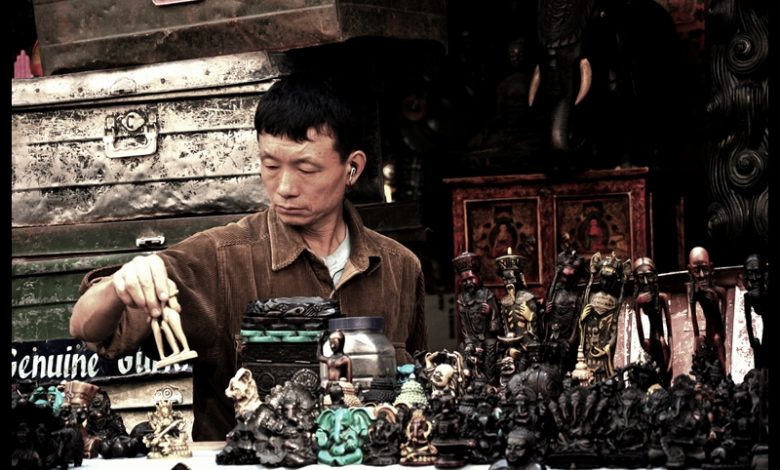 Every time we are on a Nepal vacation, we face a tough time selecting budget-friendly souvenirs for our relatives. The Nepali handicraft products are the perfect answer to your souvenir needs. When discussing the variety of handicrafts of Nepal, this serene place on the laps of Himalayas puts forward a lot of options. It is therefore highly recommended to purchase these fine handicrafts and let their economy grow.
Nepal has become a popular tourist destination for adventurous activities like trekking, peak climbing, and expedition. At the same time, it is not just the natural beauties that the place offers. So without further delay, let's dive into the kinds of handicrafts of Nepal.
Now, without any further delay, let's have a quick insight into top handicraft products to buy in Nepal.
Thangka Paintings
Thangka is also known as scroll painting. Initially, designs are drawn on a gelatin paper using pen. The cloth is tied to an iron or wooden frame using cotton threads. To avoid pores on the cloth, a mixture of distemper and gum boiled with water is applied on the cloth before painting and dried.
Thangka painting is a Buddhist painting made on cotton and silk. When they are not used for display, they are rolled and kept on a textile backing which looks like Chinese scroll paintings, with a silk cover. They can last for a long time. But they are of delicate nature, that's why they are kept in dry places so that it doesn't get affected by moisture.
The painting depicts a Buddhist deity or a scene. They serve as important teaching tools. Thangka painting are used for devotional and decorative purposes. There are workshops held by famous thangka painters who teach the visitors the importance and procedure that goes in the making of the painting.
---
Nepalese Khukuri (The Gurkha knife)
Nepalese khukuri is termed as one of the major weapons of Nepal, that's why it is regarded as the national weapon of Nepal. Khukuri mainly gained popularity in the history of Nepal while the Gorkha Kingdom was in a growing phase. When the East India Company came into conflict with Gorkha armies of Gorkha Kingdom, all Gorkha Armies were issued with two Khukuries. Despite not having a gun and modern fighting equipment, Gorkha Army fought with bravery single-handedly with Khukuri and rocks.
Known for its unique slashing edge and style, this traditional knife of Nepal is used as both – a weapon as well as a tool. For tourists, it's an excellent souvenir! Just don't forget to keep it in your check-in luggage when flying back. Also, make sure the size of the knife you buy is allowed to be transported to your country.
There are several shops in Thamel which have an extensive collection of Khukuri. You can visit the stores and get the Nepalese Khukuri. Also, there are several online shopping platforms from where you can get Khukuri. Especially in the tourist places like Thamel in Kathmandu, Lakeside in Pokhara, you can get Khukuri and it's of no legal objection in buying Khukuri in Nepal.
---
Himalayan Cashmere ( Pure Pashminas from Nepal)
The most sought after of all the handicrafts of Nepal, are Cashmere products that are also famous worldwide. The word Pashmina is taken from Persian language meaning "Made from wool".
Himalayan Cashmere is a special type of Kashmiri wool extracted and hand weaved resulting in a very fine texture. Pashmina products are famous both in Nepal as well as in Kashmir.
Pashmina products are usually very high priced due to the rarity of Pashmina. Product ranges from scarves to sweaters and are sold widely in roadside stalls.
---
Jewellery Products
Nepal is the ninth biggest silver jewellery producing country in Asia. The best selection of beads and jewellery can be found in the local markets of Kathmandu. Nepal holds a good name for selling items that are authentic and made in Nepal itself. The jewellery there are quite affordable and would not lead to a pocket crunch. The Nepalese artisans hold expertise in carving out unique designs and product development.
Silver making is a traditional occurrence in Nepal and has been passed down generations. It is a highly labour intensive job and creating more opportunities in this sector would directly result in more jobs for them. Markets of Nepal also sell a variety of locally made or Indian jewellery. Yak bone jewellery, with its unique engravings and designs, is also a hit among tourists.
---
Handmade Paper Products
Handmade paper was introduced in Nepal by the Tibetan travellers who migrated into this region. The traditional process of making one of the oldest handicrafts in Nepal is by recycling waste paper and is a cumbersome technique. It has a very unique texture which allows natural ink to stay for a long time hence making preservation of writings permissible. It is vastly used for gifting and using as a reliable product to write on. The handmade paper also finds its use in gift wrappings and calendars. Innumerable art shops in Nepal sell beautiful paper paintings, Lokta paper notebooks, paper sheets, lampshades as well as greetings cards made from handmade paper.
---
Nepali Printed Tshirt
Nepali Printed Tshirt store in Kathmandu, Nepal: Design best custom designed half and full sleeve T-shirts for men, ladies and children in 100% cotton and polyester fabrics, personalized with your logo, photograph, or quotes. Order your best superhero T-shirt online. Regardless of whether you ask for a custom designed print of T-shirt or an already printed one, you will be served in Nepal Visitors Shop.
---
Nepalese Herbs and Spices
Nepalese Herbs and Spices are very popular in international market. The diversity and richness of Nepali cuisines are also reflected by the wide varieties of spices, herbs and flavoring ingredients used in Nepali cooking. Spices in Nepali cuisines are not just used for the exquisite flavors but also for the nutrition, medicinal value, aesthetics, texture, freshness, and heat.
Many Nepalese herbs and spices used in Nepal are either unique to Nepal or known and used differently from their counterparts in other spice growing regions. There are probably a dozen or more unique variations of spices and unique preparations of spices available in Nepal.
---
Nepalese Herbs and Spices
The Nepal Visitors Felt Store began as an idea for a small online company in 2004. Years later, we have surpassed our humble beginnings and grown tremendously within the world of online business. We are now a leading source of felt and felt items for home, industry and design, and continue to flourish by developing new products and collaborating with the creative industry.
Drawing from over 16 years of felt experience from our manufacturer, we have the knowledge, the technology and the capability to provide you with the high quality products and services you need.
---
Buddhist Prayer Flags
Traditionally, prayer flags are used to promote peace, compassion, strength, and wisdom. The flags do not carry prayers to gods, which is a common misconception; rather, the Tibetans believe the prayers and mantras will be blown by the wind to spread the good will and compassion into all pervading space.
A Tibetan prayer flag is a colorful rectangular cloth, often found strung along trails and peaks high in the Himalayas. They are used to bless the surrounding countryside and for other purposes. Prayer flags are believed to have originated with Bon. In Bon, shamanistic Bonpo used primary-colored plain flags in Tibet.
---