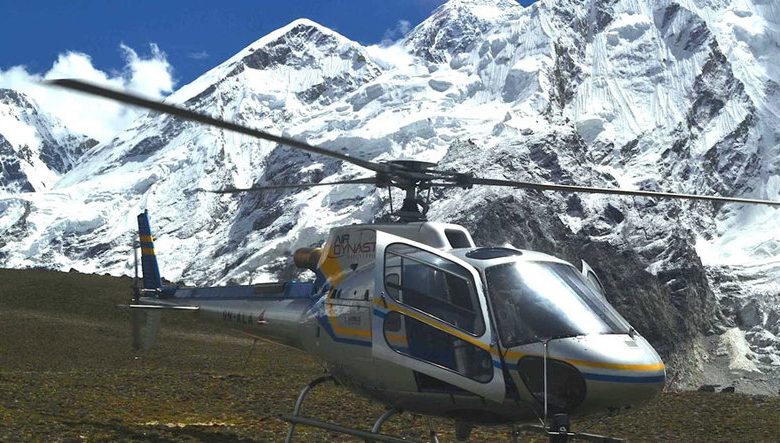 Air Dynasty Heli Service is a private helicopter airline based at Tribhuvan International Airport in Kathmandu, Nepal, operating chartered helicopter services.
Air Dynasty Heli Service is one of the leading helicopter companies in Nepal providing helicopter charter services. The helicopter company was established in 1993. Today, Air dynasty's fleet includes 4 Ecureuil As350 Series Helicopters. Air dynasty is the oldest among a few operators of light helicopters and the operators of Ecureuil helicopters in private aviation in Nepal.
These helicopters are certified to fly up to 23000 ft. AMSL. Each aircraft can normally accommodate 5 adult passengers subjective of altitude and temperature at landing site.
Expert key professionals managing and operating at air dynasty have extensive experience of managing aviation operation in national and international civil aviation. Air Dynasty's main office is located in Sinamangal, Kathmandu. The company is occupying more than 35% of total helicopter business in Nepal.
Air Dynasty Heli Services has been providing safe, efficient and cost effective helicopter charter flights in Nepal. We has some of the best and most experienced pilots, engineers and management in helicopter industry.
Working together across boundaries, valuing the local people, and encouraging each team member, building relationships.
Air Dynasty Owner
Air Dynasty was founded in 1993 in Kathmandu, Nepal by Ang Tshering Sherpa. In 2001, the airline received a Foreign direct investment from British businessman Malcom Roy Smith who holds 50% of the airline and serves as the chairman.
Air Dynasty Fleet
Air Dynasty has a large fleet of offshore transportation helicopters ranging in all sizes AS350b3e, AS350 FX II, AS350 FX II, AS350 BA.
Air Dynasty Helicopter Crashed
Landing in unimproved and untested areas with obstacles which can cause crashes due to contact with the main rotor or the tail rotor. Low altitude also means more exposed to ground based turbulence and eddy air currents around obstacles. Instability. A helicopter is inherently unstable aerodynamically.
On February 27, 2019, An Air Dynasty carrying including Minister for Culture, Tourism and Civil Aviation Rabindra Adhikari, owner of Yeti Airlines and Air Helicopter Company Air Dynasty Ang Tshering Sherpa crashed at Pathivara in Taplejung. The aircraft crashed at approximately 1.30 p.m. due to bad weather in Taplejung.