Travel News
Nepal reopening for tourists
No quarantine for fully vaccinated, visa on arrival to revive tourism income and jobs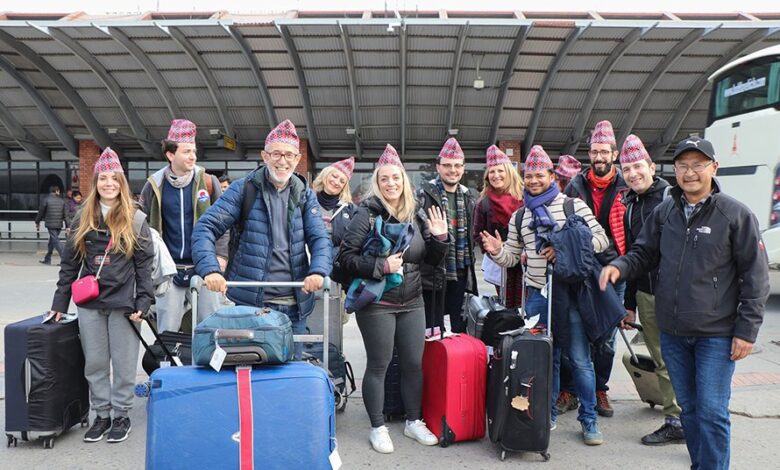 After nearly two years of nearly zero tourist arrivals and revenue, Nepal looks set to welcome international tourists again after the government on Thursday introduced revised immigration entry protocols.
Tourists fully vaccinated against Covid, with the second dose 14 days before the date of travel, will no longer have to quarantine after landing in Kathmandu and can get visas on arrival. Earlier, they had to get visas from Nepal's missions abroad and quarantine for seven days at a hotel in Kathmandu at their own expense.
Partially vaccinated and unvaccinated visitors will have to obtain visas from Nepal's embassies in their home countries or elsewhere, and will still have to spend 10 days in a government approved hotel in Kathmandu and get a PCR negative test before they go out and about.
Tourists coming via land, except Indians who are visa-exempt, must arrive with their visas from Nepali diplomatic missions and be subject to a negative antigen test at the Chinese or Indian borders.
"The government looked at the current trend of Covid infections, transmission and disease control to reach this decision," says spokesperson of the Immigration Department Jhanka Nath Dhakal. "Entry of fully vaccinated tourists becomes easier as a lot of additional paperwork can be avoided."
However, all visitors, including fully vaccinated ones will have to present a negative PCR or other test report done not longer than 72 hours before their flight, and bring a printout of the international arrival form at www.ccmc.gov.np to immigration for visa on arrival.
The new protocols were issued even though the Covid-19 Crisis Management Committee (CCMC) itself does not have legal standing because an ordinance establishing it has lapsed because of the continued political impasse in Parliament.
Nepal's tourism industry had been lobbying strongly with the government to ease restrictions as the case load and fatalities in Kathmandu drop, and the vaccinate rate goes up in countries from where most visitors come to Nepal. They argued that millions of jobs were at stake, investors were defaulting on loans for hotels, airlines and restaurants and the government was losing the $800 million it used to earn a year from tourism prior to the pandemic.

Members of the tourism industry had criticized earlier entry regulations as being cumbersome and confusing, detracting potential visitors. For example, tourists needed to submit NTB or Department of Tourism-approved travel itineraries to obtain visas on-arrival while quarantining for seven days. As a result, only tourists with well-connected agents could arrange the paperwork and arrive easily. Travel trade stakeholders complained of arbitrary visa requirements and ad hoc decision making.
While most tourists were previously discouraged by the convoluted regulations, news of the revised protocol has generated an overwhelmingly positive response. Deepak Raj Joshi, the former CEO of the Nepal Tourism Board (NTB) is glad the government finally took the decision.
"The tourism industry is now buoyant, stakeholders are pleased and demand from potential tourists is massive, so we must aggressively and effectively communicate the return of Nepali tourism into source markets," Joshi says.
A streamlined entry process is a much-needed boost for tourism, one of the sectors hit hardest by Covid. Nepal got nearly 1.2 million tourists in 2019, but this figure dropped to only 220,000 in 2020 – mot of them who had arrived before the lockdown in March that year. So far this year, there have been only 70,000 visitors – most are either mountaineers or repeat trekkers, or those familiar with Nepal and have some connections here.
Despite the socio-economic fallout from the pandemic, the tourism industry has prepared well to host tourists again. Vaccine penetration in the hospitality sector is high, and the new, simplified entry requirements are the next step in restoring a "new normal" for tourism alongside Covid in the long-run.
Most frontliners working the tourism industry are already vaccinated, and in popular destinations such as Langtang, workers as well as locals are jabbed. Trekking and mountaineering may soon continue as normal, with expedition groups usually no larger than 20-30 members and everyone involved inoculated.
There has been a trickle of trekkers coming to Nepal even under the older stricter rules, and there are expedition already at base camps of various mountains including Manaslu, Dhaulagiri and Kangchenjunga. There have been no climbing permits issued for Mt Everest.
"Lobbying is underway to implement a 'V-to-V', vaccinated-to-vaccinated tourism model whereby vaccinated guests are hosted by vaccinated hospitality services," says Joshi.
Such a model is particularly relevant for tourists coming overland through border cities such as Birganj, Biratnagar and Nepalganj and have high vaccination rates, and the visiting Indians themselves are increasingly getting inoculated.
Tourism as an industry is based on trust and hospitality as it sells services, leaving no room for negligence and error. This makes it a relatively safer sector than others, says Joshi.
"If a tourism-based business doesn't follow health guidelines and helps spread disease, it loses trust and trade for life, making the entire industry cautious and aware," he says. "That the government readily allowed crowded religious processions to go on while stalling on safe tourism speaks volumes on flawed planning."
Elsewhere, on-arrival visas have also been resumed for those returning for funerals of relatives, those who are convalescing, or returning to care for elderly citizens – but they have to produce negative Covid tests and recommendations from local governments and hospitals. On-arrival visas are also on offer for returning non-resident Nepalis and foreigners married to Nepali nationals.
Nationals of the following countries will need to have visas before they arrive in Kathmandu: Zimbabwe, Swaziland, Cameroon, Somalia, Liberia, Nigeria, Ghana, Ethiopia, Iraq, Palestine, Afghanistan and Syria.