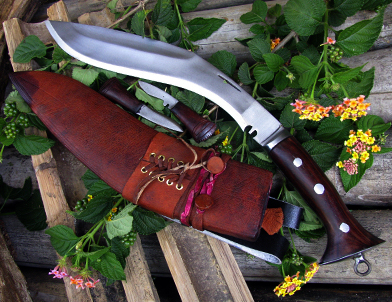 Khukuri Mart Pvt. Ltd was organized in 2001 by Ishowr Khatiwada" Binod", with name of Nepal Khukuri 'N' Art , a small store on prime location of tourist market where daily 100s of tourist make shopping. Khukuri was major selling handicraft among other crafts but because of the insurgency in the country, it was not safe to focus only on the Khukuri knives so we decided to sell Khukuri/kukri Tibetan Crafts. As time goes on, the business take good pick that makes us to think go give more professionalized on specific products with more time. Khukri/kukri was the first item we decide to give more emphasis because in these past 6 years time we had already created a wide platform to work in.
Over the years as contributors increased, It was a dream to find a wide space store room in most busy area of tourist place so that Khukuri/kukri lover can visit the store and purchase genuine Gurkha Khukuri/kukri. Luckily, we were able to find a shop about 50-60 meter north side than current shop, in better place with more wide space where can display more than 5 times products which provide wide selection to buyers.
On the May, 2006, the new shop was ready with products display in it. Products were only Khukuries and company got new name" Khukuri Mart Private Limited" with full government authority to sell these ancient time crafts.
The store encouraged home industry and allowed the skillful black smiths who can show all their talent making beautiful khukuries and fulfill the family needs by earning money. It also fulfilled its founding statement, "to preserve the skills of our pioneer ancestors and the skills and crafts of their variouscountries."