Travel Activities
Trekking
Langtang Region
Langtang Region is considered one of the most popular narrow mountain valleys at the base of central Himalaya, Located north of the Kathmandu Valley.
Langtang is one of the most unspoiled national parks of Nepal. Situated North of Kathmandu, it is the most easily accessible highland sanctuary from the capital. Langtang covers 1,710 sq. Langtang region, located at the north of the capital city and bordering Tibet is protected as Langtang National Park. This is regarded as the closest and easily accessible yet magnificent trekking destination in Nepal. It has a number of high peaks including Langtang Lirung (7246m).
The ultimate destination of this region is cross Lauribinayak Pass (46100m). Amazingly, you get to see almost all of the major Himalayas in Nepal ranging from Makalu in the East to Annapurna in the West. Ganesh Himal and Manaslu can also be viewed from this region. Therefore, after Everest and Annapurna regions, Langtang is the most preferred destination of the trekkers coming to Nepal.
Langtang region comprises beautiful places with both natural and religious tenets. From holy lakes of Gosaikunda to natural hot springs, we can explore a variety of landscapes in this region. Trekkers can enjoy the diverse culture and lifestyle of Sherpa and Tamang people. People here are earning their living through tourism and yak farming. Yak cheese factory here is also one of the destinations to be at. People here are believed to be from the Tibetian origin. Hence you can also experience cross-cultural diversities of Tibetian and Nepali ethnic groups. A lifestyle of Tamang, Lama, Gurung, and Sherpa community living in this region look similar to Tibetians. Hindus and Buddist devotees visit this region with religious faith.
Langtang Flora and Fauna
Sub-tropical vegetation characterized by Sal (Shorea robusta) forest in the southern section of the park. It is gradually taken over by hill forest (2000-2600m) consisting of Chirpine, Rhododendron, and Nepalese alder. The temperate zone (2600-3000m) is covered mainly by oak forest fading to old-growth forest of silver fir, hemlock, and larch in the lower sub-alpine zone (3000-3600m). The Nepalese larch (larixnepalensis), the only deciduous conifer in the region, is found in this park and few places elsewhere.
Throughout these zones different species of Rhododendron such as R. arboretum, R. barbatum, R. campanulatum, and R. lepidotum (scrubs) to name a few, form a colorful understory. Tree species such as birch, silver fir, Sorbus microphyla and twisted  Rhododendroncampanulatum are found near the tree line. It is here at 4000m Juniper and Rhododendron shrubs (R. anthopogon) slowly dissolve into expansive alpine grassland meadows. Langtang's expansive high meadows provide summer habitat for numerous ungulate species such as musk deer and Himalayan tahr. The Langtang is also well known for its populations of the red panda, Himalayan black bear, snow leopard, wild dog, ghoral, serow and more than 250 species of birds.
Langtang Wildlife
46 mammal species have been recorded in Langtang Region. The Assamese monkey, grey wolf, red panda, clouded leopard, leopard cat, snow leopard, musk deer, and Tibetan sheep are included in the protected list of the National Park and Wildlife Conservation Act 1973. The occurrence of the wild dog (Cuon alpinus) and wolf (Canis lupus) is still nebulous. However, several anecdotes of attacks of wolves on baby horses and yaks and the retaliatory killing of wolves by herders by poisoning before the establishment of the national park have been reported in the upper Langtang valley.
Langtang Climate
September through May offers a variety of natural splendors, from lush temperate river valleys with screeching langur to spectacular old growth forest and glacial-craved cliffs rimmed by snow-covered peaks. The weather is also relatively dry except January-February when one may come across snow. Autumn is the best time to visit the Park. By April bursts of red, pink, and while rhododendrons stretch into towering canopies of fir and oak forests. The advent of warm weather makes the Yak and Chauri herds ascend to a higher elevation, making occasional camps in the pasturelands, to follow years of tradition. From June to August, skies are heavy with monsoon rains. During August, a lively festival at Gosaikunda Lake attracts thousands of Hindu pilgrims, and September witnessed a spectacular display of wildflowers, while livestock herds, once again, return to lower pastures.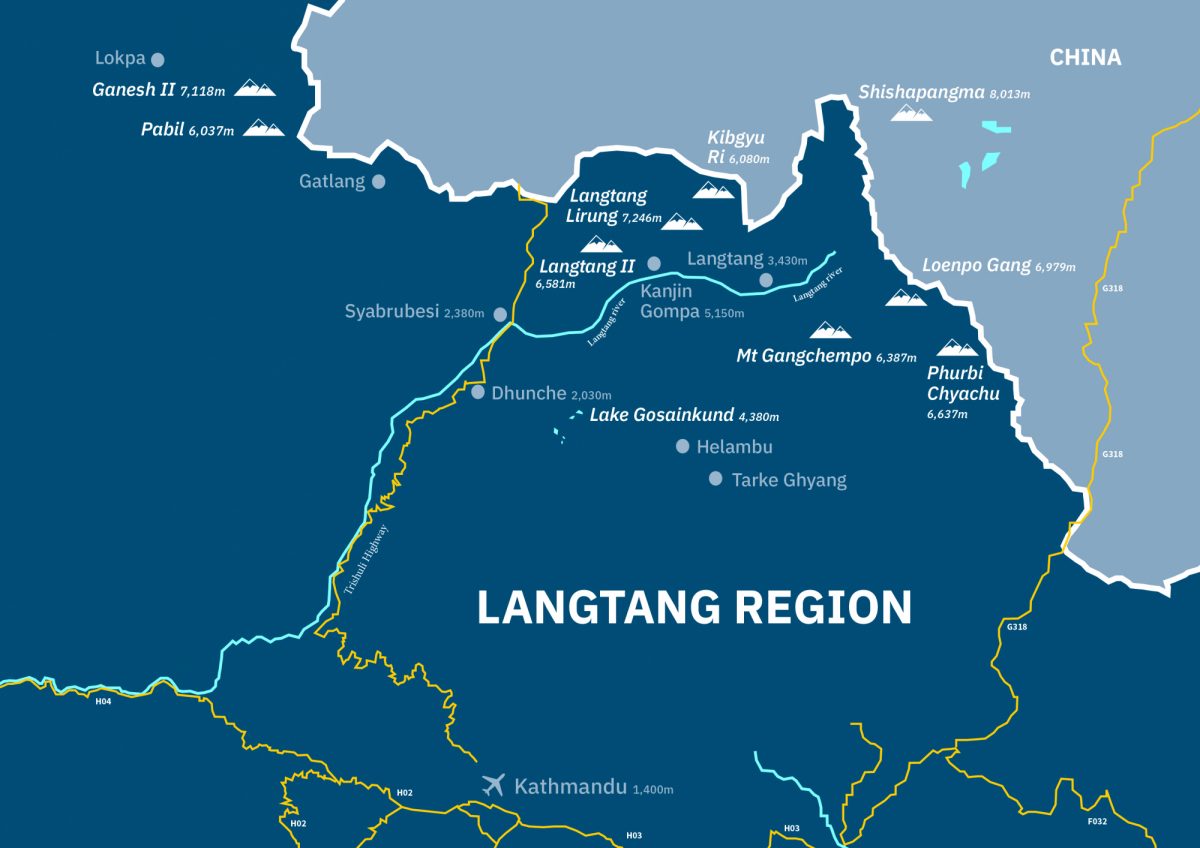 Places of Interest
Often visible from Kathmandu city center, the Langtang range offers the most accessible trekking in Nepal. If the city pollution and traffic weren't so off-putting, you could start walking from your guesthouse straight to the mountains. Three main trek routes; 1) Langtang Valley, 2) Helambu, and 3) Gosaikunda Lake cover much of the Langtang National park and the southern Helambu region. Langtang and Helambu regions are connected through Lauribina La. All routes have the facilities of locally operated hotel/lodge, teahouse, and campgrounds for groups. The park offers a choice of moderate to more difficult hiking with duration ranging from 3 days to 3 weeks. Lodges operate year-round except during the peak winter when the trails are blocked.
Trekkers who take extra time to explore trailside wilderness (e.g. near Ghora Tabela and Kyanjin) hilltop viewpoint (Kyanjin), and cultural sites (notably in Langtang village and Melamchighyang. Tarkeghayang and Shemathang) will be well rewarded. One has to be self-sustaining to venture remote areas of the Park such as Panch Pokhari (five lakes), east of Helambu, the toe of Langshisa glacier, and upper-level valley from Kyanjin: and over the challenging Ganja La pass in upper Langtang Valley.
Acclimatization and Safety
High altitude Sickness (HAS) can be life-threatening if elevation is gained too rapidly without proper acclimatization. Medical doctors advise against ascending more than 400m a day once above 3000m elevations. Alternatively, one can spend an extra night at 3000m and 3500m before ascending higher.
Over exertion and dehydration contribute to HAS. Drink at least 3-4 liters of water every day besides tea and coffee which act as diuretics. Watch the health of your companions and porters. Symptoms of HAS are headache, dizziness, trouble in breathing and sleeping, loss of appetite, nausea, and general fatigue. If someone develops HAS symptoms, take the person to lower elevation immediately.
The Langtang-Helambu trails are rocky and slippery after rain or frost. Watch out for falling rocks while crossing landslides but do not stop. Never hike alone. Hiring local guides is strongly recommended on Ganja La (5120m) trek and on Lauribina La (4600m) during winter. Carrying a comprehensive first-aid kit is advisable as there are no medical facilities out of Dhunche. Telephone facilities are available at Singh Gompa and at major settlements in Helambu.
Langtang Permit and Fees
Trekking routes in the Langtang region lie within Langtang National Park. Foreigners are required to pay an entry fee to enter Langtang National Park as well as obtain a TIMS card to trek in the Langtang region.
Permits and Fees in the Langtang Region
 Langtang National Park entry permit fee for foreigners: 3,000 NPR + 13% VAT, totaling 3,390 NPR (Approx. US $34)
 Langtang National Park entry permit fee for SAARC nationals: 200 NPR
TIMS permit: There are three types of TIMS card. They are green, blue and pink. If you are an individual trekker, you will get the green card which costs $20. Blue TIMS card is for organized group trekkers which costs $10. If you are a SAARC national, your pink TIMS card will cost only $6.
Where to get the permit for Langtang Region:
Kathmandu: Permits and TIMS cards can be purchased in the Nepal Tourism Board Office on Pradarshani Marg, Kathmandu, Tel: +977 1 4256909.
Permits can also be purchased at the Park Entry point in Dhunche.
*If you book with a trekking agency they will arrange these for