Travel Activities
Trekking
Langtang Region
Langtang Region is considered one of the most popular narrow mountain valleys at the base of central Himalaya, Located north of the Kathmandu Valley.
Langtang is a region in the north-central Himalayas of the Bagmati province of Nepal. Situated 51 kilometres north of the Kathmandu Valley, the region is renowned for hosting the Langtang national park which eventually constitutes the border with the Tibet autonomous region of China.
The name Langtang comes from Tibetan language, where 'Lang' Yak and 'Teng' mean – to follow. Yet trekkers can encounter with yak in upper valley of Langtang. Langtang is a narrow sandwiched valley, north from Kathmandu. The small Langtang valley bordering with Tibet in north and small snowy peaks in the south.
The most prominent peak of range is the Langtang Lirung (7234 meters). 99th on the world's 100 highest mountain peaks, Langtang Lirung has a very large vertical relief from the local terrain. The Langtang Glacier is a long glacier in Nepal, located in Langtang in the Himalayan mountains.It is the longest glacier river of Nepal.
Langtang region comprises beautiful places with both natural and religious tenets. From holy lakes of Gosaikunda to natural hot springs, we can explore a variety of landscapes in this region. Trekkers can enjoy the diverse culture and lifestyle of Sherpa and Tamang people. People here are earning their living through tourism and yak farming. Yak cheese factory here is also one of the destinations to be at. People here are believed to be from the Tibetian origin. Hence you can also experience cross-cultural diversities of Tibetian and Nepali ethnic groups. A lifestyle of Tamang, Lama, Gurung, and Sherpa community living in this region look similar to Tibetians. Hindus and Buddhist devotees visit this region with religious faith.
Flora and Fauna of Langtang Region
Langtang has a diverse landscape where a total of eighteen different eco-systems can be observed, ranging from the Sal and Pine forests in the lowland, to the rough and rocky alpine landscape at high altitude. The flora conists of 1043 species of vascular plants of which 13 species, such as the Rhododendron Cownianum, R. Lowndesii and Larix Nepalensis are endemic. A large population of these plants grows in the various large high meadows spread over the park. Tree species in the park include the Rhododendron, Laurel, Blue Pine, Sal and Castanopsis Indica.
Within this rich flora, many animals have found there home. Forty-six mammals can be found in the Langtang National Park. Mammals to be found are the Red Panda, Snow Leopard, Clouded Leopard, Musk Deer and Himalayan Tahr. In addition 30 species of fish live within the park boundaries as well as 70 species of butterflies and 345 species of birds such as the Impeyan Pheasant, Ibis Bill, White-Winged Redstart and the Snow Patridge.
Langtang Region Trek Difficulty
The route during Langtang Trek follows climbing uphills and downhills, walking through narrow and steep ridges along with the rugged landscapes. The total distance covered by Langtang Trek ranges between 60-80 kilometers. The average walking duration during this trek is between 6-7 hours per day.
Langtang Trek route starts from Syabrubesi, which sits at the height of 1550 meters. On some parts of the trail, you will have to take steep turns but the rest of the walk is comparatively easy. It takes about 7-8 hours to reach the Lama Hotel. Walking continuously for 7-8 hours straight might be tiring for some people.
The trail follows uphill climb most of the times. To reach the Langtang village, you will have to walk for about 6-7 hours continuously. Kyanjin Gompa is the highest point of the trek that lies at the height of 3900 meters. Walking up to such height might be challenging but the trail offers you with a fair and pleasant experience.
Some of the paths during the Langtang trek might be quite tougher and challenging as it involves rocky and slope. So, you need to be careful while walking in such paths
Choosing the Best Time for Langtang Trekking
Before you start your Langtang Region Trek, plan for the appropriate season that you will be trekking. Usually Autumn and Spring can be a good option for Langtang trek. Autumn falls in the month of September, October, and November whereas Spring falls in the month of March, April and May.
Both autumn and spring offer trekkers with a very suitable and pleasant environment for trekking. The weather and temperature of the Langtang region range between 15-20 degrees during this time which is very bearable for trekkers.
But, autumn and spring may not be the best time to trek in Langtang for the ones who are seeking for a peaceful trek as during these seasons the trekking trials become crowded.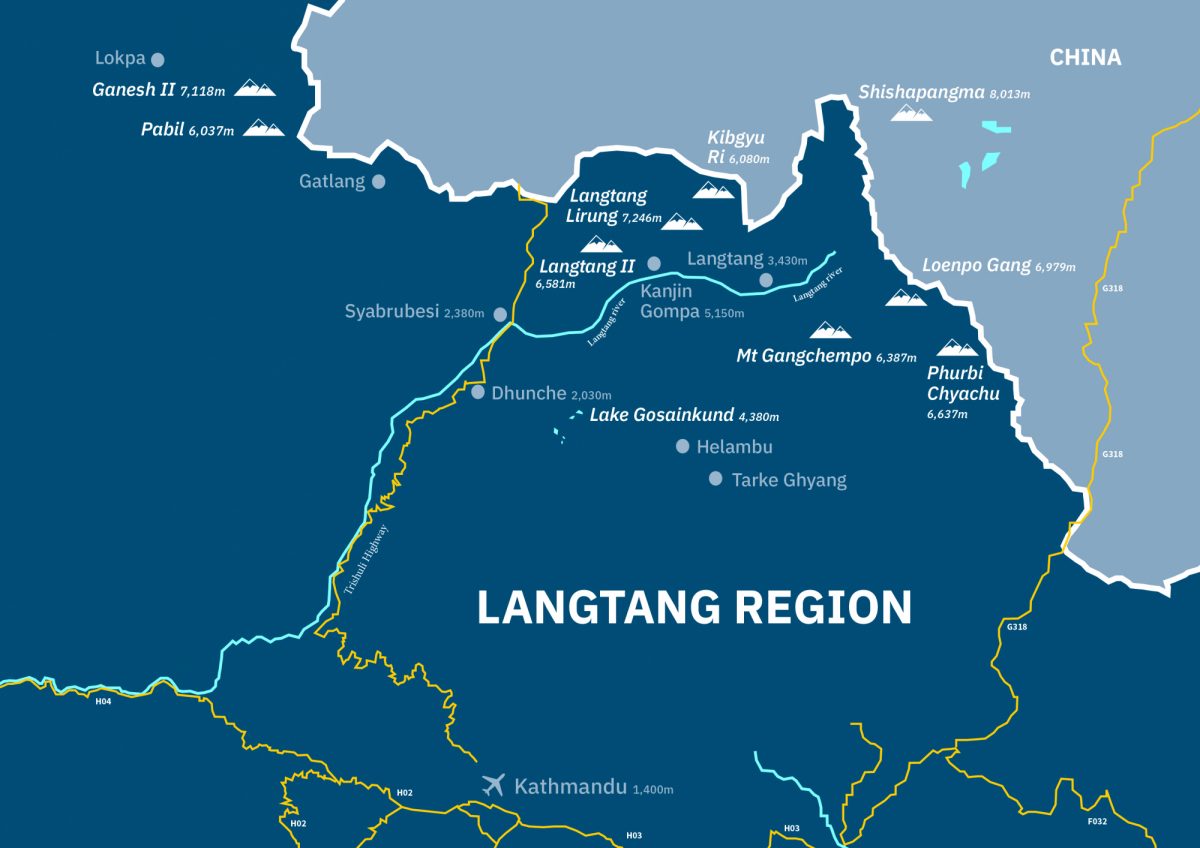 Places of Interest in Langtang Region
Often visible from Kathmandu city center, the Langtang range offers the most accessible trekking in Nepal. If the city pollution and traffic weren't so off-putting, you could start walking from your guesthouse straight to the mountains. Three main trek routes; 1) Langtang Valley, 2) Helambu, and 3) Gosaikunda Lake cover much of the Langtang National park and the southern Helambu region. Langtang and Helambu regions are connected through Lauribina La. All routes have the facilities of locally operated hotel/lodge, and campgrounds for groups.
Acclimatization and Safety in Langtang Region
High altitude Sickness (HAS) can be life-threatening if elevation is gained too rapidly without proper acclimatization. Medical doctors advise against ascending more than 400m a day once above 3000m elevations. Alternatively, one can spend an extra night at 3000m and 3500m before ascending higher.
Over exertion and dehydration contribute to HAS. Drink at least 3-4 liters of water every day besides tea and coffee which act as diuretics. Watch the health of your companions and porters. Symptoms of HAS are headache, dizziness, trouble in breathing and sleeping, loss of appetite, nausea, and general fatigue. If someone develops HAS symptoms, take the person to lower elevation immediately.
The Langtang-Helambu trails are rocky and slippery after rain or frost. Watch out for falling rocks while crossing landslides but do not stop. Never hike alone. Hiring local guides is strongly recommended on Ganja La (5120m) trek and on Lauribina La (4600m) during winter. Carrying a comprehensive first-aid kit is advisable as there are no medical facilities out of Dhunche. Telephone facilities are available at Singh Gompa and at major settlements in Helambu.
Langtang Permit and Fees
Trekking routes in the Langtang region lie within Langtang National Park. Foreigners are required to pay an entry fee to enter Langtang National Park as well as obtain a TIMS card to trek in the Langtang region.
Permits and Fees in the Langtang Region
 Langtang National Park entry permit fee for foreigners: 3,000 NPR + 13% VAT, totaling 3,390 NPR (Approx. US $34)
 Langtang National Park entry permit fee for SAARC nationals: 200 NPR
TIMS permit: There are three types of TIMS card. They are green, blue and pink. If you are an individual trekker, you will get the green card which costs $20. Blue TIMS card is for organized group trekkers which costs $10. If you are a SAARC national, your pink TIMS card will cost only $6.
Where to get the permit for Langtang Region:
Kathmandu: Permits and TIMS cards can be purchased in the Nepal Tourism Board Office on Pradarshani Marg, Kathmandu, Tel: +977 1 4256909. Permits can also be purchased at the Park Entry point in Dhunche.
*If you book with a trekking agency they will arrange these for