Day Trips Nepal
Nepal Tours
Pokhara
Pokhara Sightseeing Tour
The Pokhara day tour starts early in the morning and we will drive to Sarangkot hill station to view the sunrise view over the Himalayas then visit the Bindhyabasini Temple, return to hotel and have a breakfast and go on tour to visit the Tal Barahi Temple, Peace stupa, Devi's falls, Gupteshwar Cave and International ...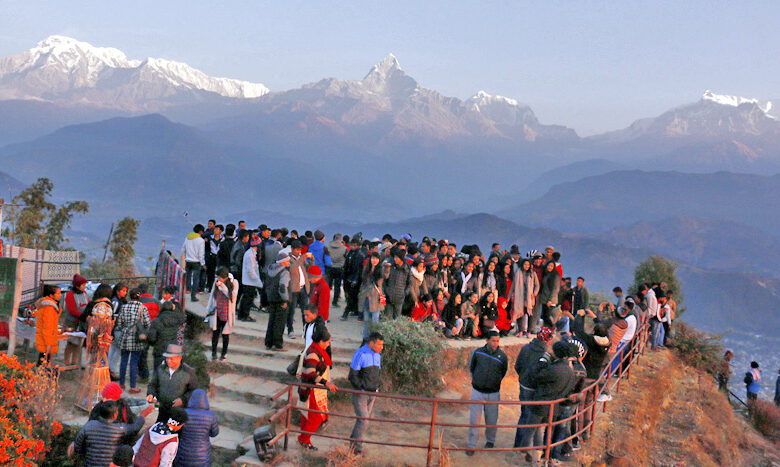 Pokhara is the second most visited city in Nepal, as well as one of the most popular tourist destinations. It is famous for its tranquil atmosphere and the beautiful surrounding countryside. Pokhara lies on the shores of the Phewa Lake. This sightseeing tour will give you a rich welcome introduction to the city of Pokhara.
Pokhara is a beautiful city in Nepal that lies in the Kaski district. It is located 200 km west of Kathmandu. The richness of valley in pure natural beauty is indeed one of the main attractions to the visitors from all over the world. Just imagine the joy of observing the majestic Himalayas. Three peaks above 8000m from an elevation of below 1000m within a very close aerial, distance.
In Pokhara you can experience the excitement of adventure: boating, hiking, pony rides, paragliding, bungee, zipline or simply relaxing at one of the several lakes.
One day Pokhara Sightseeing tour provides the best opportunity of having the taste of a beautiful city with the natural, artistic and cultural blend. This trip starts with the sunrise view from Sarangkot, then in the afternoon, you will enjoy the full sightseeing trip.
Trip Facts
| | |
| --- | --- |
| Trip Duration | One Day Sightseeing to Pokhara |
| Hiking Location | Pokhara – Sarangkot – Other Sightseeing Tour – Pokhara |
| Trek Grade | Family Tours ( Easy Tour) |
| High Elevation | 1592m / 5223 ft. |
| Pickup Points | Your Hotel in Pokhara |
| Trip activities | Sightseeing Tour. |
| Group Size | 2-15 Persons. |
---
Trip Highlights
Early sunrise views at Sarangkot
Explore the Gupteshwor Cave, one of the country's most ancient caves
Learn about mountaineering culture at the International Mountain Museum
Visit the ancient temples of Barahi and Bindabasini
Short and an amazing family day tours
05.15am: Pick up from hotel in Pokhara. We will bring you to Sarangkot sunrise tour.
NOTE: Sarangkot (1592m) is the highest view point for the sunrise in Pokhara area. You will reach Sarangkot easily by 45 minutes' drive by a car ride to the top from Pokhara and then 45 minutes hike up to the main view point.
06.00am: Sunrise at Sarangkot.
07.00am: Visit Bindabasini Temple.
07.30am: After sunrise, back to your hotel. Breakfast is at your own hotel or own expenses. Rest and relax.
09.30am: Pokhara sightseeing  tour.
10.30am: International Mountain Museum and Tibetan Refugee camp.
11.30am: You will land in Phewa Lake Side. We will pick you up and bring you to your hotel.
12.00pm: Pick up from your hotel for Lunch at Thakali Kitchen Restaurant. NOTE: The restaurant has the nicest Thakali Dhal Bhat in Pokhara according to the locals and tourists. Rest and relax after lunch.
03.00pm: After lunch, tour continue to
Davis Fall – A waterfall located at Pokhara in Kaski District. An interesting aspect is the water from the fall flow about 500 feet through the natural tunnel at the depth of 100 feet from ground level.
Mahadev Cave – Across the road from Davis Falls, this venerated cave contains a huge stalagmite worshipped as a Shiva's Lingam.
World Peace Pagoda Sunset Tour – Standing on top of the Ananda hill, Shanti Stupa adds more beauty to Pokhara Valley. It is a perfect holiday place providing a clear view of the Himalayan range of mountains, Phewa Lake and Pokhara City. The hilltop provides a splendid view of sunrise and sunset. Tripadvisor has ranked Shanti Stupa as top second attraction in Pokhara.
07.00pm: Drop you the hotel.
Pickup and drop services to hotel
Private transportation during your tour
English driver
1 Lunch at Lake Side with Driver lunch expenses
1 Hour boating at Fewa Lake with fees
Sarangkot view point fees
World Peace Stupas fees
International Mountain Museum fees
Personal Equipment
Alcoholic, hot and cold drinks.
Tips and Gratitudes for guide/drive.
Is Pokhara worth visiting?
One of the most popular activities in Pokhara is visiting the World Peace Pagoda on top of Anadu Hill. While we don't necessarily agree with its popularity (we'd definitely prefer a long, lazy brunch at The Juicery, or morning walk by Phewa!), it's definitely a place worth visiting for the views alone.
Why is Pokhara famous?
Pokhara is the second most visited city in Nepal, as well as one of the most popular tourist destinations. It is famous for its tranquil atmosphere and the beautiful surrounding countryside. Pokhara lies on the shores of the Phewa Lake. From Pokhara you can see three out of the ten highest mountains in the world (Dhaulagiri, Annapurna, Manasalu). The Machhapuchre ("Fishtail") has become the icon of the city, thanks to its pointed peak.
Can you see Everest from Pokhara?
There is no way to see Mount Everest from Pokhara as they are completely in a different direction and far apart. However, there are several options available view Mount Everest from Kathmandu.
Which is better Kathmandu or Pokhara?
Kathmandu is far polluted city than Pokhara, however Kathmandu has better climate than Pokhara. It is more cold which preserves the valley people though the environment is disgracefully polluted. Pokhara is an amazing city where you can't predict when the rain will fall though the day is clear.
What is the best time to visit Pokhara?
September to November is the best time to visit Pokhara; it is also considered as the peak tourist season. December to February are the coldest months in Pokhara. The winter continues till March since Pokhara is at proximity to the Himalayas, the peak months are when tourists indulge in trekking and hiking.
How far is Kathmandu to Pokhara?
The distance between Kathmandu and Pokhara is 147 km. The road distance is 211.9 km. Pokhara has own a domestic airport, but you have to reach it by taking a direct flight from Kathmandu International Airport. Pokhara airport operates flights every day between Kathmandu and Pokhara. Just in 25 minutes, you can reach Pokhara from Kathmandu if you choose airplane. Currently the average price for a Kathmandu to Pokhara Bus ticket on a tourist bus is 600- 800 rupees. But where and with whom you book the ticket will also dictate the price. Premium buses charge around USD$25.
Summary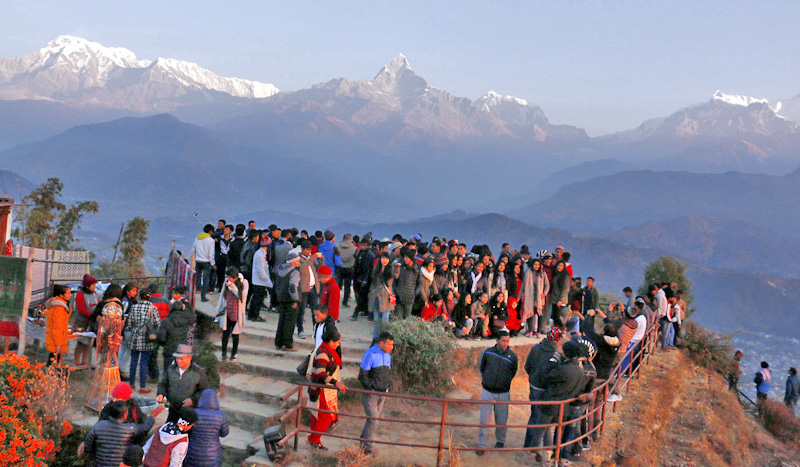 Author Rating
Brand Name
Product Name
Pokhara City Sightseeing Tour
Price
Product Availability