Adventure Sports
Travel Activities
Bungee Jumping
Nepal's first Bungee is unique and only a three hour drive from Kathmandu. Jump from a bridge to plunge 160 m towards the Bhote Kosi River only to be pulled back moments before you touch water.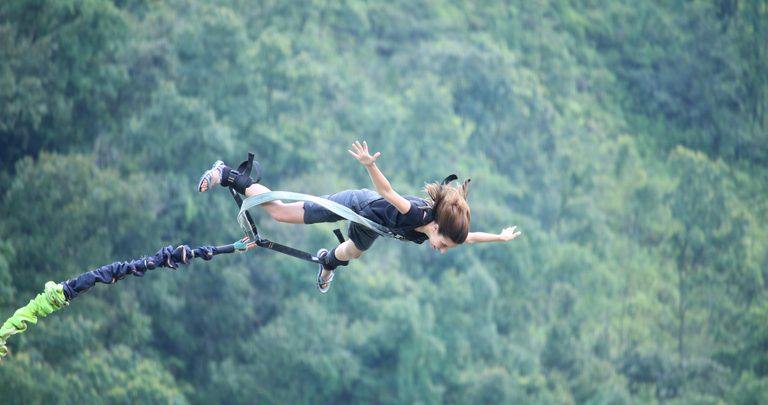 Bungee Jumping is quite popular for foreign tourist and young stars of Nepal. It's great thrills and also a dangerous game. Bungy jump is only for check braveness and makes the limit of scary. Here are some of the adventurous Bungee jump locations of Nepal that you can read before you tie your bags for the Bungee.
When it comes to the adventure, one should go for bungee Jump while visiting Nepal. Unlike Paragliding, Skydiving, Whitewater rafting, trekking you obviously should give at least one try. Bungee Jumping is the kinds of adventure where you don't have to take special training, nor you have to prepare. You just have to book your jump and simply enjoy the bungy trip.
Location: Less than 3 hours outside Kathmandu by Ultimate Bungee Shuttle. You will travel the Araniko (Kathmandu / Lhasa) Highway to within 12km of the Tibet Border and the famous Friendship Bridge.
The Gorge: Ultimate Bungee Nepal takes place on a 166m wide steel suspension bridge over the Bhoti Koshi River.
The Bridge: Swiss designed, especially for bungee jumping with a 4x safety factor. The bridge has a loading factor of 250kg per running meter. This means that the bridge will hold 250 x 166 = 41,500kg or 4.5 tons. Over 6000 meters of steel wire was used to build the bridge. The bridge joins two sides of a great valley. Before its construction, locals walked five hours to cross this river gorge.
Adrenaline junkies have been coming to Nepal to experience this breathtaking and heart-pounding thrill of plunging off a suspension bridge above a river canyon. If you've got the courage it's the ultimate thrill few other activities can match and it's something that will stay with you forever. The thrill of a bungee jump can be experienced either at The Last Resort along the Arniko Highway or in the fascinating city of Pokhara.
Bhote Koshi Bungee Jumping Price:
Naturally, Bhote Koshi is the god gifted place for Bungee. It is well developed and located in the perfect place. There is no best season for travelers to take part in this exciting event. You can book your ticket all seasons. The bungee expert from New Zealand designed the Bungy Jumping spot. The price differs for Nepalese, for the adventurer from SAARC countries and for people from any other countries.
Bungee Jumping in Pokhara
Pokhara is a famous tourist area, and almost every person visiting Nepal will not miss this place. Pokhara is the place gifted by God and famous for different kinds of Adventure. Now, to make it more adventurous, you can do bungy jump in Pokhara.
It's Nepal first and only tower bungee operated by HighGround Adventure. HighGround Bungee is 70 meters vertical drop with 3 seconds free fall. Bungee Jumping in Pokhara is newly compared to Bhotekoshi Bungy, but the thrilling is no less than of The Last Resort.
Bungee Jumping Location in Pokhara
The location of Bungee Jumping in Pokhara is not far away from the central city. It is located 25 mins away from the scenic town from Pokhara.
Bungee Jump Booking in Nepal
You can book your Bungee via Adventure Connexion official website. But in most of the scenario, Bungee Jump booking facilities are provided by the local companies who may already have the experience. You don't have to worry about anything regarding the booking date.
For booking, WhatsApp us or call us at +977-9813238901 or email us using our contact form.
Bungee Jump FAQs
1. Where can you bungee jump in Nepal?
In Nepal, you can bungee jump in two places: Bhote Koshi Gorge and Hemja, Pokhara. Bungee Jumping in Nepal is one of those activities that have gained wide popularity in the last few years at quite a fast rate. Nepal offers quite a lot of great views so it is perfect for Bungee Jumping here.
2. Is it safe to bungee jump?
The bungee jump is safer than skydiving. But then, in fact, they are performed very safely. Hence, it can be safe if it is performed properly. So, it is a fun exercise and you need to get used to it quickly. There are various spots for bungee jumping in the world where you can get an adrenaline high.
3. What is the best time for bungee Jumping in Nepal?
Though you can do this at any time, September to May is the best time. Since the jump is operated for only 4 days a week and it is on Saturday and Sunday, Wednesday and Friday. You can enjoy the jump in from September to November. You can enjoy it on all days except Monday. You can enjoy bungee jumping in Arniko Highway, Listikot, Nepal.
4. How far is Bhote Koshi from Kathmandu?
The distance from Kathmandu to Bhote Koshi is 64 km. Well, it takes 2 hours and 9 minutes to drive the 129.5 km of road distance from Kathmandu to Bhote Koshi Power Plant.
5. Is there a weight limit for bungee jumping?
Well, you cannot be more than 100 kg if you want to bungee jump. The Bungee America has a 265 lb maximum weight limit. The jumpers whose weight is more than that have to pay a special fee.
6. How much does Bungee Jumping cost in Nepal?
The cost of Bungee Jumping in Bhotekoshi for Nepali is Rs. 7500, Rs. 9900 for Chinese & SAARC Countries and around Rs. 12000 for other Foreigners.
The cost of Bungy Jumping in Pokhara for Nepali is Rs. 4000 and Rs. 7500 for all foreigners including Indian clients..