Bungee Jumping
Nepal's first Bungee is unique and only a three hour drive from Kathmandu. Jump from a bridge to plunge 160 m towards the Bhote Kosi River only to be pulled back moments before you touch water.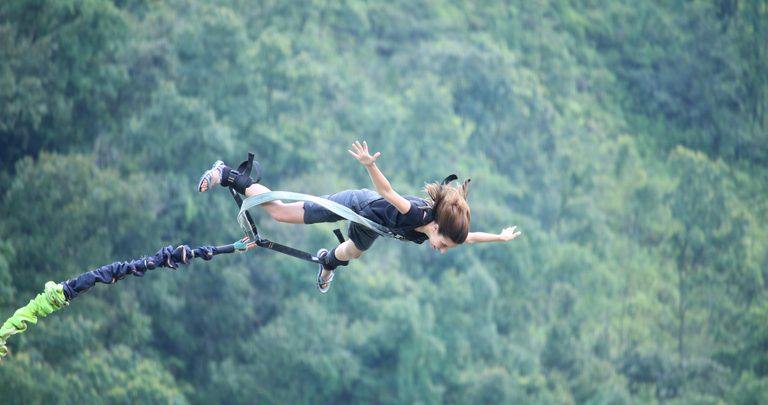 Bungee Jump in Nepal is quite popular for foreign tourist and young stars of Nepal. It's great thrills and also a dangerous game. Bungy jump is only for check braveness and makes the limit of scary. Here are some of the adventurous Bungee jump locations of Nepal that you can read before you tie your bags for the Bungee.
When it comes to the adventure, one should go for bungee Jump while visiting Nepal. Unlike Paragliding, Skydiving, Whitewater rafting, trekking you obviously should give at least one try. Bungee Jumping is the kinds of adventure where you don't have to take special training, nor you have to prepare. You just have to book your jump and simply enjoy the bungy trip.
Adrenaline junkies have been coming to Nepal to experience this breathtaking and heart-pounding thrill of plunging off a suspension bridge above a river canyon. If you've got the courage it's the ultimate thrill few other activities can match and it's something that will stay with you forever. The thrill of a bungee jump can be experienced either at The Last Resort along the Arniko Highway or in the fascinating city of Pokhara.
Bhote Koshi Bungee Jumping Price:
Naturally, Bhote Koshi is the god gifted place for Bungee. It is well developed and located in the perfect place. There is no best season for travelers to take part in this exciting event. You can book your ticket all seasons. The bungee expert from New Zealand designed the Bungy Jumping spot. The price differs for Nepalese, for the adventurer from SAARC countries and for people from any other countries.
Bungee Jumping in Pokhara
Pokhara is a famous tourist area, and almost every person visiting Nepal will not miss this place. Pokhara is the place gifted by God and famous for different kinds of Adventure. Now, to make it more adventurous, you can do bungy jump in Pokhara.
It's Nepal first and only tower bungee operated by HighGround Adventure. HighGround Bungee is 70 meters vertical drop with 3 seconds free fall. Bungee Jumping in Pokhara is newly compared to Bhotekoshi Bungy, but the thrilling is no less than of The Last Resort.
Bungee Jumping Location in Pokhara
The location of Bungee Jumping in Pokhara is not far away from the central city. It is located 25 mins away from the scenic town from Pokhara.