Nepal Tours
Senior Citizen Tours
Guided tours are a great way for senior citizen tours to explore the world together. Enjoy the ease of having all the trip planning details handled, so all you have to do is enjoy your journey.
Upon retirement, Nepal on many seniors' bucket lists is to spend some time traveling. The trip of a lifetime and go touring through Nepal alongside other adventurers aged +60 and over!.
The world has so much to offer that an entire lifetime is said to be not enough to explore it all! why stop travelling in the 'Golden Age'?. The journey to your dream destination is full of lively moments wrapped with rich experiences and ultimate peace of mind.
Our senior citizen tours are comfortably paced with enthusiastic team who promise an extra touch of personal care.
What are you waiting for? Pack your bag with confidence and head for a new adventure, meet new friends and capture the most fascinating memories.
Nepal is one of the best destinations around the world for senior citizens. These incredible senior citizen itineraries will take you through iconic destinations like Kathmandu, see the Everest, and wherever else you've been dreaming of.
After all, it's never too late to explore the world. We are one of the best rated Nepal travel package for seniors that specialized in organizing senior citizen friendly tours in Nepal. Join our legacy to travel, explore and celebrate life!.
Seniors Citizen Tour Highlights
Guided senior citizen tours in Kathmandu and Pokhara.
45 minutes scenic flights to Everest
Wheelchair accessible tours
Domestic flights Kathmandu – Pokhara – Kathmandu.
Beautiful Himalayan sunrise from Sarangkot.
5* accommodation on entire senior citizen tours
1 glass of wine each day at evening
Seniors Citizen Tour Facts:
| | |
| --- | --- |
| Tour Duration | 05 nights / 06 days |
| Tour Location | Kathmandu, Nagarkot, and Pokhara Valley |
| Tour Style | Luxury Hotel + Mountain Flights |
| High Elevation | Nagarkot 21,30 m (4,600 ft) |
| Pickup Points | Tribhuvan International Airport |
| Tour Activities | English Speaking Tour Guide + City Sightseeing Tour. |
| Group Size | 2-15 Persons. |
Day 01: Arrival in Kathmandu (1400m). Transfer to Hotel.
Upon your arrival in the Kathmandu airport, you will be greeted by Himalayan Trip Nepal representative and transferred to hotel. After check in, you can either take a rest or hang around in the city depending on your interest and time constraint.
In the evening, there will be a pre-trip discussion, introducing with your tour guide. You will have an opportunity to ask any questions related to your tour program.
Hotel: Kathmandu Marriott Hotel | Lunch, and Dinner – Included.
Day 2: Full Day Kathmandu Sightseeing (Full Day) and drive to Nagarkot.
Today's Attractions: Pashupatinath Temple, Boudhanath Stupa, Swayambhunath Stupa, Patan Durbar Square, Kathmandu Durbar Square
After breakfast, we proceed for a Full Day Kathmandu sightseeing where you will visit Pashupatinath temple, Boudhanath Stupa, Swayambhunath Stupa (monkey temple), Patan Durbar Square and Kathmandu Durbar Square. Some of these ancient monuments are UNESCO declared World Heritage sites & stand to display the rich history of this ancient valley that was once a kingdom to itself & a centre where kings met on a certain day to go to war with one another on the next day. Kathmandu is a wonderful mix of different cultures & ancient traditions that are still practiced till this day. Overnight stay at Hotel
Tour Time: 6 hours | Hotel: Club Himalaya, Nagarkot | Breakfast, Lunch, and Dinner – Included.
Day 03: Kathmandu Sightseeing and Fly to Pokhara.
After breakfast, your guide will meet you in the hotel lobby for your city sightseeing in Kathmandu. We will visit Pashupatinath, Boudhanath, In the afternoon, Flight to Pokhara is spectacular with Himalayan view all along its route.
You can enjoy the ambiance of Pokhara in the natural settings with towering Himalayas in the back drop. Visit Devi's Fall and Tibetan Refugee Camp. Explore phewa lake boating in the evening to catch the reflection of Himalayas on the Phewa Lake.
Tour Time: 3 hours | Flight: 25min to Pokhara | Hotel: Fishtail Lodge, Pokhara | Breakfast, Lunch, and Dinner – Included.
Day 04: Drive Sarangkot for sunrise views and Free day for Pokhara tour.
Pokhara is famous for its lake and its amazing views of the Annapurna range include Annapurna I and VI, Annapurna South and Machhapuchhre.
Early morning drive around 30 minute to reach Sarangkot from there, you can see the very panoramic view of the mountain, truly a photographers paradise.
In Pokhara, you will visit, the Gurung Museum, Devis falls, Tibetan refugee camps, Mahendra Cavé and Barahi Temple etc.
Tour Time: 4 hours | Hotel: Fishtail Lodge, Pokhara | Breakfast, Lunch, and Dinner – Included.
Day 05: Fly Pokhara to Kathmandu (1310m)
After breakfast, we will drive to the Pokhara Airport and fly back to Kathmandu. After checking in Hotel. You will have free time in the afternoon, and in the evening; Himalayan Trip Nepal will treat you to a farewell dinner in a traditional Nepalese restaurant whilst enjoying a cultural dance.
Flight: 25min to Kathmandu | Hotel: Kathmandu Marriott Hotel | Breakfast, Lunch, and Dinner – Included.
Day 06: Final Departure
The trip ends, Himalayan Trip Nepal Representative will drop you to the Kathmandu international airport for your flight departure from Nepal.
Breakfast – Included.
International & domestic airport transfers as per the itinerary.
3 nights 5* accommodation in Kathmandu with breakfast, lunch, and dinner.
2 nights 5* accommodation in Pokhara with breakfast, lunch, and dinner.
04 breakfast, 1 dinner during the tour.
Kathmandu sightseeing by professional English speaking tour guide.
Kathmandu – Pokhara – Kathmandu domestic flight.
1 farewell dinner in Kathmandu
All government and local taxes.
All entrance fees for sightseeing places
Lunch and Dinner in Kathmandu and Pokhara
Alcoholic, hot and cold drinks.
Your international flights
Nepal visa fees & airport taxes
Tips for your city guide, drivers, hotels, restaurants, etc.
Extra night accommodation then mention plan
| NO.OF.PERSON | AVAILABILITY | PRICE USD | INR |
| --- | --- | --- | --- |
| 2-4 | Guaranteed | USD 650 | INR 32700 |
| 5-8 | Guaranteed | USD 590 | INR 29350 |
| 9-15 | Guaranteed | USD 460 | INR 24200 |
What is Kathmandu famous for?
This city is known for its ancient architecture, and is dotted with many palaces, temples and monasteries.
What is Pokhara famous for?
Many tourists visit Pokhara Valley to see the Himalayan range and lakes. Pokhara is also famous for boating, trekking, rafting and extreme sports like rafting, canoeing and bungee jumping.
What is Nagarkot famous for?
For those longing for some really refreshing environment to be free from hectic busy schedules in the crowded Kathmandu. Nagarkot, an internationally renowned resort set on the edge of the kathmandu valley, close to the city of Devotees, Bhaktapur. Nagarkot is also a good point for mini-trekking. There are several treks possible to and from Nagarkot such as sankhu, changu Narayan, Dhulikhel, Sundarijal, Nala, etc.
How To Get Pokhara From Kathmandu?
Pokhara is 126 miles or 204 km away from Kathmandu and you can travel between these popular cities via air or land. You can choose the mode of transportation as per your travel style and budget. You will get a wide range of options to travel to Pokhara.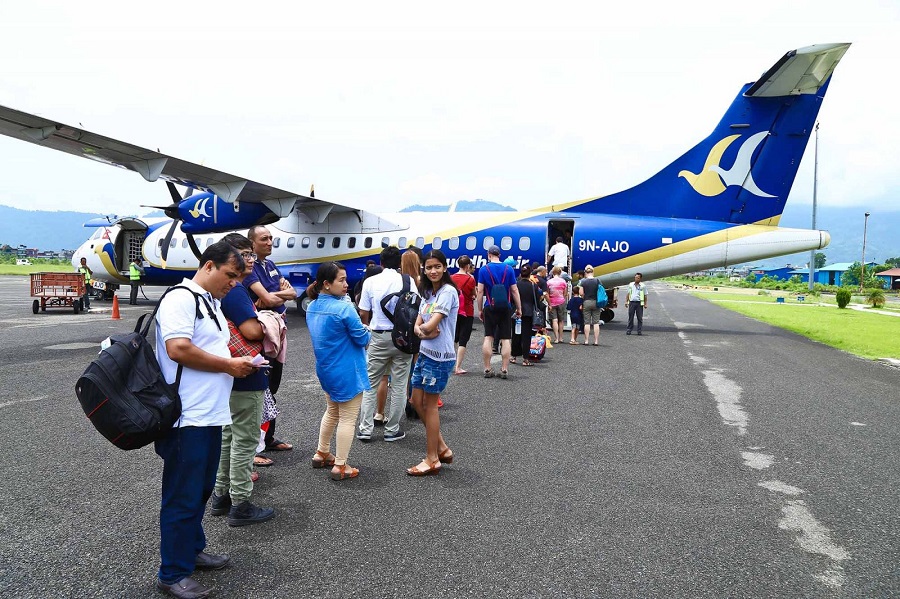 Taking a private transportation, domestic flights, chartered helicopter to a tourist transportation and anything in between is entirely your choice.
Private cars have four seats and are around $145 USD, one-way. If you'd like to have a car with air conditioning, expect to pay a bit extra. Jeeps have 7-8 seats and are the largest and most comfortable private vehicle. Expect to pay around $250 USD, one-way.
A Stopover When Seniors Citizen Traveling From Kathmandu To Pokhara
Make most of your travel on a private vehicle by visiting interesting places on your long road trip between two or more popular cities of Nepal. Visiting the following places will enrich your trip.
Manakamana Temple
Visit the sacred temple of Manakamana dedicated to the Hindu goddess Bhagwati. The goddess is known to fulfill wishes and attracts many devotees. Enjoy a scenic cable car ride with the view of verdant hills over the Trishuli River to the hilltop temple. Savor the scenic vista from the hilltop temple.
Bandipur
Bandipur is a Newari town situated on a hilltop. The iconic cobblestoned street lined with houses built in Newari architecture is the highlight of the town. The vehicle free main street with front porch seating gives off a European feel. The magical town Bandipur possesses the power to transport you into a different century.
Gorkha
Historically significant place Gorkha is the ancestral home of the last ruling monarch of Nepal. The ancient palace called Gorkha Durbar is located on a ridge. On a clear day, you can enjoy the panoramic views of the Himalayan range stretching from north to west. Savor the amazing views of mountains like Manaslu and Himalchuli.
Accommodation facilities of Kathmandu & Pokhara
Nepal's range of accommodation means you can indulge in five star luxury in the city areas. Kathmandu & Pokhara has the largest selection of hotels, ranging from historic boutique options to simple, family-run guesthouses.
Most places have a range of rooms, from budget to doubles with en-suite. It's worth noting that there's currently no regulating body for accommodation in Nepal, so we recommend reading reviews very carefully.
Beware that cheaper accommodation can be of a really poor standard; if you're backpacking, this might be okay, but otherwise, invest a few extra dollars for something nicer.
Best Time to Visit Seniors Citizen Tour
September to November is the best time to visit Kathmandu & Pokhara; it is also considered as the peak tourist season. December to February are the coldest months in Kathmandu & Pokhara. The winter continues till March since Pokhara is at proximity to the Himalayas, the peak months are when tourists indulge in trekking and hiking.
Kathmandu and Pokhara Tour Price
The cost of your tour to Kathmandu and Pokhara will be determined by the type of tour you are planning, your tour route, time on the destination, and by the season you choose to travel.
Average cost of a 5 day Kathmandu Pokhara tour with a Nepal tour agency – starting from $650 + $300 food = $850
Nepal Tour – Kathmandu Pokhara tour with the reputable local tour company, Nepal Tour. 100+ reviews, mostly 5 stars, read them! 5 days, Kathmandu to Kathmandu. English-speaking local guide and assistants for the tour. Internal flights, All transport between destinations and to/from included activities. Food not included.
Summary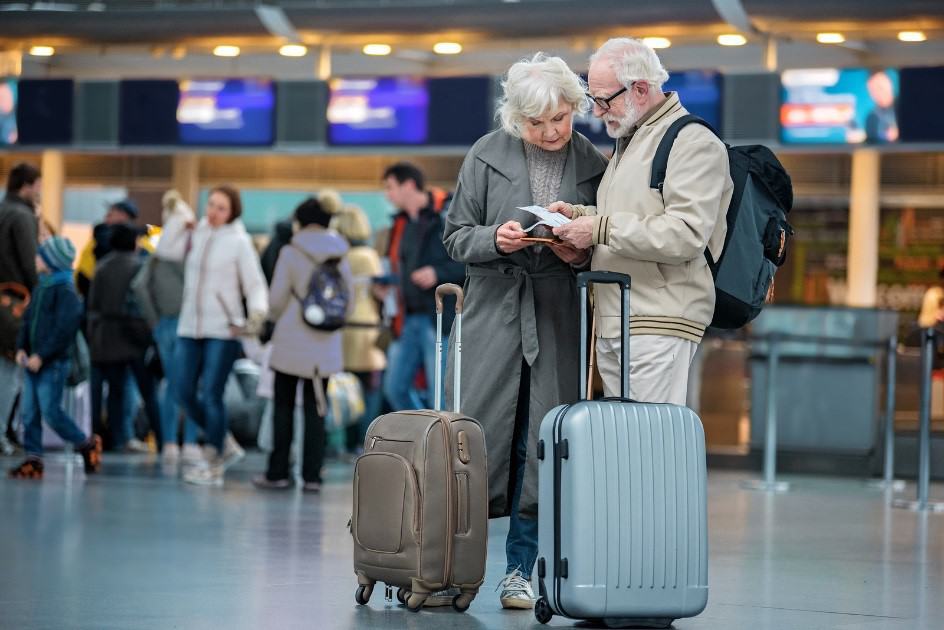 Brand Name
Product Name
Price
Product Availability