Nepal Tours
Travel Activities
Honey Hunting Nepal
The traditional way of honey hunting is taken as adventure tour in the world. But in Nepal, honey hunting is still part of traditional livelihood that is why it is more interesting for the tourists to know the Nepali traditional honey hunting knowledge and skills. Besides, the tourists can experience culture, village life and the beautiful scene of green hills and Nepali Himalayas during honey hunting tour.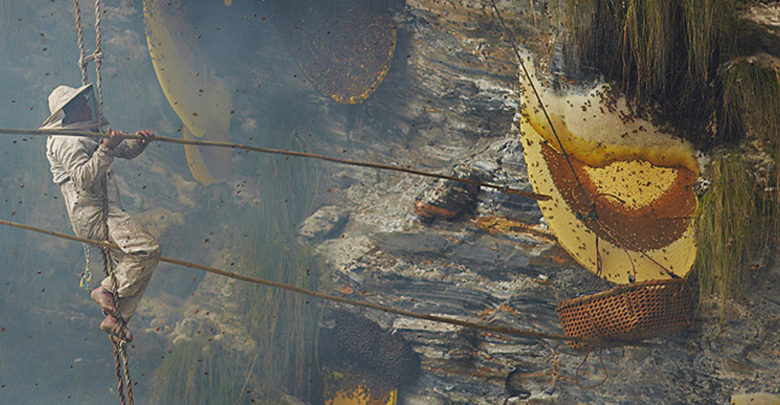 Honey hunting or honey harvesting is the gathering of honey from wild bee colonies and is one of the most ancient human activities. Honey Hunting Nepal is one of the most challenging adventurous activities in Nepal. It is one of the oldest traditions in rural areas of Dhading, Gorkha and Kaski districts. The major place for honey hunting is called Bhujung & Ghalegaun at Lumjung. The brave and the strong having good knowledge about Rock Climbing, information about the Wild bees are eligible for this tour. It's customary to collect honey during spring and autumn seasons.
Nepal Tour offer honey hunting trip for the tourists who would like to observe the traditional honey hunting tour in Nepal. We also organize honey hunting trip for the purpose of film and documentary production and research.
There are at least five different honeybee species in the Nepal. The wild honeybees make the beehives hanging on the rock. Not a commercial enterprise, Honey hunting in Nepal is taken as ritual in which villagers offer flowers, grains and sheep to the God before hunting.
From the ground level to Bee Hives the height is about 300-400m. There are no easy alternatives to climbing the rock with the help of bamboo ladder or rope. The lead honey hunter collects honey in the bucket from the beehives and passes down to another person. It is ideal early in the morning or in the cold as in the cold the honeybees are not active and leave the beehives easily.
Nepal honey hunting trip is wonderful off the beaten path trek that gets you acquainted with the ancient profession of people of remote villages of Annapurna.  If you are planning for documentary filming, short movies, photography adventure then Nepal Tours will organized ground transportation, helicopter charter & other logistic support during your honey hunting trip in Nepal.