Wildlife & National Parks
Khaptad National Park
Khaptad National Park is located in the Far-western region of Nepal. The park was gazetted in 1984 covering an area of 225 sq. km. The area of buffer zone is 216 sq.km.
Khaptad National Park is an offbeat and underrated destination in Nepal. It is located in the extreme west corner of Nepal and is utterly beautiful. Khaptad National Park is also an interesting place for its religious value and the stories that surround this place.
The late Khaptad Swami moved to the area in the 1940's to meditate and worship. He spent about 50 years as a hermit and became a renowned spiritual saint. The park offers a challenging yet rewarding experience unlike any other protected area in Nepal. To the north one can see the Saipal Himalayan Ranges.
The National Park is a protected area in the Far-Western Region, established in 1984. Stretching over the four districts of Bajhang, Bajura, Achham, and Doti. It covers an area of 225 km2 (87 sq mi) and ranges in elevation from 1,400 m (4,600 ft) to 3,300 m (10,800 ft).
History of Khaptad National Park
Khaptad National Park was established in 1984 on the advice of the region's spiritual saint Khaptad Baba. The renowned Khaptad Baba Ashram, a religious site where Hindu pilgrims come to worship Shiva on the full moon of July–August each year, is located near the park headquarters.
Location of Khaptad National Park
The National Park is a hidden treasure located in the far-western region of Nepal. Its remote location makes it a perfect destination for adventurers and nature lovers looking for the real wilderness experience. Api and Saipal Himalayan ranges can also be seen from the park.
Flora and Fauna of Khaptad National Park
The park map display a great variety of flora also. It has 23 species of mammals and 287 types of birds. This national park is great seeing mammals like a leopard, Himalayan black bear, wild dog and musk deer. As it supports a huge number of birds, travelers can see birds like Impeyan pheasant (danphe; Nepalese national bird), Peregrine falcon, the white-rumped vulture and many types of partridges, flycatchers, bulbuls, cuckoos and eagles.

Best time to visit Khaptad National Park
In the north-eastern part of the Khaptad National Park, there is a lake called Khaptad Daha. During the full moon of August – September a festival is called Purnima celebrated here. Climate: The seasons of spring (March-May) and autumn (October-November) are the best times to visit the park.
Things to do in Khaptad National Park
Khaptad provides difficult expertise of trekking because it could be a remote space of Nepal. People simply trip to Khaptad for looking at the birds. The park additionally contains many spiritual places and a depository too. Because of the park ashram and depository, it's a cultural diversity too out there during this space.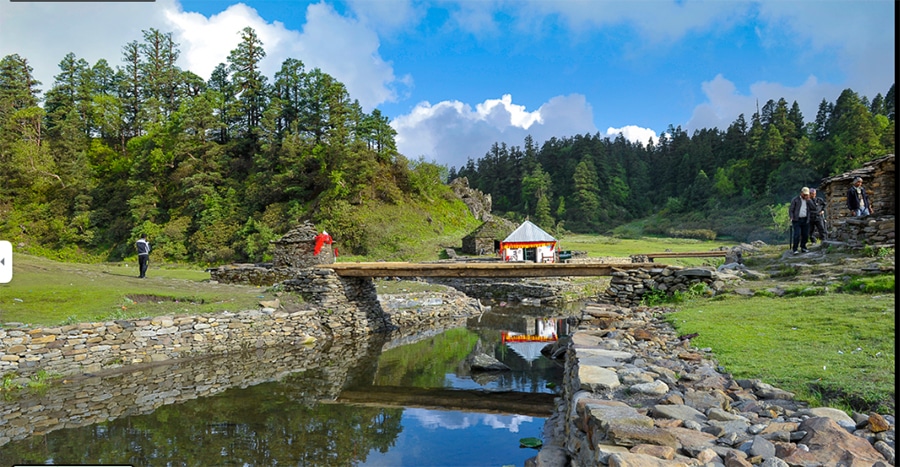 Khaptad Trek lies in the far western region of Nepal that offers its travellers a wonderful trekking experience with unspoiled natural vegetation, biodiversity and pure nature. Read Article: How to trek Khaptad National Park.
Entrance Fees of Khaptad National Park
| | | | | | |
| --- | --- | --- | --- | --- | --- |
| SN. | Conservation Areas | Nepali | SAARC | Foreigners | Discount |
| 1 | Khaptad National Park | NRs. 100 per person per entry | NRs. 500 per person per entry | NRs. 1,500 per person per entry | Below 10 yrs free |
Accommodation Facilities
Currently there are no lodges or hotels in the park. Trekkers must be self- sufficient in tents, food, fuel and all other supplies. Make sure to bring a first-aid kit because there are no medical facilities available within the park.
How to get Khaptad National Park
Khaptad National Park is in Seti zone and is surrounded by Doti, Bajura, Bajhang and Achham districts. The gateway to Khaptad is Silgarhi Bazaar in Doti district, from where the park headquarters is 50 km and almost a 2-day trek. The best way to reach Silgarhi is via Attariya Chowk in the Kailali district. Silgarhi Bazaar is a 9-hour drive from Attariya Chowk.
Buses to Attariya Chowki, Kailali, are available at the Central Bus Station, Gongabu, in Kathmandu and transportation to Silgarhi is available from Attariya Chowk. Another option is to catch a flight to Dhangadi from where one can drive on to Silgarhi Bazaar.
Khaptad National Park can also be reached quite easily from the western entry point to Nepal from India at Gadda Chowki, Mahendranagar. Silgarhi Bazaar is approximately a 10-hour drive from Mahendranagar, while Mahendranagar is only a 30-minute drive from the Indian border town of Banbasa, from where buses depart for Delhi every hour of the day.