Sagarmatha National Park
Sagarmatha National Park covers 443 square miles (1148 sq. km) in Nepal's Khumbu region, and features the tallest peak in the world, Mount Everest, along ...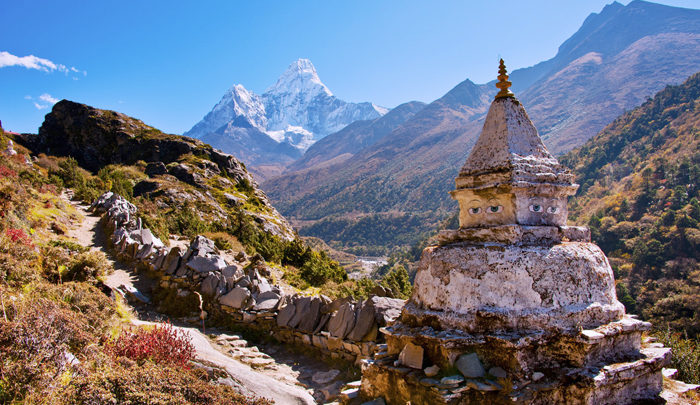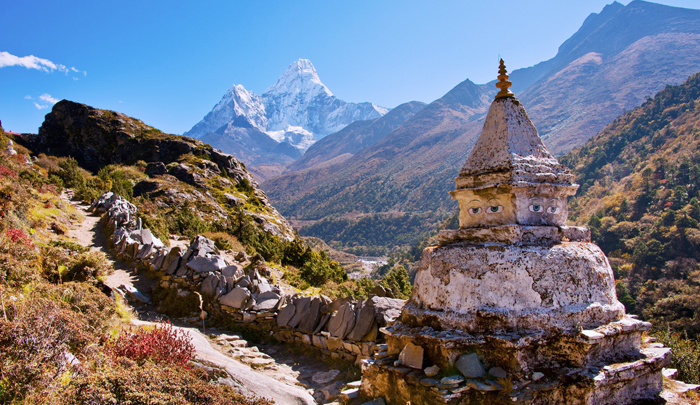 Sagarmatha National Park covers 443 square miles (1148 sq. km) in Nepal's Khumbu region, and features the tallest peak in the world. It is the highest national park in the world, with its lowest point over 3000m above sea level. As a result of the high altitudes, High Altitude sickness (HAS) is a concern for all climbers, who must take care to not tackle more than 400m daily in order to avoid falling victim to it. Early warning signs include headaches,nausea,sleeping difficulties,breathlessness, appetite loss and general tiredness.
The name 'Sagarmatha' is derived from Nepali – 'sagar' meaning 'sea or sky' and 'matha' meaning 'head'
Approximately 3000 Sherpa's live within the parks borders. These people originated from Tibet in the early 16th century A.D., and now live in settlements such as Khunde, Khumjung, Namche Bazaar, Pangboche, Phortse, Thame and Thyangboche. In addition to the aforementioned, temporary settlements are built in the upper valleys where the Sherpas travel to allow their livestock to graze. Whilst the Sherpas have been traditionally reliant on agricultural work to survive, today they are becoming increasingly dependent on tourism.
According to the commonly recognised continental drift theory, the Himalayas were uplifted at the end of the Mesozoic Era, around 60 million years ago. The resultant mountains in the Khumbu region are still rising at a few centimetres every 100 years.
Flora and Fauna
A number of wild animals call the park home. Those you are most likely to spot are the Himalayan tahr, ghoral, musk deer, and black bears. Also be on the look out for weasels, mouse hares (pika), jackals, wolves, lynx, and snow leopards. Furthermore, there are 193 different species of bird in the park, including the impeyan pheasant (Danphe), red-billed chough, blood pheasant, snow cock, yellow-billed chough and the snow pigeon.
Vegetation in the park varies significantly depending on altitude. The famed rhododendrons bloom during the spring, from April to May, though most of the flora is colorful during the monsoon season, from June to August.
Best time to visit Sagarmatha National Park
The best time to visit is between October and November, or between March and May. The reason for this is that the summer months (June-September) bring almost all of the annual precipitation (1000mm per year), whilst between December and February, daytime temperatures regularly drops below 0°C (32°F) and heavy snowfall is common.
Sagarmatha National Park Fees
As of January 2015, the fees to get into Sagarmatha National Park are Rs.25 per person for Nepali citizens, Rs.1500 per person for SAARC nationals, and Rs.3000 per person for foreigners. Entry fees are paid at Monjo, where there is an entrance station. Passports are also required for access.
How to get to Sagarmatha National Park
Unfortunately, Sagarmatha National Park is very remote and difficult to reach, since the Khumbu region has no roads. The most common way of getting to the park is to fly into Lukla from Kathmandu (25 min flight), and then trek onwards for 2 days. Alternatively, you could fly into Tumlingtar from Kathmandu (35 min flight) and then trek onwards for 10 days.
Where to stay in Sagarmatha National Park
There are varied accommodation options within Sagarmatha National Park, ranging from resort hotels, basic lodges/tea houses and camping. Trekker lodges with food on offer are available along most of the main trekking routes e.g at lobuche, Namche Bazaar, Pheriche and Thyangboche.