Wildlife & National Parks
Kanchenjunga Conservation Area
Kanchenjunga conservation area is in the border of India, China, and east Nepal. The conservation area covers almost 65% of the taplejung district and an area of 1650 km square. Kanchenjunga Conservation Area receives more rainfall from the summer monsoon than other parts of Nepal.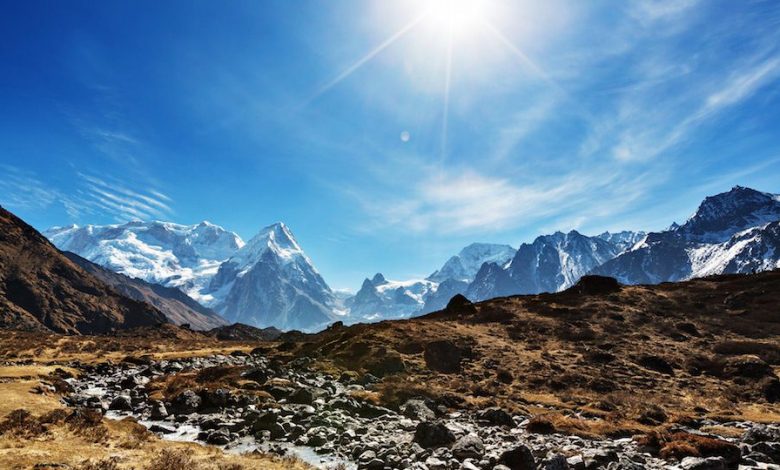 Located in the Taplejung district in the northeast corner of Nepal, Kanchanjunga Conservation is spread over 2,035 sq. km. Situated in the eastern part of Nepal, Kanchenjunga Conservation Area is aimed to protect wildlife and thus building a sustainable ecosystem in the Himalayan region.
The conservation area is immensely decorated with natural beauty and offers some adventurous, some cultural, and natural beauty. The name 'Kanchenjunga' stands for crystal clear in Nepali. This area is also popular as the 'Five treasure of the Great Snow'.
History of Kanchenjunga Conservation Area
Kanchenjunga Conservation is significantly popular for its glorious Himalayas and world-renowned floral spectrums. It comprises of the most stunning views and wonderful sceneries. The landscapes of the Kanchenjunga region is astounding. The Hills, Himalayas and the cultural values of this region made this region one of the popular zone. The Himalayan beauty and its shadow in the zone are mind-blowing.
The glacial streams in this Himalayan region cut through the ridges, forming steep valleys. Moreover, traditional farming practices and agriculture is the way of living in this area. In the Kanchenjunga Conservation Area, the mixed community of Sherpa, Rai, Limbu and Gurung people inhibits. Their cultural values are other major parts to explore.
The area represents high mountain physiographic regions with 65% of its area covered by rocks and ice. The remaining 35% is covered by forests 14.1%. shrubland 10.1%, Grassland 9.2% and Agricultural land 1.6%. The area is well known for its three river valley: the SimbuaKhola, the Ghunsa, and the Tamur valleys.
As the original settlers of the Upper Tamar Valley, the Limbu are the dominant ethnic group in the lower regions. The Sherpa/Lama people inhibits in the higher altitude migrated from Tibet more than four hundred years ago.
Facts and Figures of Kanchanjunga Conservation Area
| | |
| --- | --- |
| Conservation Area | Kanchanjunga Conservation Area |
| Area(sq.km) | 2035 |
| Established | 1998 |
| Location | North-eastern Nepal, Taplejung district. |
| Highest elevation | 8586m  (28169 ft) ASL |
| Lowest elevation | 1200m (3900 ft) ASL |
| Fauna | 250 species birds, some endangered wildlife. |
| Flora | 30 rhododendron, 69 orchids and many other species of plants. |
| Major ethnicity | Limbu, sherpa, lama, Gurung |
| Major activities | trekking, temple visit, floral exploration and wildlife. |
Flora and Fauna of Kanchenjunga Conservation Area
Key mammal species of the lowlands are the Bengal tiger, one-horned rhinoceros, and Asian elephant; key mammals of the mid-hills are red panda, takin and clouded leopard; while snow leopard, musk deer, Himalayan black bear, Tibetan antelope, and blue sheep are the important species of the high mountains. Apart from its natural diversity, Kanchenjunga Conservation Area includes three famous river valleys; Simbuwa Khola Valley, Ghunsa River Valley, and Tamur River Valley.
Trek Difficulties during Kanchenjunga Trekking
The Kanchenjunga Trekking is a long duration trek. Trekkers often feel exhausted in the middle of the trek. So, be mentally prepared before you go.
The trek isn't easy. There are frequent ups and downs. Some are very steep and risky. Be careful, be safe.
During some days, you will have to walk for 8 to 9 hours. For that, you will need a fit body and a healthy mind. You can get some physical training before you go. Make sure that you can walk for 7 to 8 hours a day.
There are various sections on the trail with the possibility of landslides. Mainly in the rainy season and in winter, you must fear landslides and avalanches.
While walking through tough sections, you might feel low in energy. Many trekkers feel that. So, get some energy bars or chocolates.
Be careful while ascending or descending over the glaciers, and other rugged sections. You might get injured in these sections.
Best Time to Visit Kanchenjunga
The Best time to get into the is in the months of February to May and August to November. These months are remarkably favorable for trekking activities. Getting into the Kanchenjunga region comes with privilege. You can explore the world-renowned species of plants.
The botanical beauty of this region is certainly a popular one worldwide. To explore the culture and traditions, these months are equally remarkable.
Kanchenjunga conservation area entry permit
The Kanchenjunga conservation area was established in 1997, was Nepal's third conservation area, and covers 2,035 square kilometers. The fee for Kanchenjunga conservation area entry permit is currently set at Rs. 2000 per person.
If you are planning to explore Kanchenjunga, then you should be prepared for a special trekking permit. All restricted trekking permits including Kanchenjunga trek permit will be issued in the trekking department of the Nepal immigration office in Maitighar, Kathmandu.
How to Reach Kanchenjunga Conservation
We can reach the conservation area by bus through Dharan. Also, Nepal Airlines has its morning flights everyday between Birantnagar and Sukhetar. And there are daily flights between Kathmandu and Biratnagar. Some private airlines operate from Kathmandu to Sukhetar as well.
Another way to get to Kanchangunga Conservation Area is Birtamod in the eastern Jhapa District. However, from Birtamod you may find a local bus to Taplejung Bazaar or even hire a jeep or car to get there.