Wildlife & National Parks
Shuklaphanta National Park
Shuklaphanta is a far western lowland of Terai in Kanchanpur District. It is the second-largest wildlife reserve in Nepal. The area of this national park is 305 square kilometre.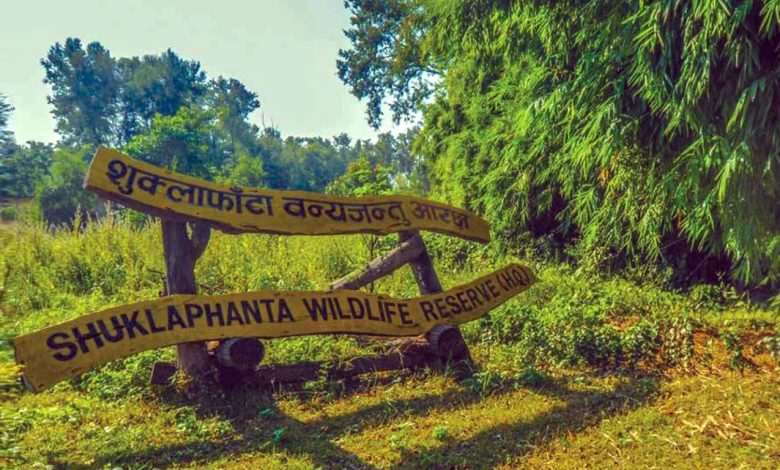 Shuklaphanta National Park is a protected area in the Terai of the Far-Western Region, Nepal. Covering 305 km2 (118 sq mi) of open grassland, forests, riverbeds and tropical wetlands at an altitude of 174 to 1,386 m (571 to 4,547 ft). It was gazetted in 1976 as Royal Shuklaphanta Wildlife Reserve. A small part of the reserve extends north of the East-West Highway to create a corridor for seasonal migration of wildlife into the Sivalik Hills.
Shuklaphanta National Park is located in Kanchanpur district. It's a southern and western boundary is connect with India. In the north, it is extended up to the east-west highway. The eastern boundary of this national park is formed by the Chaudhar River by the International boundary pillars in the forest and partly by the Mahakali River. Also, it is connected to an Indian Tiger Reserve Kisanpur Wildlife Sanctuary to the south. The Syali River forms the eastern boundary southward to the international border with India, which demarcates the reserve's southern and western boundary.
Facts and Figures of Shuklaphanta
| | |
| --- | --- |
| National Park  | Shuklaphanta National Park  |
| Location  | Kanchanpur (Province No. 7, Nepal) |
| Area (Sq. Km)  | 305  |
| Established | 1976-wildlife reserve, 2017-national park |
| High Elevation | 1,386b m. (4547 Ft.)  |
| Low Elevation | 174 m. ( 571 Ft.)  |
| Flora | 700 species  |
| Fauna  | 46 mammals species, 28 fish species, 423 Bird Species, 12 reptiles and amphibians.  |
| Major ethnicity  | Tharu, Chettri, Brahmin  |
| Language Spoken  | Tharu, Doteli, Nepali, Hindi  |
| Major activities  | Jungle safari, sightseeing, wildlife, jungle walk and hiking, bird watching, visiting crocodile breeding centre etc.  |
Flora and Fauna:
The extensive open grasslands and wetlands around the lakes of the park are the habitat for a wide range of flora and fauna. In rivers, lakes, and ponds 28 fish species and 12 reptiles and amphibians species were recorded. The vegetation types primarily include sal forest, sal savanna, part of a continuum between climax forest and grassland, maintained by fire and floods.
Climate:
The region has a subtropical monsoonal climate. Monsoon occurs from June to September. Autumn season (October – November) has pleasant daytime and cool nights with occasional rain. The temperature in winter (December – January) falls as low as 7°C. While during summer (February to May) it raises up to 45°C. The humidity starts to increases along with the pre-monsoon rains during May.
Permits/Entry Fees to National Park:
| | | | | | |
| --- | --- | --- | --- | --- | --- |
| N. | National Parkss | Nepali | SAARC | Foreigners | Child discount |
| 1 | Shuklaphanta National Park | NRs. 100 per person per entry | NRs. 750 per person per entry | NRs. 1,500 per person per entry | Below 10 yrs free |
The daily fee for park entry is around 11 USD (Rs 1,050). All day Jeep rides are available as well. The cost of a guide should be around 20 USD (Rs 2,000) for all day. Jungle walks are available as well.
How to get there?
The reserve is accessible by the road as well as air. The reserve will be easily accessible by road from any parts of Nepal with the completion of the far-western sector of east-West Highway. There is once a week flight from Kathmandu to Dhangadhi which is 51 km far from the park headquarters. There is regular public bus service from Dhangadhi to Mahendranagar taking 3 hours drive and the reserve headquarters is 8 km south-west of Mahendranagar. The reserve can be reached by East-west Highway through Nepalgunj-Dhangadhi-Mahendranagar.
Vegetation:
Around 52% of the protected area is covered by sal trees, 10% area is wetland while 30% area is grasslands. Likewise, 16% of the area consists of riverside forest and 2% of it is consists of a mixed forest. The forest on the riverside is cover with sal, Khair, and sissoo. Around 700 species of plants are available in Suklaphanta National Park.
The large grasslands, wetlands, and lakes of the park are home for a wide range of fishes, birds, and animals. More than 53 species of mammals including protected species such as swamp deer, Bengal Tiger, Sloth bear, elephant, Indian Leopard, Hispid Hare, Great one-horned rhinoceros, etc. This youngest national park of Nepal is also famous for swamp deer. As of 2014, the swamp deer population was 2301. Similarly, around 20-25 wild elephants and 16 Bengal tigers were recorded on the 2018 census.
The rivers, lakes, and ponds of the park house 28 species of fishes, 12 reptiles and amphibians. Also, a total of 424 bird species have been recorded which includes Bengal floricans, dusky eagle owl, great slaty woodpecker, chestnut-capped babbler, Sarus crane, rusty-tailed flycatcher etc.
Things to do in Suklaphanta National Park
The national park offers a lot of activities. Apart from exploring this pristine Jungle, there are so many beautiful places to visit around National Park. The Tharu culture there itself is a wonderful treat of wild far west land. The temples, lakes, jungles, wildlife, culture and traditions everything of far west Nepal itself is a beautiful retreat.
Jungle Safari

The Jungle Safari the Shuklaphanta National Park is a popular activity. It is a reserve home for grassland wildlife in Nepal. Also, a wide variety of the earth's topography and climate zone lies within the small area of Nepal. You may go on a jeep to see the wildlife of Shuklaphanta National Park and even go on elephant back to explore the wild beauty.

Wildlife viewing on elephant back

You can see different species of wild animals during your elephant back safari in Suklaphanta  National Park. Also, some animals like Tiger, Bear, Forest Deer, Sambar Deer, Indian Porcupines, Red Muntjac, Leopard, Wild Boar and other many more animals can be seen in this jungle excursion.

Bird watching

Different types of birds such as Spiny Babbler, Ibisbill, Great Slaty Woodpecker, Bengal Florican, Bristled Grassbird, Hodgson Bushchat, Black-capped Kingfisher, Finn's weaver etc. are extensively found in this national park. More than 420 migrated and local bird species in this National Park broaden the arenas for Bird lovers.

Sightseeing

There are so many places to visit around Shuklaphanta National Park. The Mahakali River is nearby the Suklaphanta grassland. Also, the rani Tal, Ghodaghodi Tal, Dodhara Chandani bridge, Siddhanath temple, Brahmadev temple etc. are the major places to see in this region. The Mahakali river also acts as an administrative border of Nepal and India. The river itself has a huge religious significance. Dodhara Chandani, also known as villages beyond the border of Nepal lies in the forth dam of Mahakali river. The bridge there Nepal's longest multi-span suspension bridge.

Visiting Rani Tal

Rani Tal which is inside the national park. Consequently, there are 24 vertebrate species, 350 types of winged creatures including 180 rearing species, 14 types of fish, 10 types of ectoparasites and gnawing flies occupy the recreation centre. This Tal in the National park has added flavour to the National park.