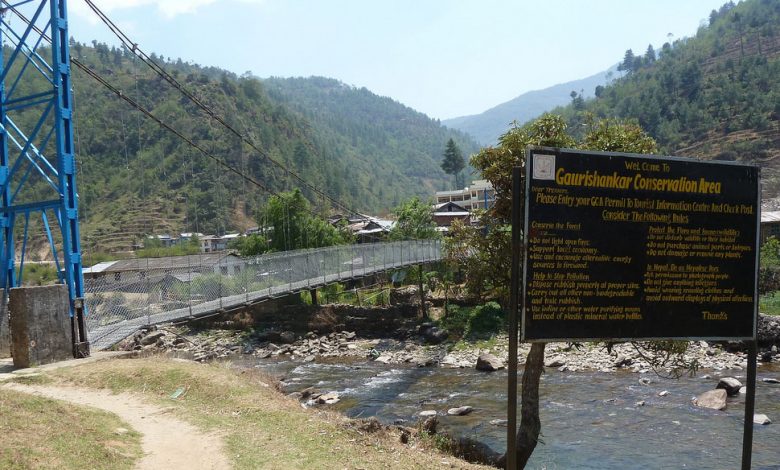 The Gaurishankar Conservation Area is located in the northeastern corner of Central Nepal between Langtang and Sagarmatha National Park. It lies on the border of China and from certain areas you can see the mountains in China/Tibet.
The name Gaurishankar comes from the god "Shankar" which is another name for Lord Shiva, and his consort "Gauri." It's said that the two of them danced on top of the mountain. Gaurishankar Conservation Area is a protected area in the Himalayas of Nepal that was established in January 2010. Covering 2,179 km2 (841 sq mi) in the Ramechhap, Dolakha, and Sindhupalchok districts.
Located in the northeastern corner of central Nepal, Gaurishankar Conservation Area encompasses 22 Village Development committees. 131 km from the countries capital, Kathmandu; lays Charikot, the headquarters of this conservation area. Covering three districts, Ramechhap, Dolakha, and Sindhupalchowk, this area holds great natural significance.
Gaurishankar (7,145 m) is the second-highest peak of the Gaurishankar region, after Melungtse (7,181 m). Within the area you can find trekking trails, peak climbing, bird watching, glaciers, holy lakes, and a vast array of ethnicities.
Flora and Fauna of Gaurishankar Conservation Area
The Conservation Area is rich in bio-diversity. A total of 16 varieties of vegetation have been identified in the area. Mammalian population totals 34 species, including snow leopard, Himalayan black bear, and Himalayan Thar.
The conservation area also has 14 snake species, 16 species of fish, 235 species of birds, 10 types of amphibians, and 8 lizard species. One of the rarest mammals in the area is the red panda.
Climate of Gaurishankar Conservation Area
The elevation ranges from 968 m. to 7181 m. above sea level. We can find Subtropical, Temperate, Sub-alpine, Alpine, and Nival climatic zones in the region. The best season for travel in the area is from March to the end of May. The autumn season is also a good season to trek in the region
Things to do in Gaurishankar Conservation Area
Gaurishankar is a less crowded trekking area because of its remoteness. Rolwaling Region includes both moderate and technical trek. Tso Rolpa Lake which is one of the most famous glacial lakes attracts the trekkers. Bigu Gompa (2500 m) is also another attraction of this trek in this area. Similarly, Yalung Pass (5310 m) and Tashi Lapcha Pass (5755 m) are two famous and exciting passes during the trek.
Entrance Fees of Conservation Area
Conservation Area Entry Fees
SN.
Conservation Areas
Nepali
SAARC
Foreigners
Discount
1
Gaurishankar Conservation Area
NRs. 100 per person per entry
NRs. 1000 per person per entry
NRs. 3,000 per person per entry
Below 10 yrs free
Culture and Festivals of Gaurishankar Conservation Area
Because the Khumbu region is its closest neighbor, the Rolwaling region shares its culture and festivals with the people of Khumbu. Mostly dominated by the Sherpa and Tamang people, Lhosar is the major festival of the region.
How to Get into Gaurishankar Conservation Area
Major areas within the park have road access. If you are heading to Rowaling Valley, you can take a bus from Kathmandu to Singati Bazaar or Chhetchhet and walk from there. You can also hire a private vehicle like a jeep if you don't want to take the bus since it's a bumpy ride.