Wildlife & National Parks
Chitwan National Park
Chitwan National Park is a preserved area in the Terai Lowlands of south-central Nepal, known for its biodiversity. Its dense forests and grassy plains are home to rare mammals like one-horned rhinos and Bengal tigers. The park shelters numerous bird species, including the giant hornbill. Dugout canoes traverse the northern Rapti River, home to crocodiles.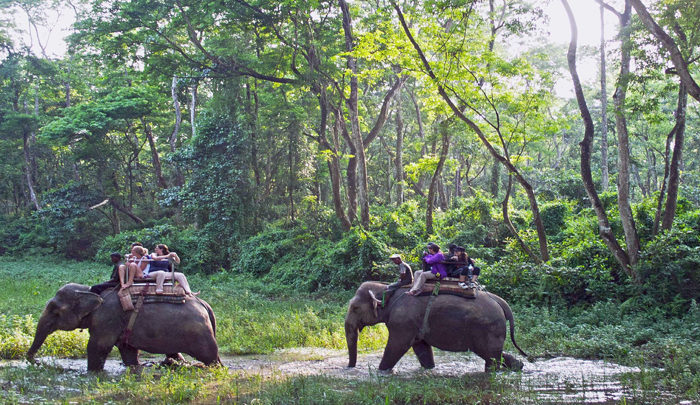 Nepal's first and most famous national park is situated in the Chitwan. Chitwan National Park is situated in south central Nepal in the sub tropical lowlands of the inner terai of Chitwan, Makawanpur, Parsa and Nawalparasi districts. It lies between 27°16.56'- 27°42.14' Latitudes and 83°50.23'-84°46.25' Longitudes. The altitude ranges from 110m to 850m above sea level. The park is bounded by the Rapti and Narayani River in the north, Parsa Wildlife Reserve in the east and Madi settlements and India border in the south. The physiography of the park consists of the Terai and Siwaliks. Three major rivers Narayani, Rapti and Reu, and their floodplains; and several lakes and pools are the major water sources of the park.
Being the first protected area of Nepal, it has a long history of over three decades in park management and rich experiences in nature conservation. Chitwan was a big game area for the royal families, Rana rulers and their guests. The area comprising the Tikauli forest from Rapti River to the foothills of the Mahabharat extending over an area of 175 km2 was declared as Mahendra Deer Park in 1959. The area south of the Rapti River was demarcated as a Rhino Sanctuary in 1963. It was proclaimed as Royal Chitwan National Park with an area of 932 km2 in 1973. After the peoples' revolution in 2006, the park's name was changed to Chitwan National Park.
In recognition of its unique biological resources of outstanding universal value, UNESCO designated CNP as a World Heritage Site in 1984. In 1996, an area of 750 km2 surrounding the park was declared a buffer zone, which consists of forests and private lands including cultivated lands. The buffer zone contains a Ramsar Site – Beeshazari Lakes.
The park and the local people jointly initiate community development activities and manage natural resources in the buffer zone. The government of Nepal has made a provision of plowing back 30-50 percent of the park revenue for community development in the buffer zone.
Entry Fee Per Person Per Day:
For Nepalese Nationals, Rs. 20/-
For SAARC Nationals, Rs. 200/-
For Other Foreign Nationals, Rs. 3000/-
How to access Chitwan:
Chitwan is easily accessible from Kathmandu, being well connected by a national highway to Bharatpur and to Sauraha. There are daily fights from October through May to Meghauli airstrip just outside the park boundary. Another exciting alternative is a two to three day raft trip down the Trishuli river to Narayanghat or directly into the western edge of the park.
Visitors can actively participate in exciting stalks through the forest looking for animals signs. One unique Chitwan experience is elephant back safaris in search of the one-horned rhinoceros, leopard, deer, bear, monkey and crocodile. Few visitors can ever forget the excitement of crashing through 20 feet high elephant grass and sightseeing wildlife. Apart from elephant safaris, the traveller will be happily occupied for several days with nature walks, canoe rides down the park rivers, and land-over drives through the forest.
How to Get Chitwan:
By Raft (scenic or white water):If we departure from Kathmandu by surface we should start at 7.00 A.M. by car/coach for Mugling (confluence of Marshynagdi and Trisuli river) from where exciting rafting begins and floats down to a picnic spot for lunch along the river side. Continue your destination where our vehicle will be waiting to transfer you to Chitwan.
By Surface: Departure from Kathmandu at 7.00 A.M by car/ coach for Chitwan National park on the Mugling-Narayanghat highway 175 kms for a scenic four hour drive.
By Air: By air service will be available from Kathmandu to Bharatpur as everyday. It takes about 20 min.(US$105.00 O/W)
Major Place:
Sauraha: Sauraha is one of the most visited tourist destination in Nepal . It is the gateway to Chitwan National Park which is listed in UNESCO world Heritage Site. It is a small charming village at the foot of the Himalayas on the northern bank of the Rapti River. A quickly growing but still small village that caters to the needs of the visitors to Chitwan National Park, the best known safari park in Nepal. It is located 160 kms by road from Kathmandu, 155 kms by road from Pokhara and 160 kms by road from the Indian border at Sunauli. It is a village which is inseparable from the Chitwan National Park . The Park is one of Nepal 's treasures of natural wonders and first national park.
Available Tour Packages For Chitwan Jungle Safari:
1) 2 Nights / 3 days Chitwan Jungle safari tour
Note: Entrance fee not required for children under 10 years Park Entrance fees is regulated by Department of National Parks and Wildlife Conservation (Phone: 4220850). Entrance fees for mountain National Parks can be paid at ACAP counter (Phone: 4222406) at Sanchaykosh building in Thamel, Kathmandu, or at the Park gate. For other National Parks entrance fees are to be paid at the Park gate.