Kathmandu
Tourist Places
Chandragiri Hills
Chandragiri has become a famous tourist destination within 11 months of operation of cable car service. One can have a panoramic view of Kathmandu Valley and the surrounding mountains from the Chandragiri hilltop.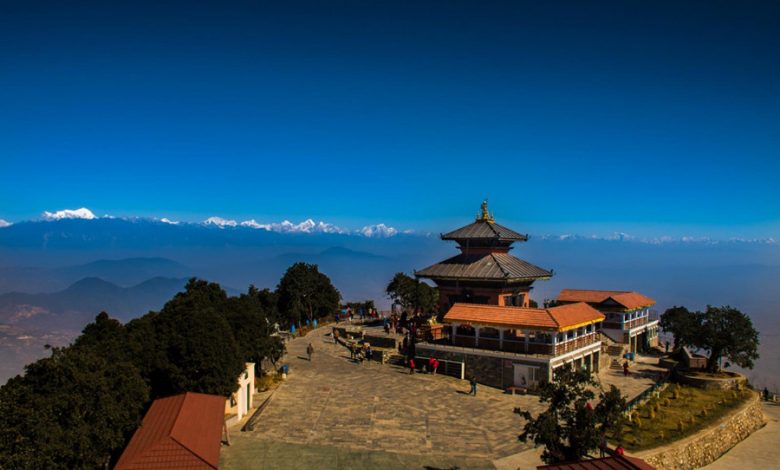 Chandragiri Hills is a municipality in Kathmandu District. The city's main attractions include Chandragiri Hill, Nepal with its Cable Car. Chandragiri Hill is 16 kilometers from Central Kathmandu, lies on the South-West of Kathmandu Valley and is 2551 meters from sea level.
It is one of the four hills that surround Kathmandu valley including Shivapuri (2732m), Phulchowki (2695m) and Nagarjun (2095m). Chandragiri is one of the Nepal's most loved day-trip destinations. Walking around the hills provides a breath of fresh air.
The main destination of Chandragiri Hill is the mountain top from where the spectacular views of the great Himalayan mountain ranges. The green valley of Kathmandu lies at the bottom where you can see the growing urbanization.
Chandragiri Hills is a major tourist attraction, with an excellent combination of natural beauty and cultural significance. The best time to explore and visit Chandragiri is during spring and fall season. In winter season one can sometimes experience snowfall as well.
To conclude, as the young explorer who loves to get lost in the beauty of nature, as a family seeking happy holidays or as traveller craving adventure, Chandragiri hills day trip welcomes all with open arms.
Attraction of Chandragiri Hills
Chandragiri View Tower
At 2,547 meters above sea level, the view tower gives you an unobstructed 180-degree view of the majestic Himalayas. From the Annapurna ranges to Mt. Everest, the snow-capped peaks feel like they are just an arm's length away from you.
Children's Playground
Chandragiri Hills is for everybody. The children's playground is designed to entertain your young ones with exciting recreational equipment like climbing ropes, swings, slides, seesaws and a jungle gym. With so much to do, your child will never want to go back home!
Pony Ride
After hours of fun on the playground, children can also enjoy a ride on a pony around the hilltop. The guided ride could be just the adventure your child remembers in the years to come!
Cable Car
Chandragiri Cable Car is a gondola lift transportation system located in Chandragiri Municipality, Nepal. Opened on 2016, the Chandragiri Cable Car runs from Thankot to Chandragiri hills. The 2.4 km (9,095 ft) line has two stations. The cable car system consists of 38 gondolas that can carry 1,000 people per hour.
Bhaleshwor Mahadev
Shiva, enraged with Satidevi's death, carried her dead body on his back and walked across the world in rage. Sati Devi, first consort of Shiva, sacrificed her own life at Daksha Prajapati's yagna after Daksha insulted Shiva in front of other deities.
Best Time to Travel
Chandragiri Hills Day Trip welcomes its guests any time of the year as the weather is well suited in all seasons. Along with it, the trip is a blend of adventure and culture in a short duration with great comfort. There is a rush of tourists in their vacations. It is suggested that you visit in the month of September- November and March-May as you can enjoy the spring weather with the panoramic view in a clear sky. You can experience the colourful kites flying in the clear sky in the auspicious occasion of Dashain that lies in the month of September-October.
How to get to Chandragiri from Kathmandu
Chandragiri Hills is seven kilometers from Kalanki, which lies on the South-west of Kathmandu Valley. To reach Chandragiri, one first has to reach Thankot which is an hour's drive from Kathmandu city. One can hire a car right up to the cable car starting point or take a car, jeep. hiace, bus from Thamel to Thankot, from where the cable cars are 10 minutes walk away.
Chandragiri Cable Car Entry Ticket
Chandragiri cable car ticket prices are NPR 415 for Nepalese people, INR 415 for other SAARC countries, USD 9 for Chinese nationals and USD 13 for other foreign nationals. For a round trip, the prices are NPR 700, INR 700, USD 15 and USD 22 in the same order.