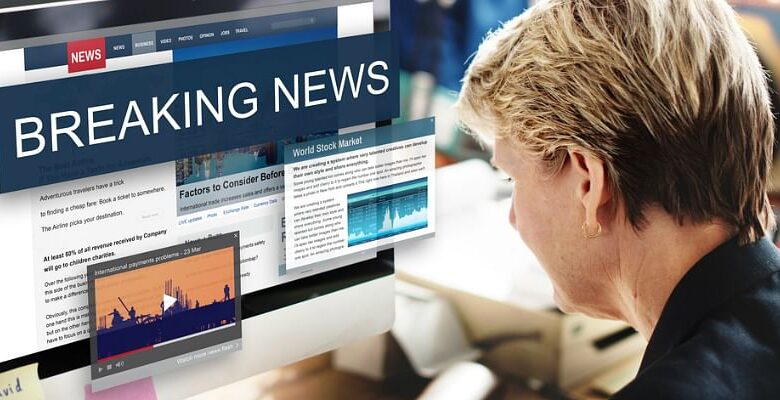 Nepal News websites are becoming more popular as the information provided by these websites is quite accurate and current. The number of online media registered in the country has increased lately. As of now, 2,325 online news portals have been registered in the country.
Following is a list of most popular news websites in the Nepal. Most of the websites listed below are online version of printed newspapers; however online-only papers, news audio and news video websites, and news magazines also listed in the page.
The Himalayan Times
International Media Network Nepal (Pvt) Ltd found its beginning in 2001 with its flagship newspaper The Himalayan Times. We have grown today to become Nepal's largest selling English Daily.
Produced by an editorial team, led by acting editor Rajan Pokharel, The Himalayan Times is known for its quality, innovation, and integrity while it enjoys strong brand recognition among readers as well as advertisers.
Taking full advantage of the vast resources and high ideals that have gone into making The Himalayan Times — numero uno English daily in Nepal — its web version seeks to ascend the heights of cyber excellence.
Go to the Online News Site: https://www.thehimalayantimes.com
Ekantipur
Kantipur was Nepal's first private-run Nepali broadsheet daily. It is the most sought-after newspaper for its credible news, features and critical analyses. With a daily readership of over four million Nepalis, Kantipur is the largest and the most influential national daily in the country.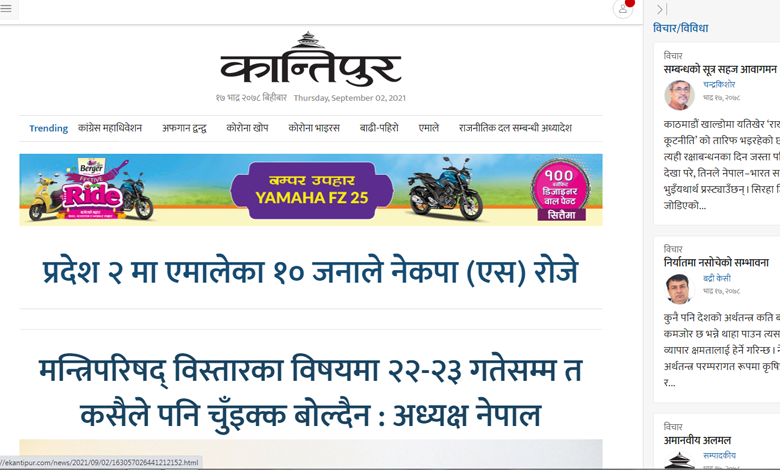 Kantipur has stationed more than 160 reporters across Nepal and has dedicated reporters in India, China, Malaysia, Hong Kong, Australia and the UK. A peerless product, Kantipur has always fought to safeguard the freedom of speech and our democratic values. Its news, opinion and feature pieces have held the powerful accountable—whether it be during unlawful dissolution of parliament or during other autocratic times.
The online portal of ekantipur.com. The Nepali news site delivers latest national and international to the users including political News, games, business, and entertainment News. From the site ekantipur.com you can access to other newspaper (The Kathmandu Post, Saptahik) and magazine (Nari, Nepal) of Kantipur Media group. The portal is both in Nepali and English language.
Go to the Online News Site: https://ekantipur.com
Onlinekhabar
Onlinekhabar.com is Nepal's number one news portal. Launched as a news startup on November 1, 2006, by a group of university students, the website has now become synonymous with Nepal's online media.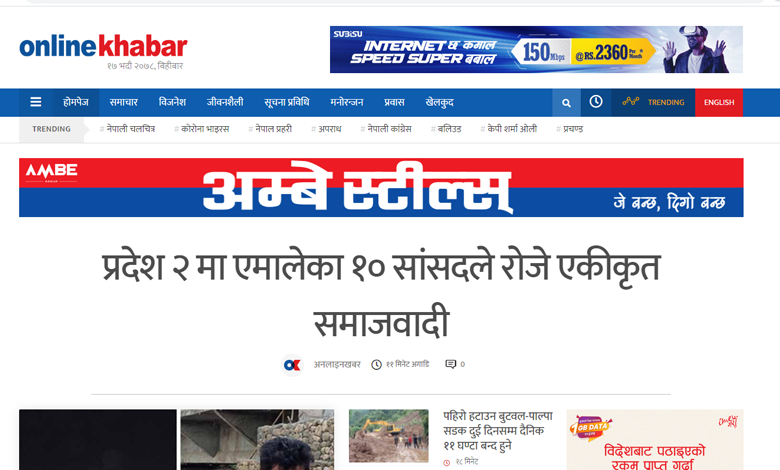 The website is the biggest in Nepal in terms of investment, network and readership. The website, which is now run with inputs from around 50 journalists, has its network in 70 countries. Onlinekhabar.com gets more than 700,000 unique visitors and more than 2.5 million page views every day.
After running a Nepali language-based portal for a decade, Onlinekhabar Nepal Pvt Ltd launched its English edition on February 1, 2016. The English edition aims to keep its readers updated on latest political, social and economic issues. It gives priority to promoting Nepal's tourism sector, and the Nepali way of life.
Go to the Online News Site: https://www.onlinekhabar.com
Ratopati
Ratopati.com is a Nepali language news portal operated by Discovery News Network. It belongs to all Nepalis around the world and is also the best Nepali language news portal.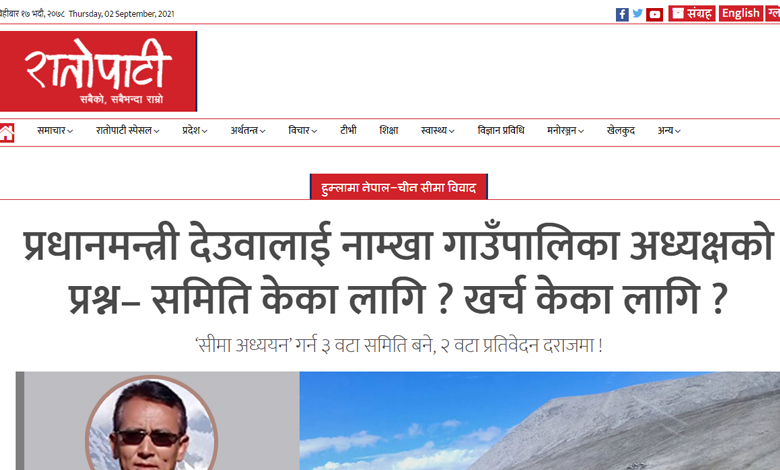 It focuses on national political, social and economic issues, also includes breaking news, investigative reports and content related to education, science and technology, cultural activities, lifestyle, health, sports, entertainment and literature. Similarly, news of Nepali 'Diaspora' and international news are also posted all over the world.
Vijaya Sharma is the chairperson of Discovery News Network, the operator of Ratopati.com. Ratopati.com has started from 10 June 2013 under the leadership of journalist Om Sharma. Sharma has been active in the movement for the establishment of the Federal Democratic Republic of Nepal since the Independent Panchayat period and has been involved in the people's war.
Go to the Online News Site: https://ratopati.com
Republica
'In pursuit of truth' sums up what the Republica, and its web version myrepublica.nagariknetwork.com, are all about. That is our calling, and our crusade. We will speak truth to people; we will speak truth to power.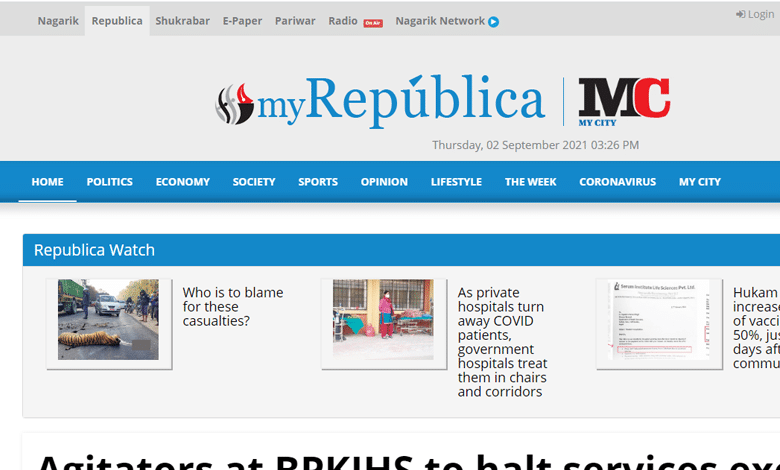 We are a team of professional management and journalists — one of the best in the Nepali media. Our duty toward our readers is to provide them with impartial news, bold views, in-depth analysis and thought-provoking commentary. We shall do this without fear or favor, and we shall be guided by nothing but our conscience.
myRepublica will bring you news as it happens. We understand that online is going to be one of the most influential medium of information in future. We will continue to grow and add ever more features, and we will lead you through this change.
Welcome to your one stop window on what is happening in the country. Republica and myrepublica.nagariknetwork.com are owned by Nepal Republic Media Private Limited.
Nagarik News is most widely read newspaper in Nepal. The newspaper publishes all type of news related to Entertainment, Business, Weather, Sports, Health, Education, Technology, Fashion, Lifestyle, Art & Culture, Stock Market, Real Estates, Political and Commercial Issues.
Go to the Online News Site: https://myrepublica.nagariknetwork.com
Nepal News
Nepal News Pvt Ltd is Nepal's oldest online news portal and was relaunched in Nepali in 2018.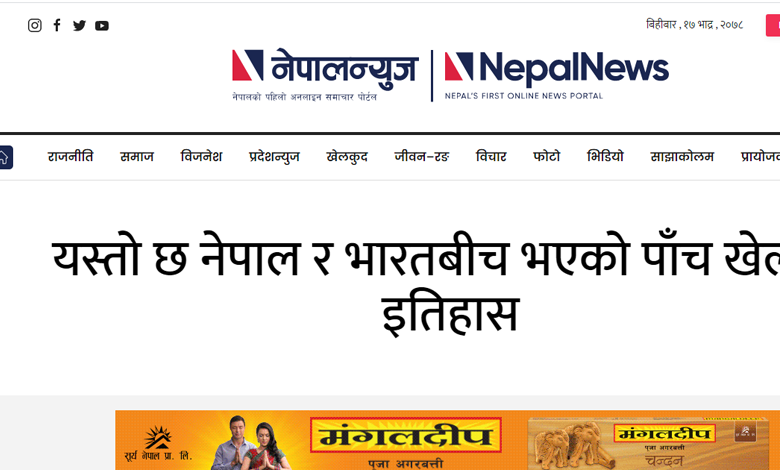 In January 2021 the English version was relaunched and is handled by a professional team of advisors, editors and journalists. The portal strives to serve its visitors with authentic, verified news and updates without bias, favor or fear.
Our team strives to cover news in Nepal and around the world for our site visitors to keep themselves updated at all times. We would be more than delighted to receive your comments, views and ideas.
Go to the Online News Site: https://nepalnews.com
The Kathmandu Post
The Kathmandu Post, the country's leading English-language daily, was launched in February 1993 as Nepal's first private-run English-language broadsheet. The Post is the second-most widely read paper in Nepal after its sister publication, the Nepali-language Kantipur daily.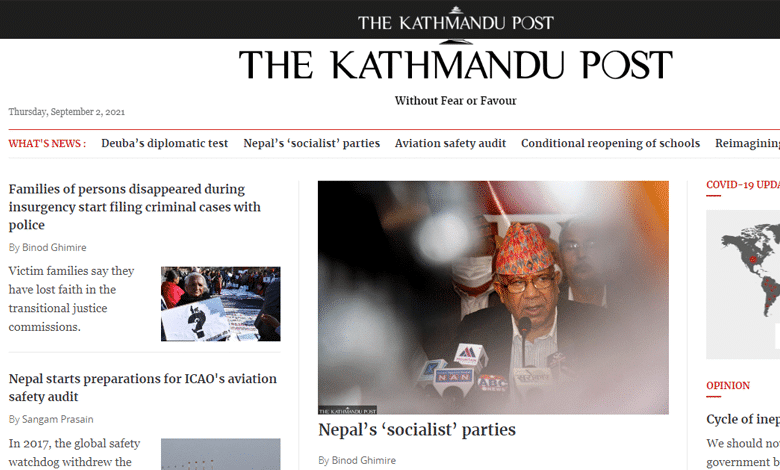 Since establishment, the Post has cultivated a reputation for reliability, veracity and breaking news. The Post's political, business, sports, and arts and culture reporting are supplemented with opinions from some of Nepal's, and the wider world's, leading intellectuals and analysts.
Since July 2009, the paper has been producing a weekend supplement–On Saturday–focusing on long-form journalism, satire and creative non-fiction. Apart from its regular pages and weekly supplements, the paper also publishes yearly special issues, such as on the Gregorian New Year and on its anniversary in February.
More recently, the Post has begun conducting investigations into corruption, malpractices and sexual harassment.
With an estimated daily readership of over 600,000 readers, both on the web and in print, the Post has developed a new language to tell Nepal's stories in English to both local and international audiences.
The Post is committed to ethical journalism that privileges facts and the truth. The Post is published simultaneously from Kathmandu, Biratnagar, Bharatpur and Nepalgunj.
Go to the Online News Site: https://kathmandupost.com
Gorkhapatra Online
Gorkhapatra is the oldest newspaper in Nepal. It is the first Nepali newspaper that delivers news in Nepali language and is run by Gorkhapatra Sansthan. The newspaper launched in May 1901 as a weekly newspaper and later became daily in 1961.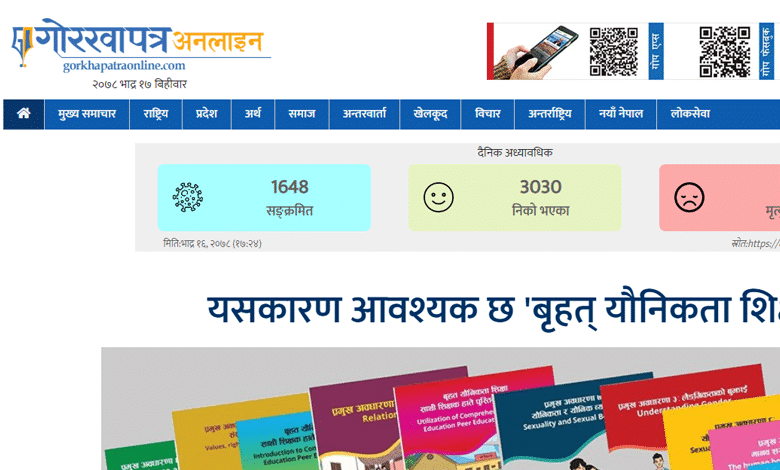 Gorkhapatra online is a platform for all kind of news advertisements, job vacancies, and result publication. In other words, it was the only newspaper for the means of communication and entertainment. Gorkhapatra online still has some loyal customers who prefer to read the traditional paper newspaper and some who prefer epapers.
Go to the Online News Site: https://gorkhapatraonline.com/
Setopati Online
The name 'setopati' (which means whiteboard) came about by chance as the original team was at a brainstorming retreat and discussing possible names for the portal, as it turns out, on a whiteboard.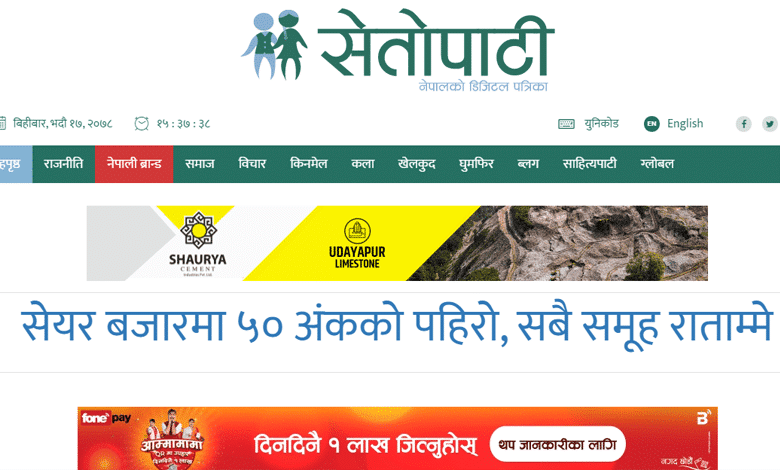 Setopati is a Nepal based digital media portal. It provides news and information on various topics such as politics, economy, sports, lifestyle, and travel among others. Also allows readers to contribute to the portal. Monetizes through native and display advertisements.
Go to the Online News Site: https://www.setopati.com