Kathmandu
Tourist Places
Thamel
Thamel is in Kathmandu. It is a haven for tourists visiting the city. It contains numerous hotels, restaurants, and shops that cater specifically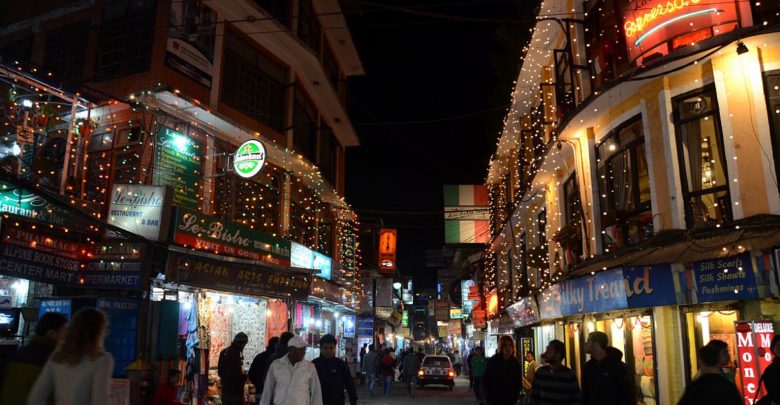 Thamel has and continues to be, one of the most popular and crowded commercial hubs in Kathmandu City of Nepal. Be it cultural monuments or pubs, cosy restaurants or magnificent temples, the narrow alleys of Thamel has never failed to serve the tourist industry of the country in over four decades.
Whether you are looking for good food or clothes, new music albums or in the hunt for trekking gear, the street shops in Thamel have got you covered. The entire area is a wi-fi zone.
Thamel is a popular tourist hub within the main city of Kathmandu. It's comprised of 5-7 main streets and many more smaller ones that cross the area. Most first time visitors to Nepal will usually end up in Thamel after leaving the airport by taxi.
Accommodation is easily found around Thamel. In the Thamel tourist zone north of Thahiti, old buildings are scarce, though Kwa Bahal. A traditional courtyard tucked away just off the touristy main drag is one of several bahal in Kathmandu. Bhagwan Bahal, which lends its name to an area north of Thamel Chowk.
The home to a little-used pagoda whose most notable feature is a collection of kitchen pans and utensils nailed to the front wall as offerings to the deity.
You can reach Thamel by hire a vehicle with Kathmandu Car Services, airport taxi, metered taxi, public bus or by hotel pick up.
1. Airport Taxi: 
Can be booked inside the arrivals hall, after customs. Taxis to most destinations will cost you around $15 in the day time and $20 at night. There is a clearly shown list of destinations and prices. If you are not being picked up by your hotel, use this service to avoid unnecessary hassles.
2. Meter Taxi: 
In theory these are much cheaper than the airport taxi. But unless you speak Nepali or are familiar with where you are going and the correct price, forget it! Expect to pay around $8 or 800 rupees to Thamel, with a bit of bargaining. Meter taxis have black license plates.
3. Hotel Transfers:
Some hotels provide free transfers from the hotel. Even if they charge you $15 to $18 dollars for the service it is well worth it to avoid the crowds of touts and taxi drivers at the airport door. This is probably your most convenient way to reach your hotel. Your hotel will probably use a green license plate on their vehicle. This means the vehicle is specifically for use by tourists.
Please note that vehicles with red license plates are private vehicles. DO NOT go with the drivers of private vehicles even if they say they are taxis. While it is 99% safe to do so, they are not licensed to carry tourists and it's best avoid any unnecessary complications.
4. Public Bus:
The Sajha Bus is a big green bus that comes to the airport. Take a right when you come out of the airport. But it does not go to Thamel. If you are determined to save a few dollars, take this bus to Ratopool, change bus to Ratna Park or Jamal (Jamal is the southeast border of Thamel) and then walk to Thamel. The local bus costs Rs 20 each and routes can be found on Sajha Bus Route.
Note: Got your transport sorted but cannot find your hotel? Check online map of Kathmandu (Which is not available offline). Best to print it off before leaving home. Still unsure about accommodation? Check here.
Is Thamel safe?
I would say Thamel is quite safe but you do need to be aware of your belongings at all time. The locals are very friendly, but there are many drug dealers around – and many teenage boys looking out for unsuspecting tourists that don't watch their belongings.