Blogs & Articles
Most Hardest and Difficult Treks in Nepal
Nepal is a home to natural beauty with traces of artifacts. However, some trekking routes here are only suitable for those with plenty of experience.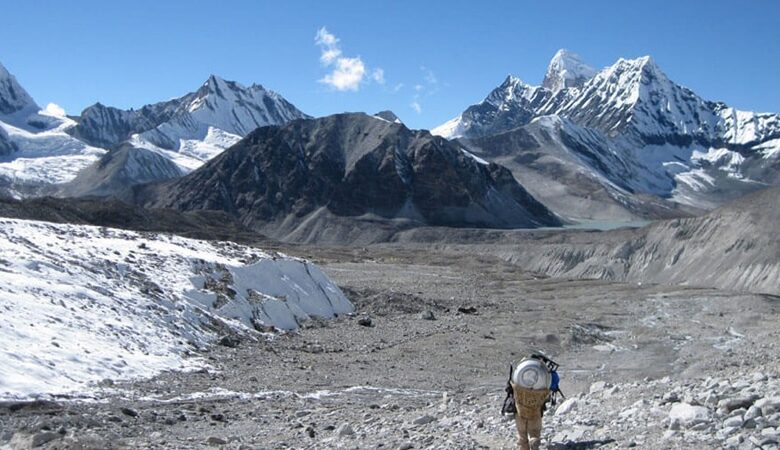 Nepal is known as the famous ultimate outdoor-sports destination. Offering a wide range of sports like rock climbing, canyoning, ziplining etc. The most challenging sport may be skydiving from Mount Everest and land in the highest zone in the world.
Nepal Trekking is generally very rewarding and a lifetime experience. While trekking in Nepal is not dangerous, health and safety should always be kept in mind. The final thing to remember is that trekking in Nepal is overall a very safe activity. Every year, more than 100,000 trekkers head for the trails in the Nepal Himalaya and only a tiny number of people have any problems on their trek.
Generally, late autumn and early spring will be the best times of the year for trekking; clear weather and less precipitation are ideal for mountain treks. However, if you're wary of joining the throngs of like-minded travelers then shoot for early September or late May.
Nepal is a home to natural beauty with traces of artifacts. However, some trekking routes here are only suitable for those with plenty of experience. Whether lengthy, cold, high-in-altitude or a combination of these, here are our picks of the most hardest and difficult treks.
Great Himalaya Trail
This very hardest and difficult treks crosses 10 different passes of over 5,000m (16,404ft). The Great Himalaya Trail is comprised of 10 varying sections from Kachenjunga on Nepal's eastern border to Humla on its western border with Tibet.
The trail stretches over a distance of about 1,700 km and passes through high altitude mountain landscapes. Visiting some of the most remote villages on earth where life remains as it was centuries back. Trekking along the GHT high route crosses over high altitudes up to 6,146 m and the whole trek takes about 150 days.
There's almost no aspect of the Great Himalaya Trail that is easy. Everything is a challenge from logistics, food resupplies, navigation, cultural and language barriers, local transportation to the trail, and personal health.
On the high route there are several guide mandatory regions: Kanchenjunga, the three technical passes after Makalu Base Camp, Manaslu, and Upper Dolpa.
For less experienced hikers and families with young children, Nepal trekking suggest some easier treks to do in Nepal. Read Article: The Best Treks in Nepal for Beginners.
Sherpani Col Pass Trek
The Sherpani Col Pass Trek includes three passes, two of them over 6,000m. It traverses the mountain range between Makalu and Everest. This trek combines cross-country trekking with mountaineering (fixed ropes and possible ice axe) to scale the high passes of the "Three Cols" – namely Sherpani Col, West Col and Amphu Labsta. This trek forms part of the Great Himalayan Trail, a newly opened up trail which crosses the country from east to west through some of the toughest and most beautiful landscapes.
This being one of the most hardest and difficult treks sections of the Great Himalaya Trail, an excellent level of fitness is required to complete the long weeks of trekking, the majority of days at altitudes over 4,000 and up to 6,000m.
Make sure you choose the best season for Sherpani Col Trek. The best season for this trek is Spring (March to June) and Autumns (September to November). The weather, rainfall and temperature during these seasons remain moderate compared with other times of year allowing you to complete the trek with no doubt.
Everest 3 Passes Trek
The three passes trek is rated "Hardest and Difficult treks". It is a very serious adventure given its high pass crossings. This very challenging trek crosses three passes of over 5,000m (16,404ft) – Kongma La, Cho La and Renjo La.
As stated above, the passes are Kongma La (18,209 ft / 5,550 m), Cho La (17,782 ft / 5,420 m), and Renjo La (17,560 ft / 5,360 m). Again, Kongma La is generally considered to be the most difficult (longest), Cho La requires you to cross a glacier (microspikes are helpful here), and Renjo La is commonly thought to be the easiest.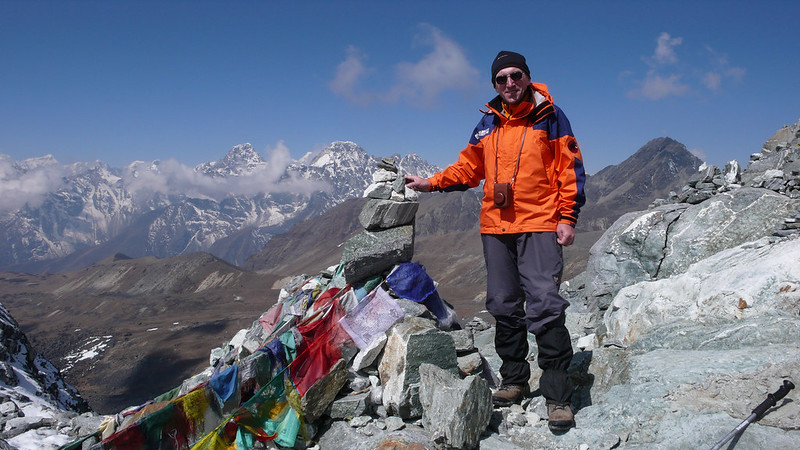 Granted this can all change depending on weather and conditions. It's wise to get an early start on the days you plan on crossing each pass to give yourself adequate time and to avoid the afternoon weather (which is typically worse than what you wake up to).
The most popular season for the Everest 3 Passes Trek is the same as Everest Base Camp, the fall (September to November). The second most popular season is spring (March to May) – this is also peak season for Everest climbers. The summer months are monsoon season in Nepal so unless you are a huge fan of trekking through the rain with limited views, it's probably best to avoid this time (unless you are willing to trade views for solitude – but maybe you'll get lucky with the weather).
The Everest Base Camp (EBC) trek is a spectacular high altitude trek in the mountains of Nepal. Prepare for jaw-dropping scenery and a unique cultural experience exploring the challenging trekking routes around the highest mountain in the world. Read Article: How to Prepare for Everest Base Camp Trek.
Nar Phu Valley to Saribung Pass Trek
Nar Phu Valley to Saribung Pass Trek is an adventurous trek in Nepal through a very remote region. After leaving the Annapurna Circuit at Chame we walk to the isolated village of Phu. From there we hike up into the remote Phu valley. At the head of this valley, we cross the rarely trekked Saribung La pass to enter Upper Mustang.
There is an option to climb the Saribung peak (6,328m) which is 300m higher than the pass. This is an expedition to the Nepal Himalaya where we cross Saribung La at an altitude of 6,042m. There is also an option to climb to the summit of Saribung at 6,328m.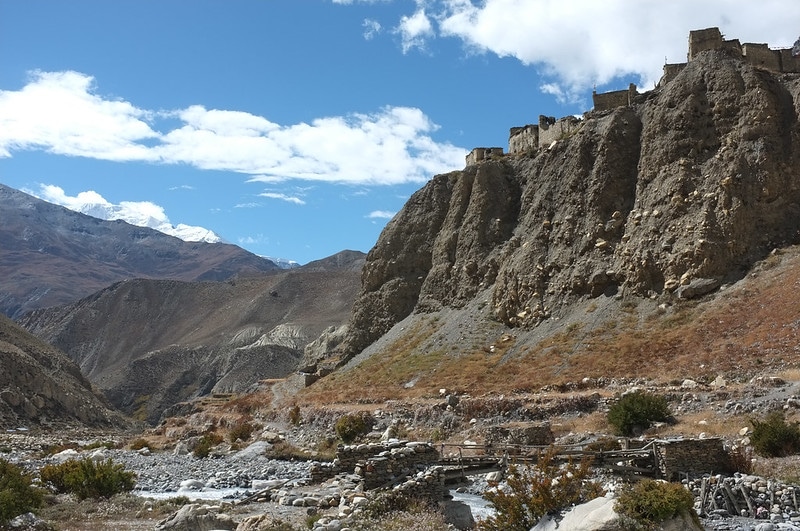 The trek is a newly explored hardest and difficult treks route and trekking route of Nepal in Mustang and Manag Annapurna Region. The Nar Phu Valley is Tibetan Khampa inhabitants on the hidden side of the Annapurna circuit trek route. Saribung Trek is totally wilderness destination for adventure and nature lovers.
The Nar Phu Valley to Saribung Pass Trek required different special permits. The Saribung route and Tiri la pass are technically tricky, because of lack of acclimatization, un-sure planning and losing the yak walking trails between Luri Gompa to Nar Phu Village. Saribung mountain is the 6329m/20757ft height.
Dhaulagiri Circuit Trek
The Dhaulagiri Circuit trek is a long trek that passes through high alpine pastures, uninhabited valleys, high windswept passes, forests. The Dhaulagiri Circuit trek is challenging, and a real adventure for experienced trekkers. Dhaulagiri Circuit, also known as Dhaulagiri Round, is one of the most challanging treks in the Nepal Himalaya.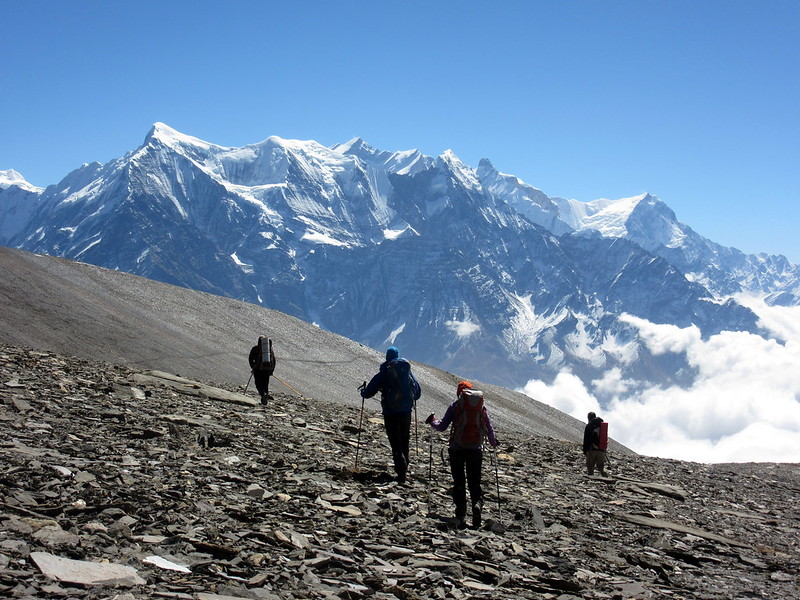 Dhaulagiri trekking crosses French Col and Dhampus Pass with both passes over 5,000m in altitude. This is a hardest and difficult treks which requires a high level of fitness. With several days and nights spent above 5,000 meters, two 5000 meter-plus passes and snowy conditions.
It is one of the most hardest and difficult treks in Nepal, but worthwhile for experienced trekkers.
Trekking in Nepal is relatively easy to plan and execute. There are dozens of options depending on your fitness level, your budget, your schedule and the kind of experience you want to have. We've created a 7 most beautiful treks in Nepal to help you choose the trek that suits you best. Read Article: 7 Most Beautiful Treks in Nepal .
Upper Dolpo Trek
Dolpo lies in the remote north west of Nepal, between the Tibetan Plateau and Dhaulagiri mountain ranges. The Upper Dolpo trek takes in, as the name suggests, the upper part of this region, which is even more remote and rarely visited. Only opened to visitors at the end of the 1980s. Upper Dolpo is still considered a restricted area and requires a special permit.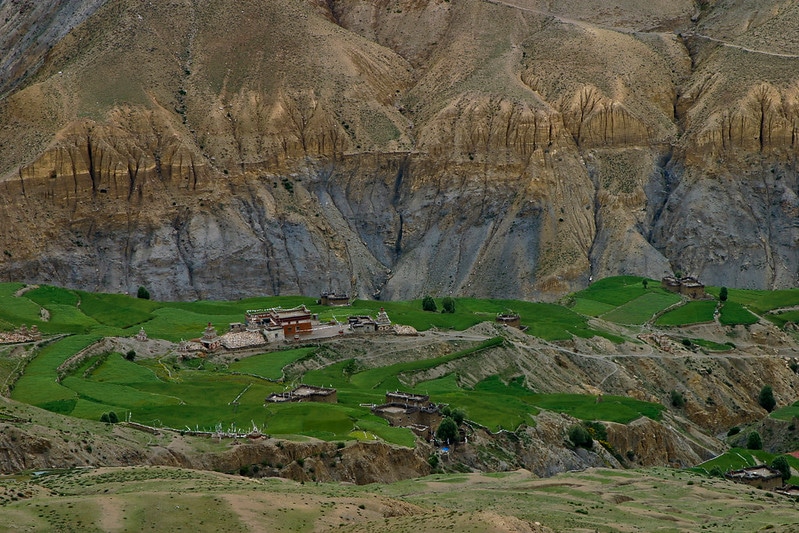 While Dolpo is in general a dry, bare place, it is laced with fast flowing rivers, roaring waterfalls, deep river gorges, lush meadows, and valleys of tilled fields.
The trek starts from Juphal, also called Dolpa, airport in Lower Dolpo. This is near the District headquarters in the town of Dunai. The scheduled flights to Juphal leave from the city of Nepalganj in the west of Nepal. Nepalganj is at an altitude of 150m and is a very hot and humid place.
It is one of the most hardest and difficult treks in Nepal, but worthwhile for experienced trekkers.
Rolwaling Tashi Lapcha Pass Trek
Rolwaling Tashi Lapcha Pass Trek is a beautiful journey that combines the glory of both Rolwaling valley and Khumbu region of Nepal. This hardest and difficult treks take you to a remote location and lets you experience the beautiful views of Himalayas with the challenge of crossing high mountain pass.
The wilderness that lies in the quaint mountains and remote trail is something that you will enjoy as you walk along the way to Rolwaling Tashi Lapcha Pass. This is reportedly one of the possible routes that people from Kham in Tibet used during the mid-1800's. These people subsequently settled in this area and the Everest region and are now known as Sherpa.
Therefore, this Rolwaling tashi lapcha pass trek also has historical and cultural significance. After crossing the pass and coming into the Everest region, there are glorious views of Mount Everest, Nuptse, Lhotse, Ama Dablam, Thamserku and Kusum Kangaru. There is an opportunity to interact with other trekking and climbing groups as well as the Sherpas.
It is one of the most hardest and difficult treks in Nepal, but worthwhile for experienced trekkers.
A trekking company ensures a complete holiday experience that suits yours and the group's requirements. You can have a memorable experience keeping in mind all the safety parameters. You should make sure the company is registered with the Nepal government. Read Article: 10 Best Nepal Trek Operators.
The Kanchenjunga Trek
The Kanchenjunga Trek, in eastern Nepal, is one of the longest treks in the country at around 27 days. You'll circumnavigate Mount Kanchenjuna, which at a height of 8,586m (28,169ft) which is the third-highest mountain in the world, straddling Nepal and India.

Kanchenjunga is known all over the world for its breath taking views from Nepal. As permission to trek up the hill range is very rarely given, the peaks haven't lost their pristine beauty. It is also known for assuming different colours during different times of the day. Crossing maximum elevation of 4,660m/ 15,88 feet or 'Lapsang La route' at 5,110m/ 16,765 feet in between the short connection route.
The Kanchenjunga trek is long (220 km) and quite strenuous, requiring a good level of fitness needed. You can trek the Kanchenjunga Circuit in April, May and early June, and during October and November to early December.
It is one of the most hardest and difficult treks in Nepal, but worthwhile for experienced trekkers.