Essential Travel
Best time to go Nepal trekking
Want to know when is the best time to go trekking in Nepal? This guide breaks down trekking season in summer, autumn, winter and spring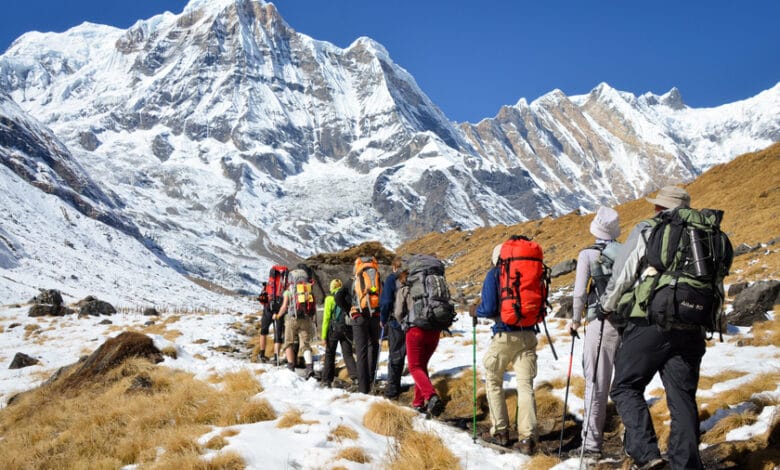 If you're planning a trek to Nepal and are after a quick answer on when the best time to go Nepal trekking is, well, the answer is, "it depends"! Generally speaking, there is no absolute best time for everyone; your Himalaya experience will depend on how you feel about crowds, how high you are planning on trekking, and your tolerance for heat, cold and rain.
Deciding the best time to go Nepal trekking is tricky. The summer monsoon (June to Sept) brings growth and freshness, but is best avoided by trekkers. Autumn (Sept to late Nov) and spring (Feb to mid-April) are your best bets: autumn brings clarity, the bugs and dust washed away by the monsoon; spring days are warmer and longer, allowing for maximum time spent exploring. Winter in Nepal (Dec to Jan) doesn't bring much snow, but it is chilly; wrap up warm and you'll be one of very few up in the mountains.
Just like in most corners of the world, there are four distinct seasons in Nepal. Winter, Spring, Summer, and Autumn all have their own characteristics and charm. Because of that, there is no definitive answer when the question about the best trekking season rises. However, the seasons can help you determine your preferred month to plan your visit to Nepal.
Considered one of the best seasons to trek and climb in the Himalaya, spring brings not only with it the sun and warmer temperatures, but fields of blossoming wild flora such as the famous giant rhododendrons, giving the landscape a radiant and vibrant texture.
Nepal has four climatic seasons
The climatic seasons of Nepal is dependent on altitude variation (ranges from 75m to and 8,848.86m above sea level) and Geographical features. As in the western world, there are four seasons in Nepal: Spring, Summer, Autumn, and winter.
Spring Season – Nepal Trekking in March, April & May
Visiting Nepal during spring is a blend of encountering hot and chill temperatures. The start of spring is cold and chilly because spring in Nepal is directly after winter. So, for the first month of spring which is March, you will encounter the chilly climate. Yet, thereafter March, the climate marginally begins to get warm and will set you up for the late spring/monsoon climate which trails spring. Regardless, spring is probably the busiest month for traveling in Nepal.
During the Spring season the temperatures warm up and winter snows start to melt. By March it is a good time to do treks such as Everest Base Camp and Annapurna Base Camp that do not cross high passes. Whereas Everest High Passes trek crosses over 5,000m so one has to wait until mid to late April for the snow to melt on the passes.
April is the best time for most of the circuit treks in Nepal crossing high passes like Dhaulagiri Circuit, Annapurna Circuit and Manaslu Circuit. For some treks in Nepal one has to wait even later such as Upper Dolpo to Jomsom GHT. The Kang La pass at an altitude of 5,380m over to Shey retains the winter snows until mid May.
Considered one of the best seasons to trek and climb in the Himalaya, spring brings not only with it the sun and warmer temperatures, but fields of blossoming wild flora such as the famous giant rhododendrons, giving the landscape a radiant and vibrant texture.
PRO'S FOR NEPAL TREKKING SPRING
Spring is a standout amongst other best time to visit Nepal for trekking and here are the reasons why:
Great climate for traveling; crisp toward the beginning of the day, and gentle at night
Temperatures in higher heights and lower mountains run from 16-23o C
Spring is the climbing season in Nepal, making this an unimaginable chance to do Everest Base Camp journeying
The journeying trail is dynamic with greenery all over the place and beautiful blossoms that sprout over the path
Fewer travelers in contrast with October and November, which implies more potential to navigate the far away Himalayan corners.
By April, Cho La, Larkya La, or Thorong La, the snow that amasses throughout the winter condenses away, clearing a path for trekking over 5000 m of height.
Cons of NEPAL TREKKING SPRING
Famous trails like Annapurna base camp, Everest Base Camp, Ghorepani poon hill are quite busy and crowded
Because of the busy trail, accommodation according to the requirement is very difficult to get
Similarly, rain is pretty normal as it is close to the monsoon, so be prepared in the lower altitude for a downpour.
As the spring is before summer, it is quite difficult to walk in the lower altitude due to the warm daytime temperature, but as you go higher, it gets cold, which becomes quite difficult to walk in the packing bags.
Summer Season – Nepal Trekking in June, July & August.
Summer in Nepal lasts from June to August and although you might not expect it when seeing the snow-capped peaks, it does get warm. In fact, it will be humid. This is because summer in Nepal means monsoon season. This season does not attract a lot of adventurers to the Himalayas.
The rains are known to wash away bridges, trails become very slippery and public transport becomes unreliable. Not ideal, but there are definitely great options for trekking during monsoon season. Although it can be difficult to get there in summer, the Upper Mustang Trek is a great option as the area remains relatively dry. The Dolpa region with the Upper and Lower Dolpo is also a great option for this time of the year.
Autumn Season – Nepal Trekking in September, October & November
After the monsoon has departed often a high pressure system settles over the Himalaya region. A blocking high pressure will prevent minor weather systems moving in. This results in sunny weather and bluebird days! The mountain views are at the clearest as the rains have washed out the dust and pollution from the skies. As a result October and November are the most popular months for hiking in Nepal Himalaya.
Autumn is considered the best trekking season in Nepal. While springtime runs the risk of some cooler afternoons, after monsoon season clears, you can almost guarantee sunshine and cloudless skies all day long.
The individuals who choose to visit Nepal around autumn will get an opportunity to encounter the most praised celebration of the nation which are the Dashain & Tihar celebration. Thus, not exclusively will the awesome climate will familiarize you in the excursion, a delighted possibility of being an aspect of the fascinating celebration is the thing that you will get the chance to encounter as well.
PRO'S FOR NEPAL TREKKING AUTUMN
Days tend to be warmer, but nights are colder heading into winter.
The weather is stable and sunny, with clear skies and gorgeous views.
The temperature in the upper hill and lower mountains reach about 15-24ºC (59-75ºF).
CON'S FOR NEPAL TREKKING AUTUMN
Generally with better weather comes more travellers, and this definitely holds true to autumn trekking in Nepal.
RECOMMENDED TREKS IN AUTUMN
Experience the best that the Annapurna region has to offer on the Annapurna Circuit trek.
Winter Season – Nepal Trekking in December, January & February
For most people it is too cold to trek to high altitude regions in Winter in Nepal; daytime temperatures can range between 9-12ºC (48-54ºF), and evenings can drop to sub-zero temperatures. If the cold doesn't bother you, it is a great time to trek to the more popular places such as the Everest region, because there are far fewer people around compared to October and November.
As well as the lower to mid-altitude trails, where the temperature remains fairly pleasant. Our Christmas and New Years' treks in Nepal are always very popular for just this reason.
Mornings can start foggy, but afternoons are usually clear with the occasional snow in the mountains. With this in mind, high passes such as Thorong La (5,416m/17,769ft) in the Annapurna region, and the Kongma La (5,545m/18,192ft), Cho La (5,335m/17,503ft), and Renjo La (5,420m/17,782ft) in the Everest region are usually closed from late November to March.
Weather for Nepal trekking regions
East Nepal has shorter trekking seasons than West Nepal. This region has an early onset of rain from the monsoon in June and late withdrawal from the first week of October. As we head westwards the monsoon season will be shorter and the trekking season longer.
Mid East and Central regions of Nepal from Everest to Dhaulagiri follow the regular trekking seasons of Spring and Autumn. Whereas further to the West in Upper Dolpo the best time is early Summer due to the late onset of the monsoon in July and the late melting of snow on the high passes.
If you are trekking in Kanchenjunga or Makalu during March, April and October be prepared for some rainy weather. You may not get rain for the whole day as often the clouds build up in afternoon. After a heavy downpour it is likely to clear again by the evening time.
I have listed the main trekking regions in Nepal starting in the East of the country and moving to the West.
East Nepal: Kanchenjunga and Makalu
Mid East Nepal: Everest, Rolwaling, Langtang and Kathmandu Valley
Central Nepal: Ganesh Himal, Manaslu, Annapurna, Dhaulagiri and Upper Mustang
Mid West Nepal: Upper Dolpo, Rara Lake, Jumla
Far West Nepal: Humla