Blogs & Articles
10 Best Nepal Trekking Companies
List of trekking agencies in Nepal. Discover here 10 tour operators and trekking agencies and find your next adventure!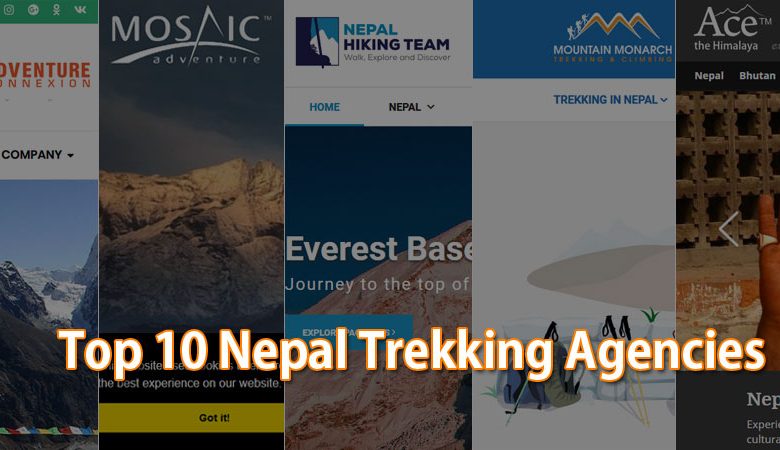 Nepal is a beautiful country with various features and has the possibilities for tourism development. Nepal might be a place for research due to its natural variations. Mt. Everest (highest peak of the world), Gautam Buddha (light of Asia), and various art and architecture are the main attraction for tourists in Nepal.
Trekking agencies in Nepal have noticed a rapid development in the last few years, which means that the travel industry is going strong with a boost in tourism. People from all around the globe are checking in to explore the non-commercialized destinations through trekking in Nepal.
Nepal lies almost in the middle of the Himalaya and while it's a small country it hosts 8 of 14 of all the world's mountains over 8000m. Nepal is a spiritual, historical, and culturally-rich country, but many tourists have started going beyond the pre-conceived idea of Nepal with a purpose to reach the top of the divine mountains.
Hiking and trekking in Nepal can make for the trip of a lifetime, as long as you know where to begin. Start planning your incredible trekking adventure by learning more about the benefits of local guides, which trekking companies to choose, common starting points like Kathmandu and more.
Nepal is a popular destination for trekking and mountaineering, attracting thousands of tourists every year. Trekking agencies in Nepal play a crucial role in organizing treks and expeditions, providing logistical support, and ensuring the safety and well-being of their clients. Here are some of the prominent trekking agencies in Nepal and their works:
Therefore, we have chosen the top 10 Nepal trekking Companies for the wanderlust, and trekking enthusiasts.
Himalayan Trip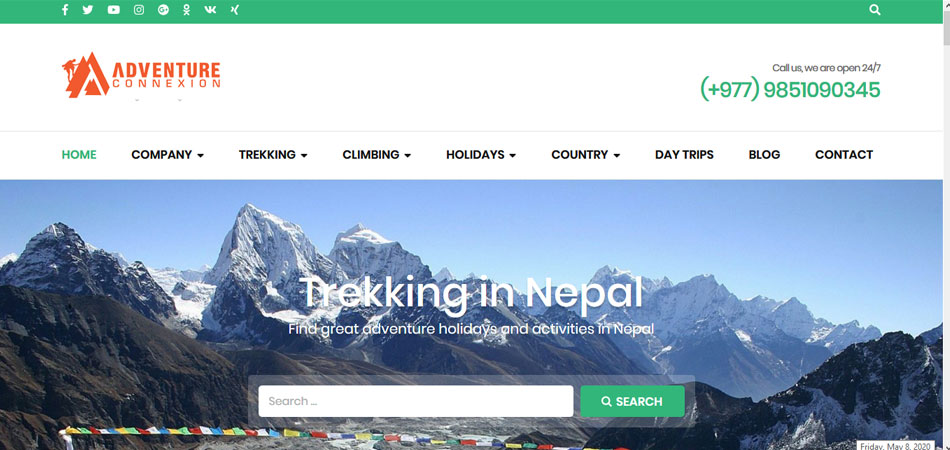 Himalayan Trip is an adventure trekking company, organizing treks in Nepal, Tibet, India & Bhutan. Organize enjoyable and successful holiday travel. A warm welcome to enjoy the hospitality of Himalaya People!.
Himalayan Trip pride ourselves in providing first-class services, professional tour managers, authentic Nepalese meals, and travel itineraries that appeal to everyone. We offer Nepal treks that are comprehensive in coverage at a price to suit all travellers without compromising on quality and services. Our hospitable approach to families, groups, and communities has helped us to maintain our position as the first choice for thousands of people across the world.
Trek Nepal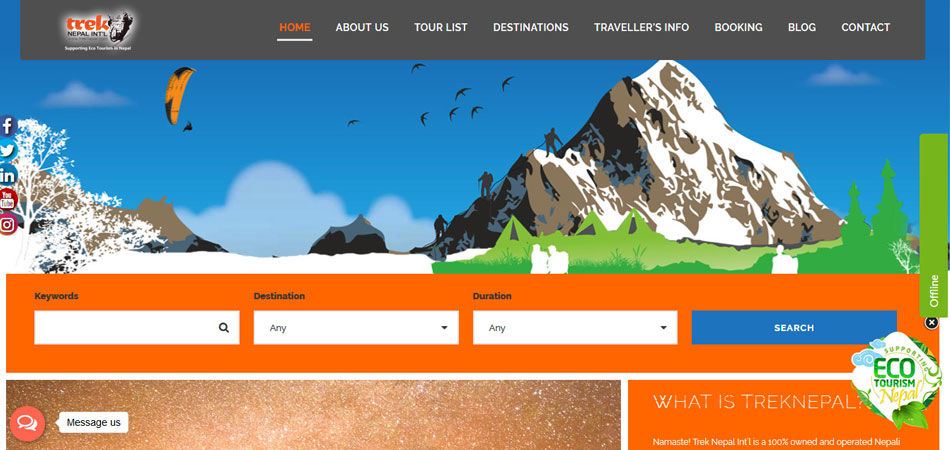 Coming to Nepal is a dream for many people. To wander the highest mountains in the world, meet Buddhist monks, raft the deepest gorge – these are the things legends are made of. Adventure and spirituality mix in this ancient landscape. At Trek Nepal, we have been showing people the real Nepal for nearly 20 years. Choose from over 30 trip itineraries, or let us tailor-make something just for you. This is our country, and we have six reasons why you should see it with us.
Mosaic Adventure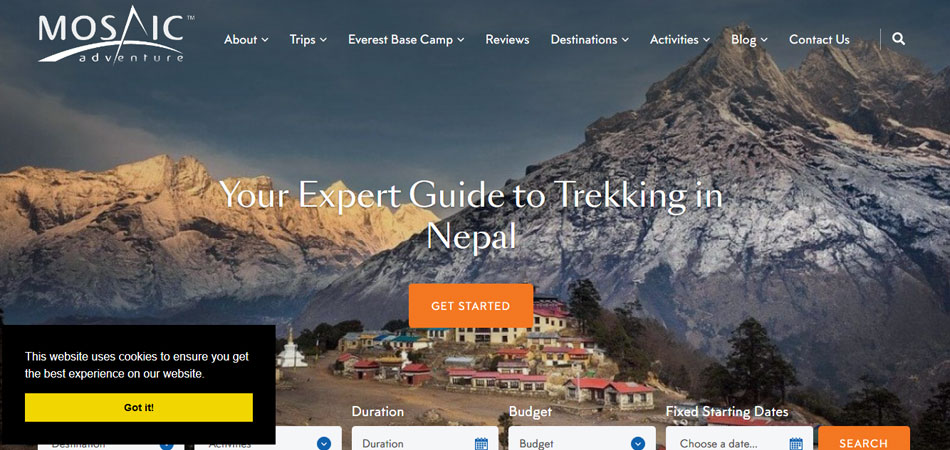 Mosaic Adventure organizes group and custom made trekking itineraries, cultural tours, and thrilling adventure holidays in Nepal. Striving for optimal customer satisfaction, our friendly team works around the clock to make a perfect trip for you here in South Asia. With the help of the most knowledgeable, professional, and friendly guides in the mountains and in the culture steeped cities, Mosaic's itineraries are unforgettable journeys into the world's most beautiful environment.
Nepal Eco Adventure

Nepal Eco Adventure is situated at the heart of the Kathmandu city Thamel and at the busiest tourism city of Nepal, Nepal Eco Adventure is serving its best services to its clients for their satisfaction. Nepal Eco Adventure is a team of experts and experienced persons in the field of trekking. The one and only objective of the Nepal eco-adventure is to satisfy its client by providing those best services available in Nepal.
Nepal Hiking Team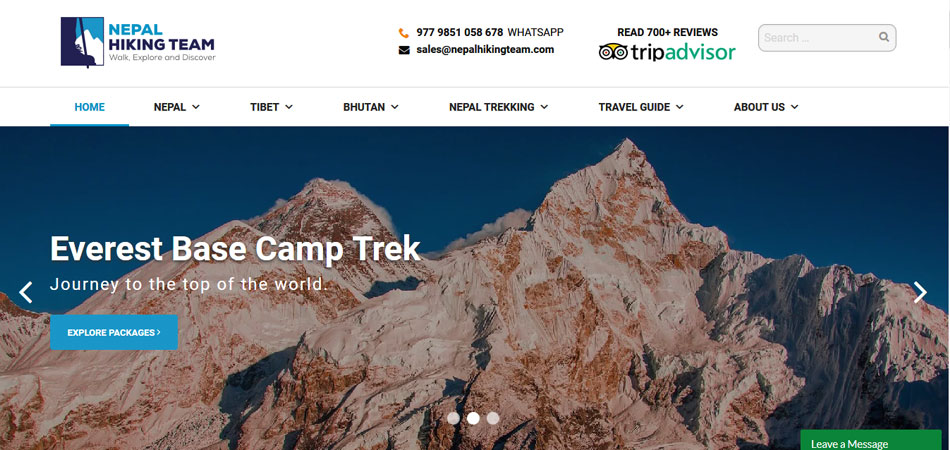 Nepal Hiking Team presents comprehensive well-rounded travel packages in Nepal, Tibet and Bhutan. The programs we offer are incorporated with the best services and features of all regions. We present you with an amazing opportunity to experience Nepal's natural and cultural elements in spectacular fashion. Moreover, the travel packages are focused on the blend of natural elements with religious and traditional characters to give you an all-round experience of the authentic manner.
Furthermore, along with Nepal Treks, we also offer Cultural Tours, Peak Climbing', Wildlife Tours and various adventure activities like white-water rafting, Bungee Jumping and Paragliding. Likewise, we present wide-range tours not only in Nepal, but in Tibet and Bhutan as well.
Heaven Himalaya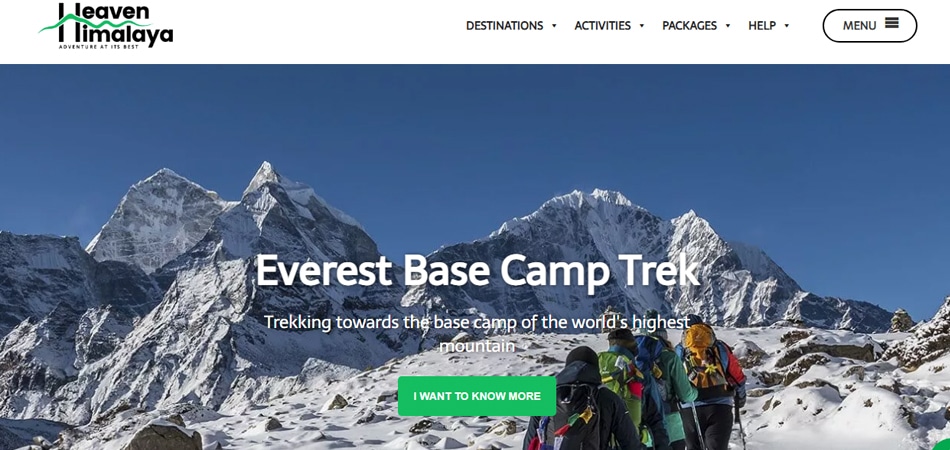 Heaven Himalaya trekking company is founded and run by a very professional senior trekking leader, assisted by several key team members who are equally passionate, knowledgeable, and have a pleasant experience in trekking, travel planning, and management. All our guides are well-trained in climbing techniques, first-aid and safety knowledge, local norms, and procedures on emergency handling.
Trekking and peak climbing are activities associated with some elements of risk. Thus, it is imperative to engage a company with deep knowledge and long experience which can ensure your safety and success.
Ace the Himalaya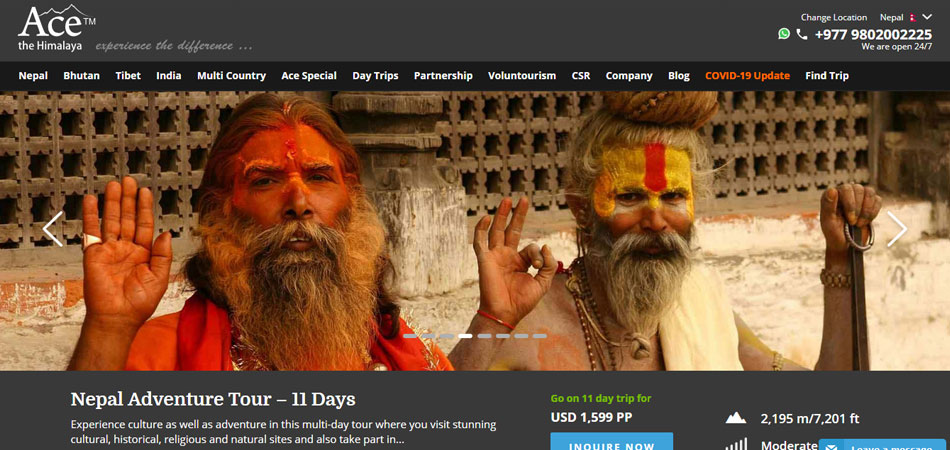 The Himalayas are home to some of the most captivating vistas of the world. Ace the Himalaya has meticulously created unique outdoor adventure journeys for you to explore the highlights of four enchanting, yet very different cultural wonderlands – Nepal, Bhutan, Tibet and India. From trekking, peak climbing and mountaineering to rafting, wildlife safari, cultural tours and other activities, Ace the Himalaya has an option for all kinds of outdoor lovers. We are proud to showcase the Himalayas to the world and take your journey beyond the ordinary!
Ace the Himalaya was founded by Prem K Khatry in 2006, after working for many years as a freelance tour/trekking leader. Ace offers wholesale tour operators the twin benefits of affordable ground services and superior quality itineraries and travel planning services.
Thamserku Trekking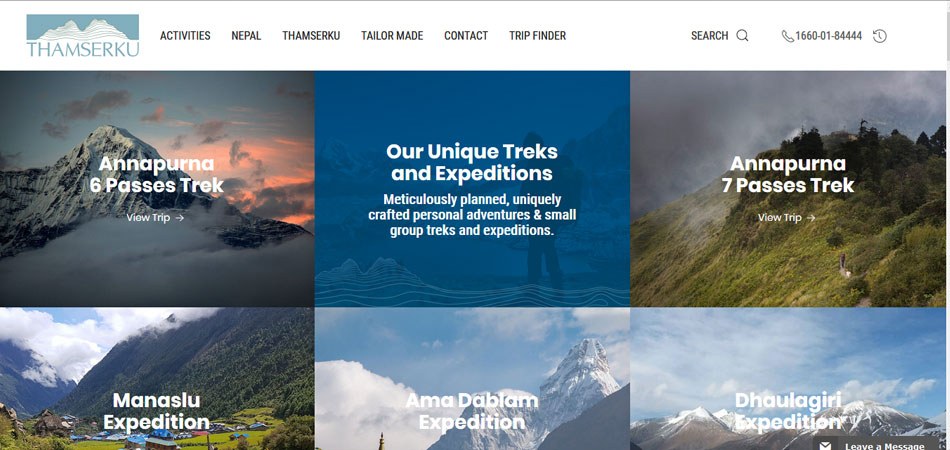 Thamserku is Nepal's leading adventure-travel and holiday agent. With over 30 years experience with our international partners we are the specialists in trek and expedition services for groups from across the globe.
Thamserku today employs over 300 experienced, friendly, and loyal staff including 200+ guides and sherpa specialists in technical mountain skills and safety. In addition, we employ around 80 skilled, innovative and adaptable cooks, about 50 multi-lingual (French, German and English) tour leaders, and 35 efficient, highly capable office and support personnel. We are all here to make sure your trip runs smoothly and is everything you imagined.
Asian Trekking

Asian Trekking was established in 1982 by Ang Tshering Sherpa. Ang Tshering's family had already been involved in mountain expeditions for many years before that. Ang Tshering's father, Konchok Chumbi Sherpa was a friend of Sir Edmund Hillary and helped him with the preparation of his ascent of Everest in 1953. Konchok Chumbi was also involved in the planning and supplied the porters and equipment for the 1963 American Everest Expedition. With close connections to the mountaineering community, as well as coming from
Sherpa Expedition & Trekking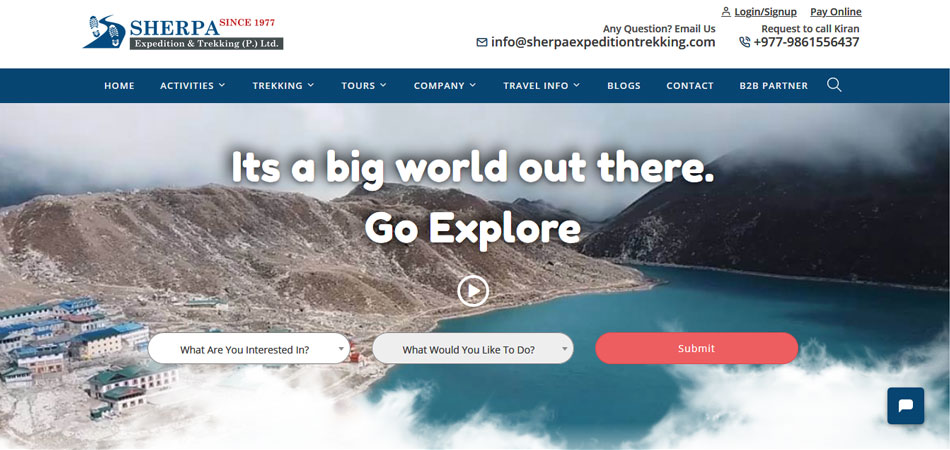 Established on January 07, 1977, with a motto: 'Enhancing Tourism possibilities across the Globe'. Sherpa Expeditions and Trekking is proud to be recognized as the fifth Trekking and Adventure company authorized by the Tourism Board of Nepal. Since its establishment, it has successfully been offering its world-class service to travelers around the globe We have strong dedication and commitment to make every holiday memorable for the rest of your life.
We basically focus on safety and luxury, which has categorized us as a distinctive trekking and adventure organizer in Nepal. We have the experience of more than 40 years in tourism.