Blogs & Articles
Top 5 Outdoor Adventure Activities that Never Miss in Nepal
Nepal is truly a paradise located in South-east Asia in the midst of the Himalayan ranges. Outdoor adventure sports & activities may be like exploring new untouched places in the Nepal.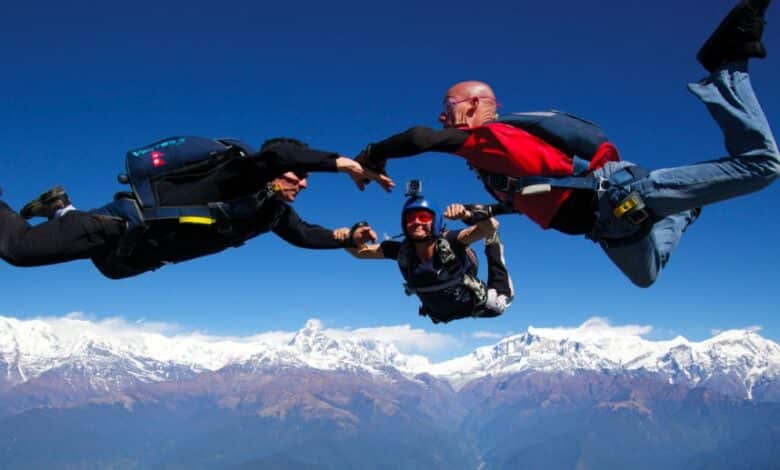 Outdoor Adventure Activities are the greatest way to explore the beauty of nature in the world. Replete with awe-inspiring wildlife, charming hill villages, Himalayan trekking, golden temples, and magnificent Himalayan views.
Nepal to the world may be known for its beauty, diversified culture, and the hub for arts and music. But to the adventurers, this country speaks on a whole different level. But often, searching for the perfect outdoor activity to quench your adventure thirst can be an arduous task. Hence, you can feel at ease as we get to do the job of finding you your next perfect adventure activity.
Nepal is truly a paradise located in South-east Asia in the midst of the Himalayan ranges. Outdoor adventure sports & activities may be like exploring new untouched places in the world. Walking along the most dangerous trails, and a few more interesting outdoor activities like mountaineering, water rafting, rock climbing and many more interesting activities where you feel the adventure.
Here is the list of top 5 outdoor adventure activities anybody might want to experience once in their life.
Whitewater Rafting and Kayaking
Nepal is easily one of the richest countries when it comes to high rapid water resources. Hence, it has long been one of the most popular destinations for rafting and kayaking. Some of the most loved destinations for whitewater rafting in the country are rivers like Trishuli, Bhote Koshi, Sun Koshi, Seti River, and Kali Gandaki.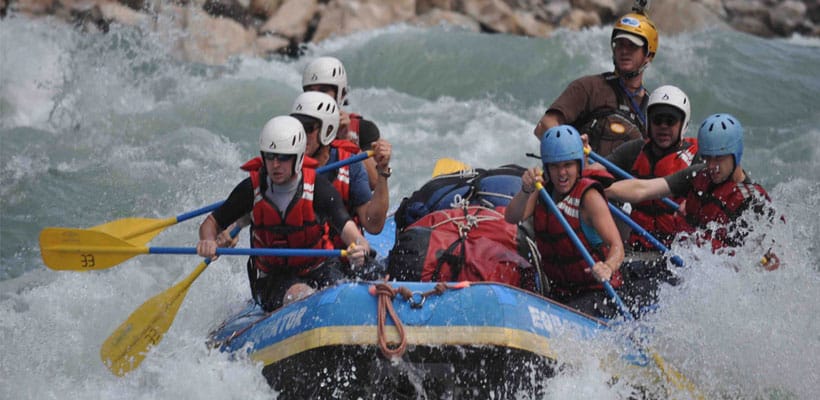 Kayak is a boat for one man which is made of wood or PVC. Kayaking is a sport based on water activities. A kayak is required to move across the water. Kayaking is an water adventure activity so you need to have some level of knowledge and experience.
Before you try, the sea kayaking guide can be much useful to you for a safe and thrilling experience.
Rock or Wall Climbing
Many people find mountain climbing tedious and trekking too mainstream. For those adventurers who find themselves being attracted to shorter viable options like rock climbing, Nepal has a lot of places to get started.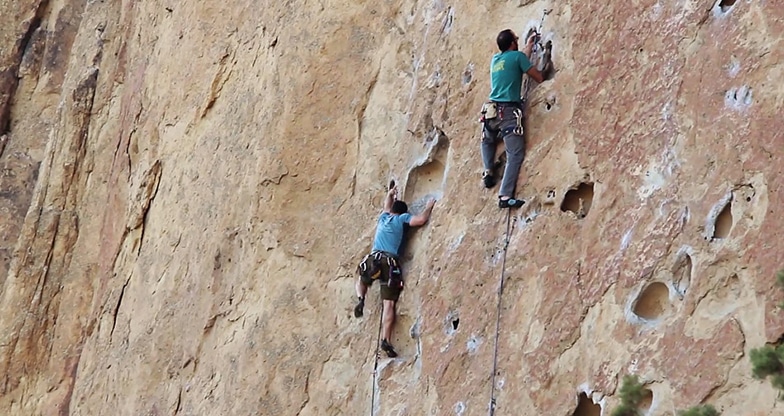 Rock climbing is a physically and mentally demanding sport, one that often tests a climber's strength, endurance, agility, and balance along with his or her mental control. Rock climbing areas in Nepal are Nagarjun Forest – 20-minute drive from Kathmandu. Hattiban – 1-hour drive from Kathmandu. Bimal Nagar – 20-minute drive from Bandipur.
Rock Climbing in Nepal offers some great outdoor and indoor rock climbing spots, depending upon how much time you want to spend and your skill-set.
Whenever you set off for adventure sports like this, we recommend you get the proper set of gear and some experience. The struggle of climbing is equally hard and testing, but the view you see right after reaching the top is what makes it all worth it.
Mountain Biking or Bicycling
Mountain biking is more interesting and joyful than many other outdoor sports activities. Since most parts of the country are quite mountainous, these places suit mountain biking more. However, the diverse terrains do have a lot of hilly and flat surfaces suitable for relaxed downhill rides and village-to-village rambles.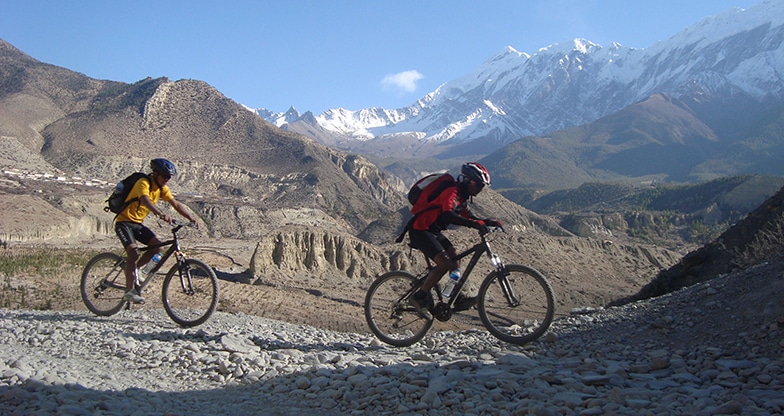 The hills around Kathmandu and Pokhara serve as a gentle option and are ideal for beginners. You can easily rent decent mountain bikes in both of these cities. Mountain Biking is one more very interesting and one of the most loved adventure sports activities. You will need some knowledge of mountain biking too.
Some of the popular bicycling spots that combine trekking and biking are the Kathmandu Valley and Annapurna Region.
Snowboarding and Skiing
Skiing is a kind of sport that uses a pair of skis to travel over snow. The skis are bound to boots, and progress is one foot at a time. On the other hand, snowboarding involves traveling on snow on a single snowboard attached to boots. Snowboarding is inspired by surfing, skiing and skateboarding.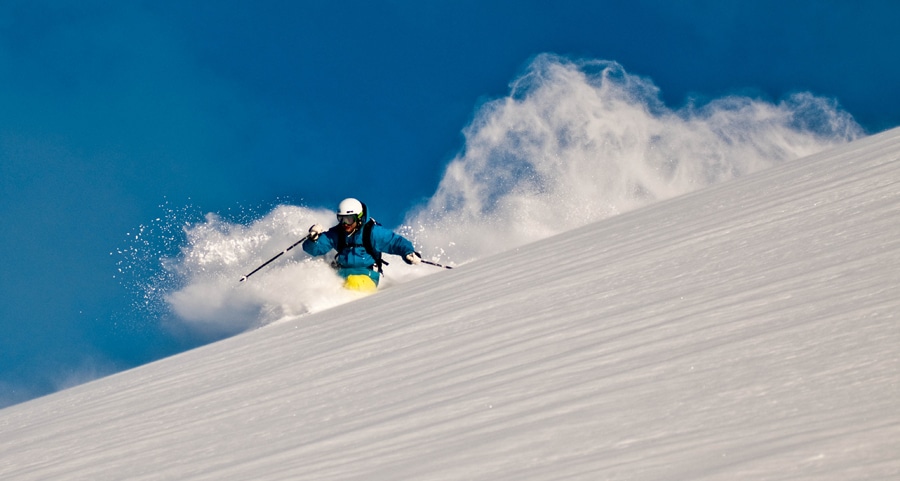 Currently, Nepal has only one commercial "Ski Village" situated in a tiny settlement of Kuri at the Himalayan village of Kalinchowk. The snowy village of Kalinchowk sits comfortably at 12,000 feet in the Eastern part of Nepal.
The village gets snow every year during winter, making it the top spot for skiing and snowboarding in Nepal. Kuri accommodates both beginner and professional skiers and snowboarders. Mera Peak at Khumbu, Himlung Himal, and Saribung peak offers excellent slopes for skiing.
Skydiving
Skydiving is easily one of the most loved extreme activities in the world. This adventure sport makes on the list of the daredevil challenges of many adventure seekers. The crazy jump this sport involves takes a lot of courage and is a feat that many can not date.
Everest Skydive will bring you to new heights in the Himalaya. Experience all that the Himalaya has to offer, deep in the heart of Sherpa country.
What can make your experience better than being in any other country besides the roof of the world? Skydiving in Nepal ranges from 11,000 feet to 23,000 feet.
The two places that currently offer skydiving in Nepal are the Everest and Pokhara region. You do not require prior experience to go skydiving in Nepal. However, be sure to get your heart rate high, and your excitement doubled up.
Final Summary
There are many more interesting and extreme outdoor adventure sports activities that make human life more interesting, thrilling, and joyous. Outdoor adventure activities have always some level of risks, maybe a moderate or high risk.
So if you are moving for the adventure sports you may need some training and have to carry your essential equipment with you for safety. It's also a better idea to discuss the experience with someone who has already faced it and who has experience in the same adventure sports activity.