Blogs & Articles
Top 5 Heli Hiking in Nepal
Heli-hiking offers you the chance to reach the wildest and highest locations in comfort. An exhilarating helicopter flight will sweep you over some of the most stunning mountain scenery in the world
Heli Hiking is a recreational activity in Nepal. Helicopter hiking is not a cheap adventure activity but a best way of exploring Nepal. To Fly over the mountains of Nepal is not just beautiful but heart rendering moment of your once in a lifetime experience.
Helicopter treks are for those individuals with limited time and want to indulge in the beauty of the Himalayas in a brief span. Helicopter hiking are likewise reasonable for older individuals who can't trek to the Himalayas.
By far, helicopter tour has been loved by old aged people, short vacation, honeymooning in Nepal, surprise presents to dear ones and family trip. Helicopter trekking is the best way to see Himalayan landscape from the ground as well as on the air. People from either of age group assign for Helicopter trekking.
The top 5 best Heli Hiking in Nepal mentioned below lets you trek above the Himalayas and clouds. Go through them and choose one to quench your adventure thirst.
Everest Base Camp Heli Hiking – 11 Days
Mt. Everest, at 8,850 meters (29,035 feet) above sea level, undeniably claims the point of highest altitude in the world. The title of "tallest mountain in the word", however, as measured from the base to its peak. Everest base camp heli hiking combines Everest base camp trek with helicopter charter around the world's tallest peak Mount Everest.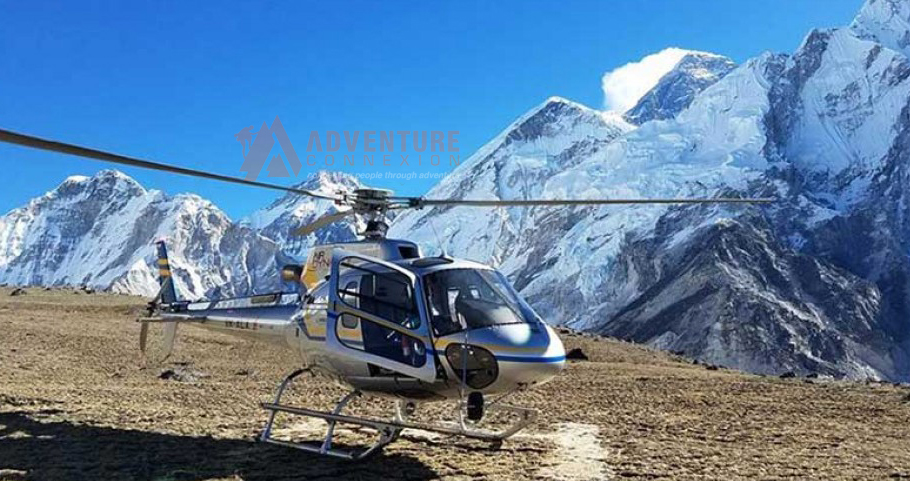 If you have a tight schedule but still don't want to miss out on an Everest adventure then this Everest Heli Trek is for you. In just a little over a week, you will be able to trek to base camp of Everest, stand at the popular viewpoint of Kala Patthar, fly back to Kathmandu and be homeward bound. Moreover during your Everest Base Camp Helicopter trek you will be staying overnight at comfortable luxury lodges.
After walking up to Everest Base Camp you return to Lukla by helicopter. Get an aerial perspective of Everest Region and hover close to some of the tallest peaks in the world.
Highlights of Everest Heli Hiking
Thrilling flight to Lukla airport
Trek to the base camp of the world's highest mountain
Helicopter ride back to Kathmandu
Scenic aerial view of the valleys and mountains
The mesmerizing view of snowy mountain peaks
Visit ancient Tengboche monastery
Experience Tibetan influenced culture and tradition
Warm welcome and hospitality of Sherpa community
Sight different types of flora and fauna

Annapurna Base Camp Heli Hiking – 09 Days
Annapurna Base Camp Heli Hiking is worth picking. This Heli trek leads you to Annapurna Base Camp (4130m), where everything is beautiful from golden brown grass to white snow. You'll gaze at every inch of the view that Annapurna Base Camp provides. The 360° vistas of the mighty Mt Annapurna(8,091m) and its siblings.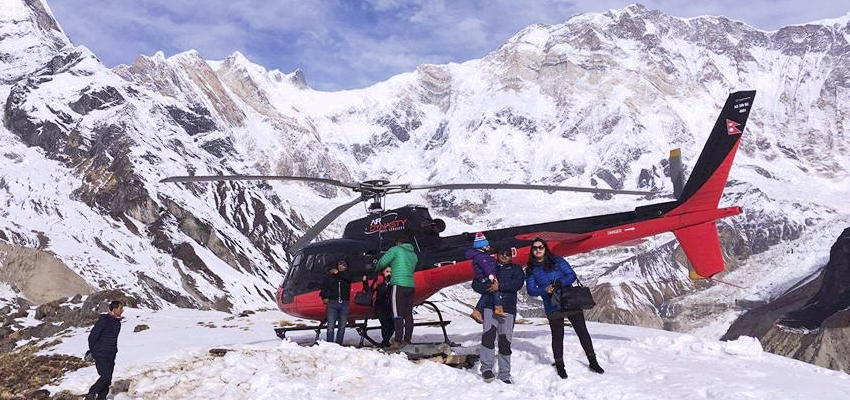 Annapurna Base Camp is one of the most sought trekking destinations of Nepal. Yearly, thousands of visitors from all around the world lurk here to the Annapurna Region. Some of them have plenty of travel time and they cover the entire Annapurna Base Camp Trek on their foot. Some of them don't have the time to do the entire round trek and they join either the Annapurna Base Camp Heli Trek or Annapurna Base Camp Helicopter Tour. If you have 8 days out of your busy schedule, here is the beautiful deal from Nepal Visitors.
Highlights of Annapurna Heli Hiking
A scenic bus drive to the Pokhara
Dramatic trekking routes hosted by lots of flora
Awe-inspiring sunrise and 360° panorama Mountains view
High altitude gain of 4,130m at Annapurna Base Camp
The beautiful sight of Mt Annapurna First, Second, Third, South, Mt
Machhapuchhre, Mt. Gangapurna, Mt Dhaulagiri
Exploring unique Gurung culture
Impressive return Helicopter ride
Touring the City of Lakes, Pokhara
Langtang Valley Heli Hiking – 08 Days
Langtang Valley trek is an extraordinarily exquisite trek teeming with natural beauty. This trek used to be one of the most renowned treks in Nepal before the disturbing earthquake that Nepal fell victim to in 2015.
The Langtang Valley Heli hiking lets you experience the riches of the beautiful Langtang Valley with the added thrill of an amazingly thrilling Helicopter ride. Also known as "the Valley of Glaciers", the Langtang Valley lies in the lap of the Himalayas of Nepal to the north of the Kathmandu Valley bordering Tibet.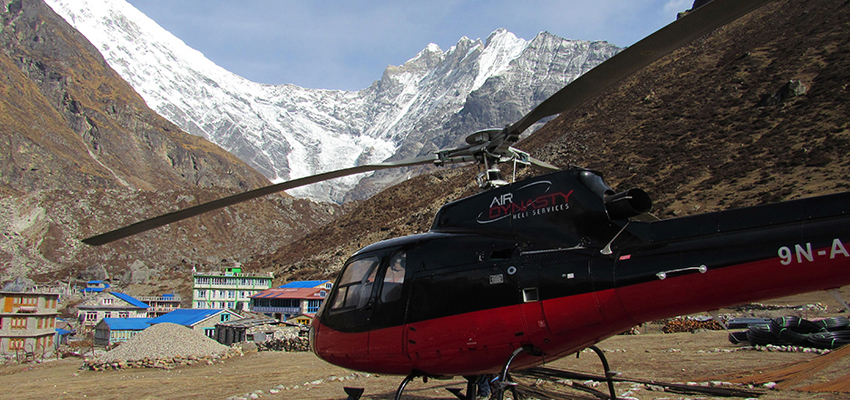 Langtang Heli Trek start as regular tea house trek from Kathmandu up to Kyanzin Gompa where we end our trek, we will have a free to explore hidden valley of Langtang and glacier. After this we will helicopter fly back to Kathmandu.
Highlights of Langtang Heli Trek
Stunning alpine meadows, yak fallows, magnificent green forest.
Kyangjin Ri – finest vantage point for 360-degree views.
Langtang National Park that homes the national bird of Nepal and many more
Diverse animals like Himalayan deer, monkeys, Red panda, Himalayan bear etcetera.
Witness amazing sunrise from Tserko Ri (5000 meters).
Heartening hospitality in the homestay and guest houses.
Thrilling suspension bridges, attractive stupas.
Scrumptious cheese of local yak.
Shorter trail with just as much to explore.
Kyangjing Gompa to Kathmandu heli flight
Manaslu Heli Trek – 05 Days
A part of the Great Himalayan Trail, Manaslu Trek is one of the yet-to-be succumbed trails of the Himalayas. Many of the trails in this region are still virgin trails and only a few dare to venture it. The Manaslu Heli Trek is the first of its kind, and takes you to the spirit of the mountains. Manaslu trek used to be one of the most renowned treks in Nepal before the disturbing earthquake that Nepal fell victim to in 2015.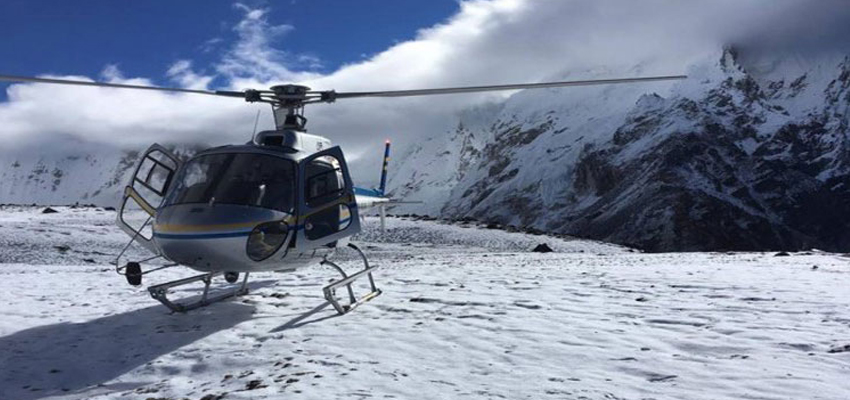 You will enjoy breathtaking views of the daunting Himalayas extending beyond horizons as you trek your trekking routes. You will also encounter cultural diversities and natural scenery with high altitude glacier lakes and enthralling floras and faunas. These features fundamentally make up all when trekking in this pristine less trodden region of Manaslu.
5 Days Manaslu helicopter trek is perfect for individuals who are time bounded and who are physically unfit to do the trek yet want to appreciate the heavenly perspectives on the mountains from a nearby location
If you're looking for a unique experience in transcendent grounds, the Manaslu Heli Trek is just what you need. Join us Nepal Visitors in this rare and fascinating opportunity to embrace the Legendary Himalayas and discover ineffable beauty that is guaranteed to be one of the most mesmerizing experiences ever.
Highlights of Manaslu Heli Trek
Manaslu Trekking is yet restricted area trekking trail in Nepal.
35 minutes helicopter flight from Kathmandu to Namrung.
The diversity of the landscapes of the Manasalu, massive little frequented.
The beautiful backdrop of Ganesh Himal mountain range and Mt. Manaslu.
Rich cultural heritage at Sama Gaun.
Best views of Himalayas range.
Lo Manthang Heli Trek – 05 Days
Eight of the world's tallest mountains and the world's oldest Hindu and Buddhist pilgrimage sites are located in Nepal. Nepal offers unparalleled adventure options with abundance in flora and fauna. Although modernization has set in, the essence of ancient Nepal – warm hospitality still remains in heart of every Nepalese.
Mustang is located in the heartland of Nepal, alongside the border with Tibet. During the trek, you can witness rugged barren mountains, deep canyons, eroded cliffs and Moraine valleys, snow-capped peaks and more.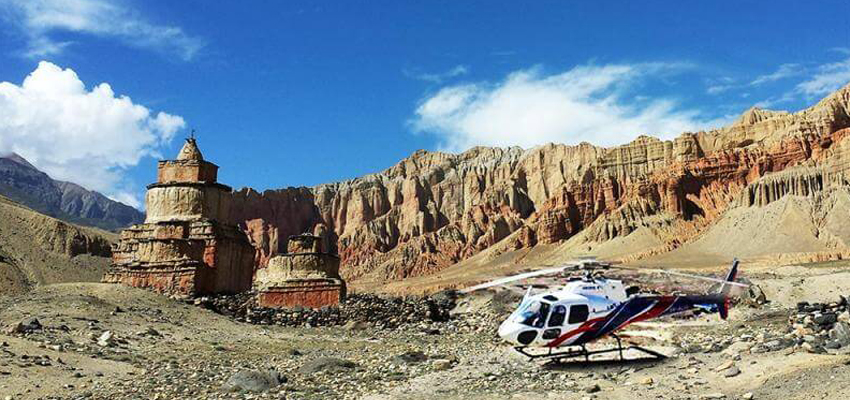 Add a helicopter tour over Lo Manthang on an already amazing Upper Mustang Trek for a unique travel experience in Nepal. During our entire Mustang trek we are mesmerized by the region's landscape which is a unique blend of bleak and magnificent. On our trek, we also cross several passes and admire countless stupas, Buddhist prayer flags, ancient caves, imposing cliffs and the ethnic lifestyle of Upper Mustang's inhabitants.
We reach Lo Manthang, a walled city of the ancient Lo kingdom, on the tenth day of our trip and explore the uncommon beauty of the town. We take a helicopter from Lo Manthang to Pokhara. This is one of the major attractions of this trip whereby we get amazing aerial views of Mustang's exceptional landscape.
If you're looking for a unique experience in transcendent grounds, the Lo Manthang Heli Trek is just what you need. Join us Nepal Visitors in this rare and fascinating opportunity to embrace the Legendary Himalayas and discover ineffable beauty that is guaranteed to be one of the most mesmerizing experiences ever.
Highlights of Upper Mustang Heli Trek
Traditional Tibetan Buddhist culture.
Adventure beyond Kali-Gandaki River valley towards restricted areas of Upper Mustang.
Daily views of Annapurna and Dhaulagiri mountain range with high Mustang Himal.
Path on old Trans Himalaya Salt and caravan trade route of Nepal and Tibet.
Visit Muktinath temple – a sacred pilgrim site for both Hindu and Buddhist.
Visit Kali Gandaki Valley – the world's deepest river gorge.
Heli flight to Pokhara from Lomanthang – a 20 minutes flight.
The amazing landscape of walled city to the City of Phewa Lake.
Exclusive private helicopter ride Lo-Manthang to Pokhara.
City sightseeing in Kathmandu.