Geography
Know Nepal
Lakes of Nepal
Recent report of the National Lakes Conservation Development Committee has identified total 5,358 lakes in Nepal (including 2323 glacial lakes).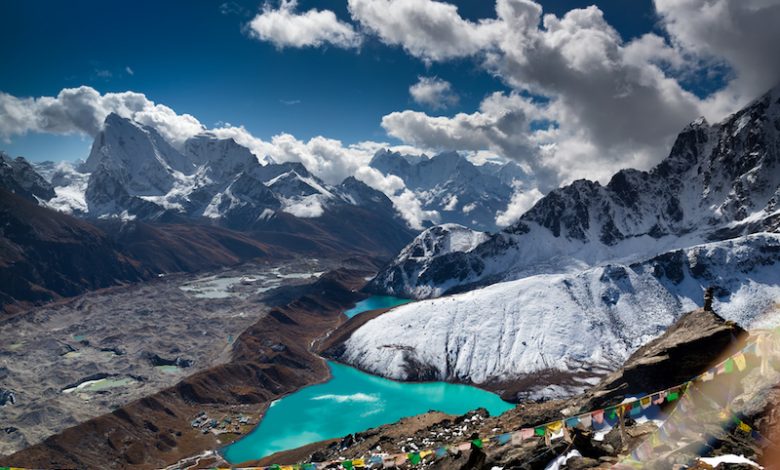 Nepal is home to some of the most amazing and picturesque lakes in the world. Most are glacial-fed high-altitude lakes, situated at over 4000 meters. Featured here are seven amazing lakes that you should definitely consider visiting on your next trip to Nepal or Trekking in Nepal. Some are well off the beaten path; others are more easily accessible, so there will be a lake experience here to suit your plans.
There are number of lakes and tanks of glacial and tectonic origin in Nepal. Mountain lakes like Rara, Phoksundo, Phewa etc. are majestic in extent and beauty. Rara in Mugu district of western Nepal is the country largest lake. Phewa at Pokhara is another equally famous lake. Phoksundo in Dolpa Distric is yet another big lake but is less well known than Phewa Lake due to its difficult approach.
Nepal is the second-richest country in water-resources. The glacial flow and the melting of the snow of the mountain peaks give way to gorgeous rivers, lakes and various water-bodies- making Nepal a marvelous destination that is home to acreage of many sapphire Himalayan drinks of water tucked away on mountain crevasses.
Many of the lakes of Nepal hold religious and traditional significance and have visitors and pilgrims excursing to them from all over the world. Adding more beauty to the terrain, the cerulean lakes of Nepal are the country's jewels that enhance the beauty of the overall landscape.
The lakes of Nepal are a natural phenomenon that takes the role of important signees of the region they are located at. Here are some famous and important lakes in Nepal.
Rara Lake
Rara Lake, the biggest and the deepest lake of Nepal, is located in remote area districts: Mugu and Jumla. The total area of lake occupies 1583 ha (6.11 sq mi) including the wetlands. It is declared as a Ramsar site in September 2007.
Rara lake, a paradise-like place lies at the altitude of 2,990 m above the sea level. The enticing view of the lake compels people to visit the site even with enormous difficulty in roadways. Also, visitors can choose airways; a tour begins from the Kathmandu airport to Nepalgunj. Likewise, from Nepalgunj to Mugu, visitors can choose either 19 days long trek or a few hours of helicopter travel.
Despite the geographical complexity, the place is appreciated immensely by various visitors such as a GORP founder Bill Greer explained Rara as a "shimmering blue jewel set in a ring of snowy peaks".
How to reach Rara Lake: Fly Kathmandu – Nepalgunj to Talcha by flight. Walking for 3 hours from Talcha
Gokyo Lakes
Gokyo Lakes is one of the most picturesque and the highest lakes of Nepal. Located at a whopping altitude of 4690 meters above the sea level, Gokyo Lake resides in the Solukhumbu district of Nepal. Known far and wide as the most beautiful lake in the world. Gokyo witnesses thousands of tourists every year both during spring and winter. The majestic azure of the sky above, surrounded by snow clad peaks reflects in the icy cold water.
How to reach Gokyo Lake: Kathmandu to Lukla by flight. Trek on the EBC pathway
Tilicho Lake
Ever wanted to feel heaven from the closest perspective? Tilicho lake of Nepal takes you close to the clouds. Located at a magnanimous altitude of 4919 meters from the sea level, this lake at the Manang district stretches across 8 kilometers and 1.2 kilometers on length and breadth respectively. The residents of the place include people of Tibetan culture following Bhote and Mongolian tribal customs. The water surface is generally in a silvery shiny coating of ice due to the reflection of light. Backed threateningly by malicious bare mountains with nothing but snow, this place is not for the faint-hearted.
How to reach Tilicho Lake: A two day walk from Manang after a bus trip from Kathmandu
Shey Phoksundo Lake
Phoksundo Lake, is an alpine fresh water oligotrophic lake in Nepal's Shey Phoksundo National Park. Located at an elevation of 3,611.5 m above sea level in the Dolpa District. Phoksundo Lake is 494 ha in size with a water volume of 409,000,000 m³ and a discharge of 3.715 m³/s. Phoksundo Lake, is sacred to Buddhists and followers of the Bonpo religion. This relatively easy trek involves no high passes, and winds through Himalayan forests and traditional Tibetan villages.
How to reach Phoksundo Lake: From Kathmandu, you will have to take another flight of 55 minutes to arrive at Nepalgunj. You can choose to stay and have a rest at Nepalgunj. Then after Nepalgunj, you have to fly to Jufal, which takes around 40 minutes. Jufal is the starting point of your real trek towards Shey Phoksundo.
Your trekking from Jufal takes you with many descends and ascends delightful and dense forest. You will walk along the bank of Bheri River and reach Dunai, after about 4 hours of walk.
Gosaikunda Lake
Gosaikunda Lake is a famous name for the purest holy lake. It is situated in Rasuwa district of Nepal covering a surface with about 13.8 ha (34 acres). It lies, north from Kathmandu between Helambu, Langtang Valley, and Langtang National Park. The measurement shows that it is 43 (kilometers) far from Kathmandu city. It stands steadily 4,380 meters high from the sea level. This is also well- known for the sacred lake in Nepalese society because of a historical belief that connects the lake to Lord Shiva, the god of power and destruction in Hindu mythology.
How to reach Gosaikunda Lake: A three day walk from Dhunche after a bus trip from Kathmandu
Tsho Rolpa Lake
To the north-east of the Kathmandu Valley lies one of the biggest glacial lakes of Nepal, Tsho Rolpa. Situated at an altitude of 4580 meters, the Tsho Rolpa trek may be the most underrated in Nepal. The glacial lake lies in the Rolwaling Valley of Dolakha district. The Rolwaling region is situated between Langtang to the west and Everest to the east. The views of the Rolwaling range are particularly impressive, as Likhu Chuli rises high in front of the lake. The lake falls inside the Gaurishankhar Conservation Area, and is a very important wetland. The trek offers an insight into the lifestyle of the Tibetan-influenced Sherpa culture.
How to reach Gosaikunda Lake: A six day walk from Shigati after a bus trip from Kathmandu