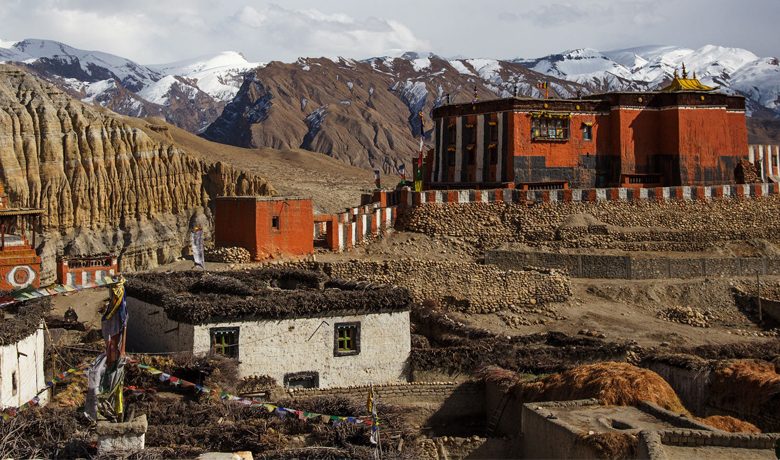 Upper Mustang is a place unlike any other in Nepal. Despite bordering one of the most popular trekking regions in the country, it sits a world apart thanks to its dramatic semi-arid landscape and distinct Tibetan heritage. A trek here is also unlike any other in Nepal, centering as much on cultural exploration as it does spectacular scenery.
The trekking in the Upper Mustang is completely different than trekking in other parts of the Nepal. It is a real privilege, the privilege that comes with a price (a dear price). Mustang trek is some kind of similar to the trekking in Tibet. Obtaining the Trekking Permit to the Upper Mustang enables you to experience a semi-arid desert, admire colourful rock formations and snow-capped peaks but mostly get closer to the rich culture of the local people. You will cross beautiful valleys and small town like Jomsom, Kagbeni.
There are few accommodation facilities available above Kagbeni, so groups must be fully self-sufficient, especially in fuel. While porters are available in Jomsom it is preferable to use mules to carry the loads up to Mustang. These pack animals are available locally and are more economical, and certainly more environmentally friendly than porters.
Learning from our own experiences and mistakes, we've put together this Upper Mustang Travel Guide to help you have the best trek possible. In truth, the very fact that you've read this far means you're already better prepared for the realities of the trek than we were, but do read on as we have much to share! For a day to day account check out our separate Upper Mustang Trek Itinerary. And to get a sense of what the trek is really like
UPPER MUSTANG QUICK FACTS
Start/End: Kagbeni/Jomsom
Permit: 500 USD Restricted Area Permit ( Entry: Kagbeni / Exit: Kagbeni)
Guide: Compulsory (plus a minimum of 2 trekkers)
Travel Season: March – November best for trekking
Route: Mix of road and trail walking
Culture: Traditional Tibetan Buddhist heritage
Landscape: Semi-arid, plateaus, steep-sided gorges
BEST TIME TO TRAVEL UPPER MUSTANG
The best time to travel to Mustang is during Spring Season (March, April, May). These are the months when the weather is warm. The clear skies offer excellent visibility of the mountain peaks and landscapes.
You will see blossoming Rhododendrons along your trekking trails. It will make your experience more beautiful. Besides, you will get to attend the Tiji Festival at Upper Mustang if you plan your Mustang Tour in May.
Autumn (September, October, and November) is also an excellent time to travel. The weather is dry and predictable than other seasons.
You will get to see the spectacular views of the mountain peaks and gorges. You can even sightsee some animals and birds of the Mustang region during this time.
Monsoon (June to September) is an 'okay' season to visit Mustang. Since Mustang lies in the rain-shadow area, the chance of heavy rainfall is low. But again, the weather will be unpredictable.
PERMITS FOR UPPER MUSTANG
The permits are non-transferable and non-refundable. Entry fee is not required for children under 10 years of age. Also, ensure that you carry both the permits at all time and show it at the respective checkpoints. The permit will be checked at the Kagbeni checkpoint the gateway to Upper Mustang.
Following are the mandatory Upper Mustang Trekking permit:
Upper Mustang Restricted Area Permit (RAP): USD 500 per person for the first 10 days then USD 50 per person per day thereafter
Annapurna Conservation Area Project Permit (ACAP):  USD 30 per person for foreigners and USD 10 per person for SAARC Nationals (approx.)
Restricted Area Permit provides all the information of the trekker along with the route, emergency contact, and more which is why a TIMS card is not required for this trek.
UPPER MUSTANG ITINERARY
The travel itinerary below starts and ends in the city of Pokhara, which is a 25-minute flight from Kathmandu. Your trip can also be organized from Kathmandu, according to your preference.
Day
Itinerary
Maximum Altitude
Duration Walking/Hiking
Day 01

Arrival in Kathmandu

1,350m/4,429ft

Day 02

Kathmandu: Sightseeing and trek Preparation

1,350m/4,429ft

Day 03

Drive from Kathmandu to Pokhara

827m/2,713ft

5-6 hrs

Day 04

Fly to Jomsom and trek to Kagbeni

2,810m/9,220ft

3-4 hrs

Day 05

Kagbeni to Chele

3,050m/10,007ft

5-6 hrs

Day 06

Chele to Syanbochen

3,475m/11,401ft

6-7 hrs

Day 07

Syanbochen to Ghami

3,520m/11,549ft

5-6 hrs

Day 08

Ghami to Tsarang

3,870m/12,697ft

5-6 hrs

Day 09

Tsarang to Lo-Manthang

3,730m/12,238ft

3-4 hrs

Day 10

Explore Lo Manthang/ Acclimatization

3,730m/12,238ft

Day 11

Lo-Mangthang to Drakmar

3,810m/12,501ft

6-7 hrs

Day 12

Drakmar to Ghiling

3,806m/12,487ft

5-6 hrs

Day 13

Ghiling to Chhuksang

3,050m/10,007ft

5-6 hrs

Day 14

Chhuksang to Jomsom

2,700m/8,859ft

6-7 hrs

Day 15

Fly back to Pokhara

827m/2,713ft

Day 16

Drive from Pokhara to Kathmandu

1,350m/4,429ft

Day 17

Final departure

–
THE UPPER MUSTANG TREKKING COSTS
Trekkers need obtain a costly Trekking Permit = 500 USD valid for 10 days /50 USD for any extra day/person.

On top of this, as you enter Annapurna restricted area, you are also required to get the Annapurna Conservation Area Project (ACAP) Permit = 30 USD/person.

You must be accompanied by a professional tour guide/porter (of an authorized travel agency of Nepal) = approx. 1220 USD/person/ 10 days (including accommodation, food, guide services)

Minimum of 2 trekkers is mandatory. Individual trekkers are not allowed in the region.

Pokhara – Jomsom – Pokhara Flight = 220 USD/person

Pokhara – Kathamndu Flight Cost = 110 USD/person
Personally, I trusted Himalayan Trip Nepal Pvt. Ltd. and let them sort out the organization of my trek. They offer Jeep Adventure and Trekking in the Upper Mustang. The price for my package cost me approx. 2050 USD (including flights, jeep ride, accommodation, food etc.)
UPPER MUSTANG MAJOR ACTIVITIES
i. Trekking
Trekking in Mustang takes you through different landscapes, cultures, and sceneries. Trust me, when I write this, they are one of the best.
a) Lower Mustang Trek
The Lower Mustang Trek is a perfect trekking destination available all year round. However, March to May and September to December are the best months.
This trek is a part of the world-famous Annapurna Circuit and Upper Mustang trek. The best thing is that you don't need to issue a special permit to explore Lower Mustang. It is comfortable for solo travelers, families with kids and seniors, as well as a group of friends.
This trek will take you through the beautiful villages of Lower Mustang. Some are Marpha, Jomsom, Kagbeni, Tin, Jharkot, Muktinath, and Lupra.
You will be awestruck by its unique landscape, which is barren yet full of greenery at the same time. Also, not to forget the old villages' culture and the lifestyle of the people.
Lower Mustang Trek takes you to the highest of 3,710 meters above sea level. You can go on this trek while enjoying your nights at comfortable tea houses found along the way.
b) Upper Mustang Trek
Upper Mustang is also known as the 'Mini Tibet of Nepal' because of the region's similar topography and culture as of Tibet. You will feel like trekking in Tibet while trekking the Upper Mustang.
Upper Mustang Trek is a moderate level trek that is best when done between March and May. This trek will take you to Chogo La (Marang La), where you will reach an elevation of 4230 meters above sea level. You will get to explore the Annapurna region while learning about the monasteries, caves, and palaces.
On your trek to Upper Mustang, you can visit historical villages like Lo Manthang and Chhoser. These villages have remained untouched by tourism and modernization.
I'm sure you will fall in love with these places. It makes you feel closer to Upper Mustang's distinctive culture.
• Tiji Festival
Tiji Festival is a colorful Buddhist festival of Upper Mustang. This festival celebrates the victory of good over evil. If you want to attend this festival, then it is best to plan your trek month of May.
People celebrate it with prayer chants, dances, colorful traditional costumes, food, and drinks. The whole of the Mustang comes together to enjoy this festival. Being a part of the Tiji festival is an experience you need to have while on your trek to Upper Mustang.
Note: As I mentioned earlier in the "How to get around Mustang" section, you need a special permit to enter Upper Mustang. You need to have a reputed travel agency in Nepal to guide you throughout your trek on the valley.
ii. Day Hike at Chele
Have you ever heard of the Grand Canyon of the USA? If yes, then Chele gives you a view of the Nepali version of the Grand Canyon. Located at an elevation of 3050 meters above sea level, Chele is a village that offers you one of Mustang's best sceneries.
After crossing the Kali Gandaki river bridge, you have to walk uphill for 45 minutes from Chele to see the view. A day hike at this place will be one of the best experiences of your trip to Nepal. Just take your time to grasp the beauty of nature after you reach the top of the village.
iii. Mountain Biking
Who said Mustang is only significant for trekking, history, and sightseeing? To fuel your adrenaline, you can now go mountain biking in this mountainous region of Nepal.
Mustang lets you ride on the wild and challenging trails while offering breathtaking beauty and culture. I highly recommend you to cycle down from Muktinath to Tatopani.
• From where to hire bikes?
a) Pokhara Mountain Bike Adventure/ MTB Guided Tours and Rentals
Located at Baidam, Lakeside, Pokhara Mountain Bike Adventure will help you select a suitable mountain bike. They can also help fly your bike to Jomsom from where you can ride your bike.
b) Mustang Outback Adventures
Located at Ranipauwa, Muktinath, Mustang Outback Adventures is a Mustang-based mountain bike rental company. It gives you the necessary items like spare tubes and pumps. They will also provide some helpful tips on the routes to follow on Mustang.
iv. Horse Riding Tour
You should put a Horse Riding Tour on your to-do list at Mustang. You should ask your tour guides to arrange a horse riding excursion/day tour from Lo Manthang to Chhoser.
You don't have to worry, though. The horses will be tourist-friendly and guided by their masters throughout the way. You can ask how easy or fast you want your horse ride to be as well.
v. Peak Climbing
Saribung Peak Climbing is a newly explored peak climbing destination in Nepal. It is situated at the Damodar Himalayan range in the western part of Nepal.
The climbing expedition enables you to view the topographical variation of Upper Monastery. As challenging as it may feel for beginners, this trekking trail will be relatively easy for experienced mountaineers.
I recommend you book your Saribung expedition with Himalayan Trip Nepal or with Nepal Tours.
These trekking companies will provide you with a complete itinerary. It includes accommodation, meals, and transportation expenses. Both of these companies will look after your trekking permit fees and TIMs cards as well.
UPPER MUSTANG TREKKING GUIDE OR PORTER
Nepal has some trekking trails which doesn't need you a guide. However, in the Mustang region licensed Nepalese trekking guide is mandatory to escort you. A guide will be useful in handling an emergency situation and ensuring your safety.
Hiring a porter will ease you in a lot of ways. It will make your treks a lot less difficult. You will be able to enjoy the nature and the beauty without worrying about the weight.
The cost of hiring a guide or porter is almost the same except a couple of dollars. It ranges from 20-30 USD per day.
ALTITUDE SICKNESS
Upper Mustang trek takes you to an altitude of 3900m, so altitude sickness might not be a problem. Because altitude sickness is not common in alleviations under 4000m, but it is always beneficial to know about this condition.
Anti-altitude sickness pills like Diamox is helpful. Also, heading down to lower altitude is the best approach. One should always reach out for help from the guides or team leaders to take necessary precautions.
UPPER MUSTANG PACKING LIST
The packing list below is based on our personal trekking experience in Nepal and the Himalaya and has taken a long time to compile. As the list is so long and detailed, we recommend bookmarking this page as a future reference point. This packing list can be used for all hiking and trekking routes in the Himalaya and Nepal, including the Annapurna Circuit, Everest Base Camp and the Mustang Region amongst others.
This Upper Mustang packing list is comprised of gear that we have personally used or had recommended to us by experienced trekkers. We believe this gear provides the best value for money whilst also delivering the best performance.
Summary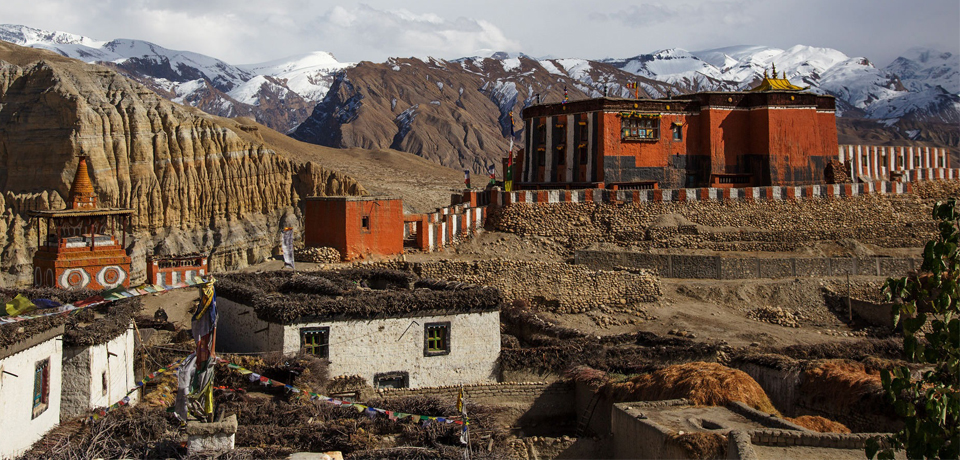 Article Name
Upper Mustang Travel Guide
Description
The complete travel guide to visiting Upper Mustang. In-depth Information about permits, things to do, travel activities and hotels. Learning from our own experiences and mistakes, we've put together this Upper Mustang Travel Guide to help you have the best trek possible.
Author
Publisher Name
Publisher Logo