World Travel & Tourism
Floating Magic: A Dinner Cruise in the Heart of Prague
Climb aboard for a romantic dinner cruise through the heart of Prague, and see all the city's famous monuments from the Vltava River.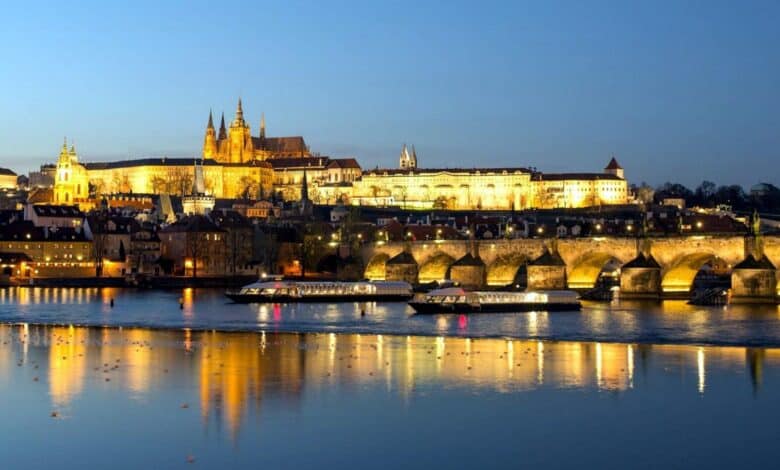 As the sun dips below the horizon, casting a golden hue on the baroque buildings and shimmering waters of the Vltava river, the city of Prague takes on a whole new charm. While the Czech capital is renowned for its rich history, Gothic cathedrals, and cobbled streets, few experiences capture its enchanting evening allure quite like a dinner cruise. Imagine gliding past the illuminated Prague Castle, the Charles Bridge, and other iconic landmarks, all while savoring traditional Czech delicacies and sipping on fine wines.
A dinner cruise in Prague isn't just about dining – it's about merging culinary delights with an unparalleled visual feast, offering both locals and tourists an unforgettable journey through the very soul of the city. If you're intrigued by the idea and want to embark on such a journey, you can book your adventure here.
Join us as we dive into this captivating experience, unveiling what awaits those who embark on this mesmerizing voyage.
Why Take a Dinner Cruise in Prague?
When you think of Prague, the mind conjures images of majestic spires, ancient bridges, and a skyline steeped in history. But beyond its architectural splendor and rich heritage, Prague offers a unique experience that few other cities can match – a dinner cruise on the Vltava river. Here's why a dinner cruise in Prague is an experience not to be missed:
Romantic Ambiance. Nothing spells romance like the glow of Prague's illuminated landmarks reflecting on the calm waters. A dinner cruise provides an intimate setting, making it perfect for couples looking for a memorable date night.
Unparalleled Views. Experience Prague from a fresh perspective. As you drift along the Vltava river, you'll have unobstructed views of iconic sites like the Prague Castle, Charles Bridge, and the National Theatre. It's a visual treat that walking or bus tours can't replicate.
Culinary Experience. Czech cuisine is rich and flavorful, and what better way to savor it than on a floating restaurant? From traditional dishes like goulash and svíčková to international delights, the menus cater to diverse palates, ensuring a delicious and fulfilling meal.
Live Entertainment. Many dinner cruises in Prague offer live music or performances, enhancing the dining experience. Whether it's the lilting tunes of a violin or the vibrant beats of a local band, the entertainment complements the journey.
Cultural Immersion. Learn about Prague's history and legends as you cruise. Some tours come with guides that narrate fascinating tales of the city, making the voyage educational as well as entertaining.
Unique Experience. While there are numerous ways to explore Prague, a dinner cruise is one of the most distinctive. It combines sightseeing, dining, and entertainment into a single package, making it a highlight for many visitors.
After a day of exploring the city's nooks and crannies, there's something incredibly soothing about cruising on the river. The gentle sway of the boat, coupled with the scenic views and fine dining, offers a serene respite from the hustle and bustle.
In conclusion, a dinner cruise in Prague isn't just another tourist activity; it's a journey that intertwines the best of sightseeing, gastronomy, and relaxation. Whether you're a history buff, a foodie, or someone seeking a unique experience, this cruise promises an evening that will linger in your memories long after the trip ends.
Popular Prague Dinner Cruise Options
Prague's status as a top European destination has led to a proliferation of river cruises. Among these, dinner cruises have carved a special niche, blending the city's scenic beauty with its culinary prowess. For those considering this delightful experience, here are some of the most popular dinner cruise options in Prague:
Crystal Dinner Cruise:

Duration: 3 hours.
Highlights: Glass-roof boat for uninterrupted views, multi-course gourmet menu, live jazz band.
Route: Begins near the Charles Bridge, passing by the National Theatre, Lesser Town, and Prague Castle.

Classic Czech Dinner Cruise:

Duration: 2.5 hours.
Highlights: Traditional Czech buffet, folklore music, and a dance performance.
Route: Covers Old Town, Kampa Island, and Vyšehrad fortress.

Luxury Yacht Dinner Cruise:

Duration: 3 hours.
Highlights: An intimate setting with a 4-course dinner, wine pairings, and personalized service. Limited seating ensures exclusivity.
Route: Extended route including the modern parts of the city and historical landmarks.

Vltava Vintage Cruise:

Duration: 2 hours.
Highlights: Cruising on a historical 100-year-old boat, antique wooden interiors, and a menu inspired by 1920s recipes.
Route: Mainly the heart of Prague, focusing on its rich history.

Sightseeing and Buffet Dinner Cruise:

Duration: 2 hours.
Highlights: Affordable option with a diverse buffet spread, guided commentary available in multiple languages.
Route: Popular landmarks including Charles Bridge, Rudolfinum, and the Dancing House.

Gourmet Gold Dinner Cruise:

Duration: 3 hours.
Highlights: Five-course gourmet meal, welcome drink, live piano music, and a more leisurely route for extended viewing.
Route: Comprehensive coverage from Štvanice Island to Vyšehrad and back.

Sunset and City Lights Cruise:

Duration: 2 hours.
Highlights: Timed to capture the sunset and city lights, includes a la carte dinner options and a cocktail bar.
Route: Focus on the illuminated landmarks, creating a magical ambiance.
When choosing a dinner cruise in Prague, consider factors like duration, menu preferences, entertainment options, and route coverage. Each cruise offers a unique experience, and what's ideal for one person might differ for another. Regardless of the choice, the intertwining of Prague's stunning views and delectable meals is bound to make it an unforgettable journey.
What to Expect on Board a Prague Dinner Cruise
A dinner cruise in Prague promises a unique blend of culinary delights, serene river views, and a touch of Bohemian charm. As the Vltava River becomes your moving vantage point, you might wonder what awaits you on board. Here's a comprehensive guide to set the scene:
Ambiance & Seating:

Most cruises offer a mix of indoor and outdoor seating, ensuring guests can enjoy panoramic views regardless of the weather.
The interiors are often tastefully decorated, ranging from classic European elegance to modern chic.
Depending on the cruise, you might find tables set with white linen, crystal glassware, and ambient lighting, enhancing the romantic mood.

Culinary Delights:

Menu: Whether it's a buffet or a la carte, expect a spread that showcases Czech cuisine's highlights along with international favorites. Dishes like goulash, roasted duck, and apple strudel often feature on the menu.
Beverages: A welcome drink is commonly offered. Additionally, there's usually a bar serving wines, beers, cocktails, and non-alcoholic options.

Entertainment:

Live music is a staple on many dinner cruises. Genres can range from traditional Czech tunes to jazz or contemporary hits.
Some cruises might feature dance performances, folklore shows, or even interactive sessions where guests can join in the fun.

Sightseeing & Narration:

As the boat glides past iconic landmarks, some cruises provide guided commentary. This can be through headphones or from a live guide, giving insights into Prague's history and architecture.
Illuminated sights like Charles Bridge, Prague Castle, and the National Theatre take on a magical aura from the river, offering ample photo opportunities.

Professional Staff & Services:

Expect warm and courteous service from the crew. From the captain steering the boat to the servers ensuring timely meal service, professionalism is usually a hallmark.
Many cruises also offer services like professional photography to capture the moments, though this might come at an additional cost.

Safety:

Safety equipment like life vests and rafts are standard on all boats.
There's often a safety briefing at the start, and clear signage indicating emergency exits and protocols.

Facilities:

Clean restrooms are a given on all dinner cruises.
Some of the larger boats might also have other amenities like cloakrooms or dedicated smoking areas.

Dress Code:

While most cruises have a relaxed dress code, it's advisable to dress smart-casual. Some of the luxury options might have a more formal dress code, so it's a good idea to check in advance.
In conclusion, a dinner cruise in Prague is more than just a meal on water; it's an experience replete with cultural, historical, and sensory delights. As you step on board, be prepared for a voyage that seamlessly blends the old-world charm of Prague with modern-day luxuries.
Tips for a Memorable Dinner Cruise in Prague
Embarking on a dinner cruise in Prague is undeniably enchanting, but a little preparation can enhance the experience manifold. Whether you're a seasoned traveler or someone exploring the city for the first time, these tips will ensure your cruise becomes a cherished memory:
Book in Advance:

Popular cruises can fill up quickly, especially during peak tourist seasons. Booking ahead not only secures your spot but might also fetch you some early bird discounts.

Time it Right:

Consider the season and time of your cruise. A summer sunset cruise provides longer daylight, while winter cruises capture Prague's landmarks illuminated against the dark sky.
If you have flexibility, a mid-week cruise might be less crowded than weekend ones.

Dress Smartly:

While comfort is key, remember that evening river breezes can be chilly, even in warmer months. A light jacket or shawl can be handy.
Footwear matters. Opt for comfortable shoes, especially if you plan to explore the deck or dance.

Arrive Early:

Reach the departure point ahead of time. This allows for a relaxed boarding, and often, early birds get the best seats with the most magnificent views.

Choose Your Seat Wisely:

If you're given a choice, try to find a seat with an unobstructed view, preferably by the window or on the open deck.

Be Open to Local Flavors:

While you'll likely find familiar dishes on the menu, venture out and try some traditional Czech delicacies. It adds authenticity to the experience.

Engage with the Entertainment:

Whether it's live music, dancing, or a folklore show, participating or even just appreciating can elevate your cruise experience.

Capture the Moments, But Live Them Too:

While it's tempting to capture every beautiful scene on camera, take some moments just to soak in the ambiance, the flavors, and the sights without any distractions.

Know the Landmarks:

Familiarize yourself with Prague's major landmarks beforehand. Recognizing them from the river adds a layer of enjoyment.

Respect Fellow Travelers:
Keep conversations at a moderate volume, especially if there's live commentary or performances. Remember that everyone's there for a pleasant experience.
Sailing into the Night: Concluding Thoughts on Prague's Dinner Cruises
As the ripples of the Vltava River reflect the golden glows and shadowy silhouettes of Prague's skyline, the allure of a dinner cruise in this enchanting city becomes undeniable. It's not just about the sumptuous food or the gentle sway of the boat; it's about witnessing the heart and soul of Prague from a vantage point that few other experiences offer.
Each dinner cruise is a symphony of sensory delights, where flavors dance on the palate, melodies float in the air, and history stands tall on both banks of the river. It's an experience that encapsulates the essence of Prague — a blend of the old and new, tradition and modernity, and taste and sight.
For travelers, a dinner cruise in Prague is more than just another item to tick off the itinerary. It's a memory in the making — a chance to be a part of the city's flowing narrative, even if just for a few hours. Whether you're soaking in the views, relishing the Czech delicacies, or simply basking in the ambiance, these cruises promise moments of magic, introspection, and joy.
As we dock back into reality, one thing becomes clear: a dinner cruise in Prague isn't just a journey on water; it's a voyage through time, culture, and unparalleled beauty. So, the next time the sun sets over the City of a Hundred Spires, consider setting sail on the Vltava and let Prague serenade you in its own inimitable style. Safe travels and bon appétit!