World Travel & Tourism
Tourist Guide to New Orleans, Southeast of Louisiana
Visit New Orleans for an unforgettable adventure. Discover the best hotels, restaurants, and things to do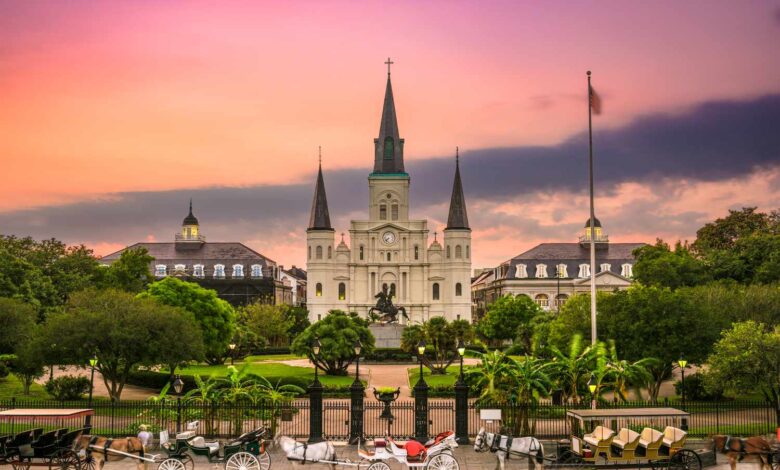 New Orleans, located in the vibrant southeastern region of Louisiana, is a city with a rich cultural heritage, lively music scene, and delicious cuisine that draws tourists from all over the world. Whether you're a history buff, a foodie, or a music lover, New Orleans has something to offer everyone.
Getting to New Orleans
Before you embark on your New Orleans adventure, you'll need to know how to get there. The city is accessible by air, road, and water.
By Air
The Louis Armstrong New Orleans International Airport (MSY) serves as the primary gateway to the city. It welcomes flights from major domestic and international destinations, making it convenient for travelers from all over the world. Once you land at MSY, you're just a short ride away from the heart of New Orleans.
By Road
If you prefer a road trip, New Orleans is well-connected by highways. Interstate 10 and Interstate 610 are the major routes that lead you into the city. Many visitors choose to drive in, enjoying scenic routes and making stops along the way to explore charming small towns.
By Water
For a unique experience, consider arriving in New Orleans via cruise ship. The city has a bustling cruise port that welcomes ships from various cruise lines. It's a fantastic way to start your adventure and get a glimpse of the city from the water.
Stay in Luxury at Barcelo Hotel
When it comes to accommodations in New Orleans, the Barcelo Hotel stands out as a luxurious and comfortable choice. Situated in the heart of the city, this elegant hotel offers a range of amenities and services that will make your stay truly memorable.
The Barcelo Hotel is renowned for its exquisite rooms and suites, each designed with modern comfort in mind. Whether you choose a room with a view of the city skyline or opt for a more spacious suite, you can expect top-notch service and comfort throughout your stay.
Barcelo Hotel Amenities
Swimming Pool: Take a dip in the refreshing pool after a day of exploration.
On-Site Dining: Enjoy world-class cuisine at the hotel's restaurants.
Fitness Center: Stay active and fit during your stay.
Concierge Services: Get insider tips on the best New Orleans experiences.
Luxurious Spa: Relax and unwind with rejuvenating spa treatments.
Be sure to check out the special Black Friday discounts for hotels like Barcelo. You can find incredible deals that will make your stay even more affordable. Black Friday discounts for hotels
Excursions and Activities
New Orleans offers a plethora of exciting excursions and activities that cater to various interests.
Historical Tours
French Quarter Walking Tour: Explore the historic heart of the city, known for its architecture and lively atmosphere.
Plantation Tours: Discover the history of the antebellum South with visits to stunning plantations.
Swamp Tours: Encounter the unique wildlife and landscapes of Louisiana's swamps.
Music and Entertainment
Live Jazz Performances: Immerse yourself in the city's famous jazz scene with live performances at venues like Preservation Hall.
Mardi Gras World: Get a behind-the-scenes look at the making of Mardi Gras floats and costumes.
Street Performers: Enjoy the eclectic street performances in the French Quarter.
Culinary Delights
Café du Monde: Savor beignets and café au lait at this iconic French Quarter café.
Gumbo and Po' Boys: Indulge in New Orleans classics at local eateries.
Food Tours: Embark on a culinary journey to taste Creole and Cajun flavors.
Dining in New Orleans
New Orleans is a culinary paradise, and no visit is complete without trying its delectable cuisine. Here are some must-visit dining spots:
Commander's Palace: Located in the Garden District, Commander's Palace is famous for its Creole dishes and elegant dining experience. Don't forget to try the turtle soup!
Galatoire's: This historic French-Creole restaurant has been serving mouthwatering dishes for over a century. Their Friday lunch tradition is a local favorite.
Cochon: For a taste of Cajun cuisine, Cochon is the place to go. Their menu is a celebration of all things pork.
Cafe Amelie: Set in a charming courtyard, Cafe Amelie offers a romantic setting for a memorable meal. Try their shrimp and grits.
Brennan's: Start your day with a delightful breakfast at Brennan's, known for its Bananas Foster.
Practical Travel Tips
To make the most of your trip to New Orleans, keep these practical tips in mind:
Weather Awareness: New Orleans has a subtropical climate, which means it can get hot and humid, especially during the summer months. If you plan to visit in the summer, be prepared for high temperatures and occasional rain. Dress in lightweight, breathable clothing and bring sunscreen, sunglasses, and a hat to protect yourself from the sun.
Safety First: Like any major city, it's essential to stay aware of your surroundings and take common-sense safety precautions. Stick to well-lit areas, especially at night, and keep an eye on your belongings in crowded places. New Orleans is generally a safe city for tourists, but it's always wise to exercise caution.
Cash on Hand: While most businesses in New Orleans accept credit cards, some smaller establishments may prefer cash for transactions. It's a good idea to carry some cash with you for smaller purchases, such as street food or souvenirs.
Local Etiquette: New Orleans is known for its warm and welcoming hospitality, and embracing local etiquette can enhance your experience. Be polite and respectful to locals, and don't hesitate to strike up friendly conversations.
Best Time to Visit
The ideal time to visit New Orleans is during the fall, from September to November, when the weather is pleasant, and the city hosts various festivals and events. Spring is also a good option, but it tends to be busier.
New Orleans is a city like no other, offering a unique blend of history, culture, and cuisine. Whether you're strolling through the historic French Quarter, savoring delicious Creole dishes, or enjoying live jazz music, there's always something exciting to experience.
Make your trip even more special by staying at the Barcelo Hotel and taking advantage of their incredible Black Friday. Start planning your adventure today and get ready to fall in love with the charm of New Orleans.