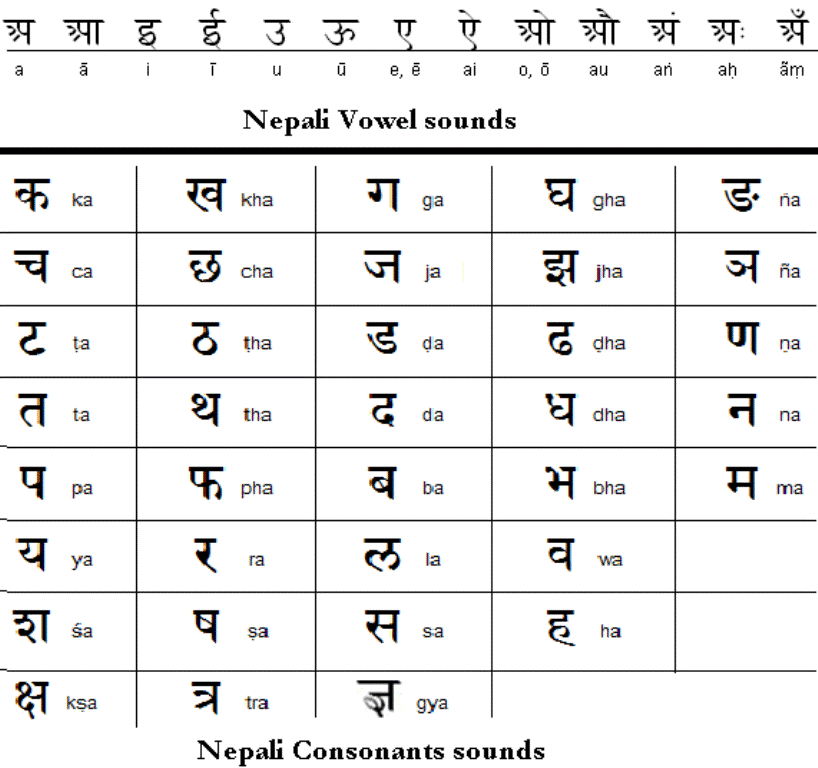 Nepal is a beautiful country with one of the most friendly and hospitable people in the world. Nepal offers many activities that offers you rich cultural, natural and spiritual experiences.
Its developing economy may offer you very little of the materialistic comforts. But, it's fine-looking terrain, splendid mountains, natural resources are sure to offer you happiness.
And, the encounter with these tiny friendly people of the mountains will help you have an insightful adventure in the land of the Himalayas.
Many of the locals get excited and amazed when they see a foreigner in their region. Knowing some of the common Nepali words and learning Nepali will help you to break the ice and bring smiles on your faces.
Little smile with a casual talk with locals in Nepal will help spread your happiness.
Nepali, a member of the Indo-Aryan branch of the Indo-European language family, is a macrolanguage spoken by 12,300,000 in Nepal (2011 census), 2,870,000 In India (2001 census), and 156,000 in Bhutan.
The worldwide population of Nepali speakers is estimated at 15,360,100. The language is also called Eastern Pahadi, Gorkhali, Gurkhali, Khaskura, Nepalese, and Parbate.
Are you visiting Nepal soon? Or do you simply just want to learn the native language of Nepal. Although you can usually communicate to others in English when in Nepal.
It's an advantage to be armed with basic phrases to enrich your travel experience. We've put together our top Nepali phrases to know before you go.
Commonly Spoken English to Nepali Phrases
I Love you


म तिमीलाई माया गर्छु – 

(Ma timilai maya garchu)

Welcome


स्वागतम् – 

(Swagatam)

Hello


नमस्ते – 

(Namaste)

How are you?


तपाईंलाई कस्तो छ – 

(Tapai kasto cha)

I'm fine. You?


म ठिक छु। र तपाईं? – 

(Ma thik chu. Ra Tapai)

What is your name?


तपाईको नाम के हो ? – 

(Tapaiko naam ke ho?)

My name is …


मेरा नाम … हो। – 

(Mera naam … ho)

Pleased to meet you


तपाईलाई भेटेर खुशी लाग्यो – 

(Tapaai laaii bhetera khushii laagyo)

Thank you


धन्यवाद – 

(Dhanyabaad)

Excuse me / Sorry


माफ गनुस्! – 

(Maaf garnus!)

See you


फेरि भेटौला – 

(Pheri bhetaula)

Good morning


शुभ प्रभात or नमस्कार – 

(Subha Prabhat / Namaskar)

Good afternoon


शुभ दोहोरो or नमस्कार – 

(Subha Dohoro / Namaskar)

Good night


शुभ रात्री – 

(Subha ratri)

Have a good journey


राम्रो यात्रा गर्नुहोस् – 

(Ramro yatra garnuhos)

Do you speak English?


के तपाईँ अङ्ग्रेजी बोल्नुहुन्छ? – 

(Ke tapai angreji bolnuhuncha?)

I don't speak Nepali well


म नेपाली राम्रोसँग बोल्दिन – 

(Ma nepali ramrosanga boldina)

I don't understand


मैले बुझिन – 

(Maile bujhina)

Please speak slowly


कृपया बिस्तारै बोल्नुहोस् – 

(Kripaya bistarai bolnuhos)

Where are the restrooms?


कहाँ शौचालयहरु छन् – 

(Kaha saucalayaharu chan)

Can I change money?


के म पैसा सात्न सक्छु? – 

(Ke ma paisa saatna sakchu?)

How much is this?


यो कति हो? – 

(Yo kati ho?)

It's too expensive!


यो धेरै महँगो छ! – 

(Yo dherai mahongo cha!)

Please say it again!


कृपया फेरि भन्नुहोस्! – 

(Kripaya pheri bhannuhos!)

How do i get to …


(….. कसरि जाने ?) 

Kasari Janey

Left / Right / Straight


(बाँया / दाँया / सिधा)

Daya, Baya, Sidha

Do you have Room available?


(के तपाई सँग खाली कोठा उपलब्द छ ?)

(Ke tapai sanga khali kotha uplabda cha?)

I am hungry


(मलाई भोग लाग्यो) –

(Ma lai Bhog Laagyo?)
Learn Number and Time
Zero (0)


(सुन्ना)

(sunna (sun-na))

Half (1/2)


(आदा)

(aadaa (aa-daa))

One (1)


(एक)

(ek (A-kh))

Two (2)


(दुइ)

(dui (Du-ee))

Three (3)


(तिन)

(tin (Tee-n))

Four (4)


(चार)

(char (Char-r))

Five (5)


(पाँच)

(panch (Pa-n-ch))

Six (6)


(छ)

(chha (Cha)

Seven (7)


(सात)

(saat (Sa-at))

Eight (8)


(आठ)

(aath (Aa-th))

Nine (9)


(नौ)

(nau (Na-u))

Ten (10)


(दश)

(dash (Daa-sh))

Hundred (100)


(एक सय)

(ek saye (A-kh sai-ya))

Two Hundred (200)


(दुइ सय)

(dui saye (Du-ee sai-ya))

Three Hundred (300)


(तिन सय)

(tin saye (Tee-n sai-ya))

One Thousand (1000)


(एक हजार)

(Ek Hazar (A-kh Ha-zar))

Two Thousand (2000)


(दुइ हजार)

(Dui Hazar (Du-ee Ha-zar))

One Hundred Thousand (100,000)


(एक लाख)

(ek lakh (A-kh la-kh))

One Million (1,000,000)


(दश लाख)

(dash lakh (Daa-sh la-kh))
Health / Hospital
| | |
| --- | --- |
| Altitude sickness | lekh laagyo |
| accident | durghatanaa |
| asthma | damko byathaa/ damko biraami |
| bleeding | ragat aaunu |
| blood pressure | Rakta chaap |
| contraceptive | garbha nirodhak |
| injection | sooee |
| ointment | malam |
| test | jaanch |
| health | swastha |
| constipation | disaa banda/ dishaa kadaa |
| common cold | rughaa |
| cough | khokee |
| a cut/ wound | ghaau |
| medicine | aushadhi |
| dehydration | paaneeko maatraa kamti bhayeko. |
| food poisoning | khaanaa kharaab. |
| indigestion | Apach |
| doctor | Daaktar |
| faint | Murchhaa parnu |
| malaria | Aulo |
| cholera | Haijaa |
| sprain | Markaaee |
| sore throat | ghaantee dukheko |
| headache | taauko dukhnu |
| toothache | daanta dukhyo |
| dentist | daantako daaktar |
| I have a cold. | Malaaee rugaa laageko chha. |
| Gravely ill | sikeesta biraamee |
| fever | Joro |
| Where is the health post/ clinic/ hospital? | Chikitsaalay/ aspataal kahaan chha? |
| Where is the chemist/ pharmacy? | Aushadi pasal kahaan chha? |
| Where is the dentist? | Daanto ko daaktar kahaan chha? |
| I have to see a doctor. | Ma daaktarkomaa jaanu chha. |
| I have caught a fever. | Malaaee joro aayo. |
| Did you take any medicine? | Aushadhi khaanu bhayo? |
| I am feeling fine now. | Ahile ma theek bhayeko mahasus gareko chhu. |
People
| | |
| --- | --- |
| Boy | Ketaa |
| Girl | Ketee |
| Man | Manchhe |
| Woman | Aimaaee |
On the move – Trekking
| | |
| --- | --- |
| beside the trail | baato chheu |
| on the trail | Baatomai |
| off the trail | baato baahira |
| near the trail | baato najik |
| Let's go slowly. | Bistarai jaau. |
| Let's stay here. | Yaha basau. |
| Stomach ache | pet dukhyo |
| slippery trail | chiplo baato |
| tent | Tripaal |
| Which is the way to 'Jomsom'? | 'Jomsom' jaane baato kun ho? |
| Where have you come from? | Tapaain kahaanbaata aaunubhaeko ho? |
| From 'Jomsom'. | 'Jomsom'baata. |
| It takes four hours. | Haameelaaee chaar ghantaa laagchha. |
| Where can I spend the night? | Baas basna kahaan paainchha? |
| What time do we start our trek? | Kati baje trek shuru garne? |
| How many hours will it take? | Kati ghantaa laagchha? |
| About four hours. | Chaar ghantaa jati laagchha. |
| How is the trail? | Baato kaso chha? |
| Good, but steep. | Raamro,taraukaalo. |
| Is food available there? | Tyahaan khaanaa paainchha? |
Shopping
| | |
| --- | --- |
| How much? | Kati paisa? / kati ho? |
| Please give it to me more cheaply. | Ali shastomaa dinos. |
| It's too expensive. | Dherai mahango bhayo. |
| Please reduce the price. | Mol ali kam grarnuhos. |
| I can only give you (amount) rupees. | Ma (rupees) maatrai dina sakchhu. |
| What is the price of this? | Yesko mol kati ho? |
| What is your last price? | Antim daam kati ho? |
| Was this made inNepal? | Yo Nepaalmaa baneko ho? |
| I need….. | malaaee……. chaahinchha. |
| I don't need…… | malaaee…… chaahindaina. |
| What is this? | Yo ke ho? |
Hotel
| | |
| --- | --- |
| Is there a place to stay here? | Yahaan baas basna paainchha? |
| I need a room. | Ma eutaa kotha chaahanchhu. |
| How much for one night? | Ek raatko kati ho? |
| Can I see a room? | Ma kothaa herna sakchhu? |
| Please bring water/ boiled water. | Paanee/ umaaleko paanee lyaaidinos. |
| This room is dirty. | Yo kothaa phohar/ mailaa chha. |
| Do you have a room? | Kothaa paainchha? |
| I would like a single/ double room. | Malaaee ekjanaakolaagi/ duijanaakolaagi kothaa chhaheenchha. |
Hiring
| | |
| --- | --- |
| I want to rent a bicycle. | Ma saikal bahaalmaa lina chahanchhu. |
| How much do you charge? | Kati bhaada linu hunchha? |
| I am looking for a bank. | Ma baink khojeeraheko chhu. |
| What time does it open/ close? | Kati baje khulchha/ banda hunchha? |
| Where is the American Express office? | American Express ko aphis kahaan chha? |
| Where can I exchange my money? | Ma paisaa kahaan saatna sakchhu? |
| Can you give me smaller change for this? | Malaaee yesko khujura dina saknuhunchha? |
| I want to change my traveller's cheque. | Ma mero travalars chek saatna chahanchhu. |
Police
| | |
| --- | --- |
| Today I lost my bag and passport. | Aaja mero jholaa ra raahadaanee haraayo. |
| Someone stole my bag. | Mero jholaa choree bhayo. |
| My bike got stolen. | Mero baaik choree bhayo. |
| My passport number….. | Mero raahadaaneeko nambar….. |
| I had Rs. 3000 and US$ 200 in my wallet. | Mero jholaamaa teen hazaar Nepaalee rupaiyaan ra duee saya Amereekee dallar thiyo. |
| Where is the police station? | Pulis stesan kahaan chha? |
Months
| | |
| --- | --- |
| April-May | Baishaakh |
| May-June | Jeth/ Jestha |
| June-July | Asaar |
| July-August | Saaun/ Sraawan |
| August-September | Bhaadra |
| September-October | Ashoj |
| October-November | Kaartik |
| November-December | Mangsir |
| December-January | Pus |
| January-February | Maagh |
| February-March | Phaalgun |
| March-April | Chaitra |
Days
| | |
| --- | --- |
| Sunday | Aaitabar |
| Monday | Sombaar |
| Tuesday | Mangalbaar |
| Wednesday | Budhabaar |
| Thursday | Bihibaar |
| Friday | Shukrabaar |
| Saturday | Shanibaar |
| today | aaja |
| tomorrow | bholi |
| day after tomorrow | parsee |
| yesterday | hijo |
| in the morning | bihaana |
| in the afternoon | diunso |
| in the evening | belukaa |
| at night | raati |
| tomorrow morning | bholi bihaana |
| this evening | aaja belukaa |
| day after tomorrow morning | parsee bihaana |
Time
| | |
| --- | --- |
| Hour | Ghantaa |
| Immediately | Bittikai |
| time, period | belaa |
| afternoon | diunso |
| day | din |
| evening | belukaa |
| week | haptaa |
| night | raatee |
| year | barsha |
| always | sadhain |
| instant | tak |
| now | ahile |
| What time is it? | Kati bajyo? |
| 1 o'clock | ek bajyo |
| 10 o'clock | dasha bajyo |
| morning | bihaana |
| minute | Mine |
| | |
| --- | --- |
| English Phrase | Nepali Translation |
|  Hello/ Goodbye |  Namaste |
|  How are you? |  Tapain-lai kasto chha? |
|  Excuse me |  Hajur |
|  Please (give me) |  Dinuhos |
|  Please (you have) |  Khanuhos |
|  Thank you |  Dhanyabad |
| | |
| --- | --- |
| English Phrase | Nepali Translation |
|  I |  Ma |
|  Yes (I have) |  Cha |
|  No (I don't have) |  Chhaina |
|  OK |  Theekcha |
|  Where? |  Kaha? |
|  Here |  Yaha |
|  There |  Tyaha |
|  Good/ Pretty |  Ramro |
|  Do you speak English? |  Tapai angreji bolna saknu hunchha? |
|  I only speak a little Nepali. |  Ma ali ali Nepali bolchhu |
|  I understand |  Ma bujhchu |
|  I didn't understand |  Maile bujhina |
|  Please say it again |  Pheri bhanuhos |
|  Please speak more slowly |  Tapai bistarai bolnuhos |
|  I don't need it |  Malai chahina |
|  I don't have it |  Ma sanga chhaina |
|  Wait a minute |  Ek chin parkhanos |
| | |
| --- | --- |
| English Phrase | Nepali Translation |
|  How much to get to ……….? |  …..kolagi kati paisa lagchha? |
|  Is it far from here? |  Yaha bata tadha parchha? |
|  Can I walk there? |  Hidera jana sakinchha? |
|  I want to go ……….. |  Ma …………. Janchhu |
|  Where does this bus go? |  Yo bus kaha janchha? |
|  How much is it to go to ……..? |  ……….jana kati parchha? |
Accommodation
| | |
| --- | --- |
| English Phrase | Nepali Translation |
|  Where is a guesthouse /hotel /campsite/  lodge? |  guesthouse/hotel/campsite/lodge kaha  chha? |
|  What is the address? |  Thegana ke ho? |
|  Please write down the address |  Thegana lekhidinuhos |
|  Can I get a place to stay here? |  Yaha basne thhau paunchha? |
|  May I look at the room? |  Kotha herna sakchhu? |
|  How much is it per night? |  Ek ratko, kati paisa ho? |
|  Does it include breakfast? |  Bihanako khana samet ho? |
Trekking
| | |
| --- | --- |
| English Phrase | Nepali Translation |
|  Which way is ………………..? |  …………………jane bato kata parchha? |
|  Is there a village nearby? |  Najikai goun parchha? |
|  How many hours/ days to …….? |  …………. Pugna kati ghanta/din laagchha? |
|  Where can I get a porter? |  Bhariya kaha payinchha? |
|  I want to sleep |  Malai sutna man lagyo |
|  I'm feeling cold |  Malai jado lagyo |
|  Please give me water |  Malai pani dinuhos |
| | |
| --- | --- |
| English Phrase |  Nepali Translation |
|  I'm a vegetarian |  Ma sakahari hun |
|  What is this/ that? |  Yo/ tyo ke ho? |
|  Food/ meal |  Khana |
|  Bread (loaf) |  (Pau) Roti |
|  Rice/ cooked rice |  Chamal/ bhat |
|  Green, leafy vegetable |  Sag |
|  Meat |  Masu |
|  Vegetable (cooked) |  Tarkari |
|  Lentils |  Dal |
|  Egg |  Anda/ phul |
|  Fruit |  Phal |
|  Sugar |  Chini |
|  Salt |  Noon |
|  Pepper |  Marich |
|  Curd |  Dhai |
|  Milk |  Dudh |
|  Tea |  Chiya |
|  Water |  Paani |
Shopping
| | |
| --- | --- |
| English Phrase | Nepali Translation |
|  Where is the market? |  Bazaar kaha chha? |
|  What is it made of? |  Kele baneko? |
|  How much? |  Kati |
|  I like this |  Malai yo ramro lagyo |
|  I don't like this |  Malai yo ramro lagena |
|  Money |  Paisa |
|  Cheap |  Sasto |
|  Expensive |  Mahango |
|  Less |  Kam |
|  More |  Badhi |
|  Little bit |  Alikati |
Health
| | |
| --- | --- |
| English phrase | Nepali Translation |
|  Where can I find a good doctor? |  Ramro daktar kaha paincha? |
|  Where is the hospital? |  Yaha aspatal kaha chha? |
|  I don't feel well |  Malai sancho chhaina |
|  I have diarrhea |  Pakhala lagyo |
|  I have altitude sickness |  Lek lagyo |
|  I have fever |  Joro ayo |
|  I'm having trouble breathing |  Sas pherna sakdina |
|  Medicine |  Ausadhi |
|  Pharmacy |  Ausadhi pasal |