Travel News
Trending
Nepal Travel Restriction Related to Covid-19
Nepal expands travel ban to Europe, Mideast. Measures include shutting down of schools, colleges as well as limiting gathering of more than 25 people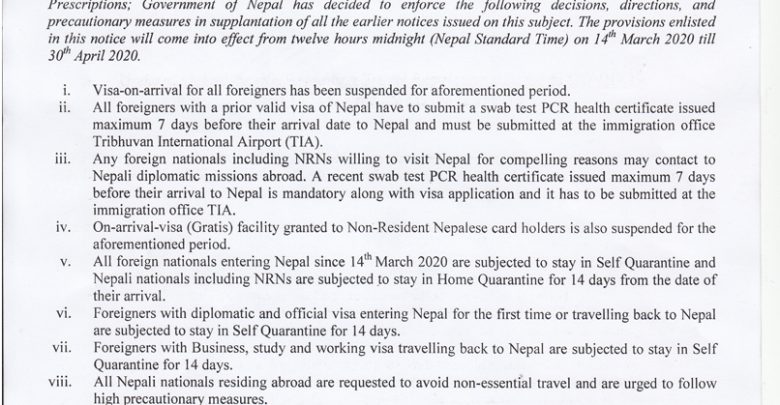 Nepal on Wednesday expanded a travel ban on passengers flying in from all European countries and the Middle East over the coronavirus epidemic.  A high-level task force on coronavirus, led by Nepal's Deputy Prime Minister Ishwar Pokhrel, took the decision to ban passengers — both Nepalese and foreigners — from March 20 to April 15.
Kathmandu also announced that even passengers transiting through those European and Mideast nations are barred from entering the country. The move followed an earlier decision that banned travelers from eight Asian and European countries worst hit by the virus, officially known as COVID-19.
The country, so far, has only one confirmed case of coronavirus.  The government has ordered closure of schools, colleges, cinema halls, gyms, clubs, swimming pools and museums until April 30.
It also banned gathering of more than 25 people in social and religious activities, urging people to not travel on crowded public transport and asked owners to disinfect their vehicles. Wednesday's move came in the wake of similar restrictions by neighboring India, with which it shares an open border.
Worldwide, out of over 200,000 confirmed cases, the death toll now exceeds 8,200, while more than 82,000 patients have recovered, according to data compiled by Johns Hopkins University in the U.S.
The World Health Organization has declared Europe the new epicenter of the virus, after first emerging in Wuhan, China last December.
Now, let's check the latest update issued by the Department of Immigration in Nepal.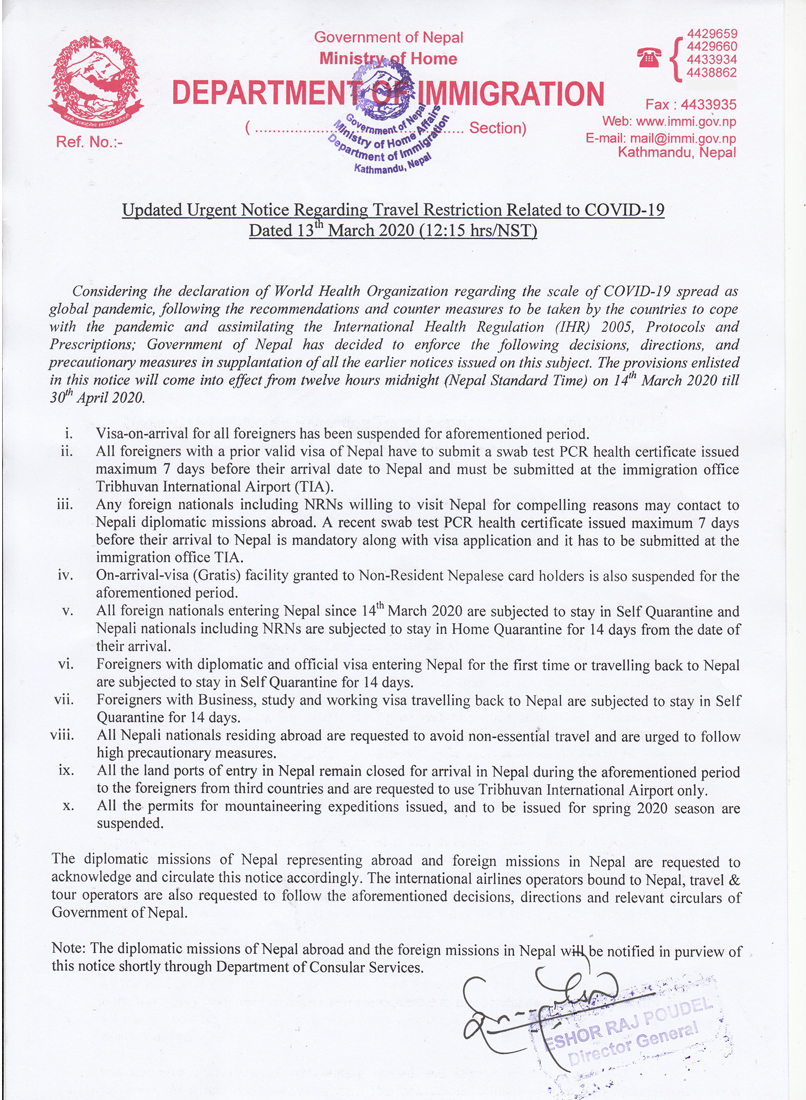 What is CoronaVirus(COVID-19)?
Coronavirus is a type of virus which are of different kinds. These viruses are common in different animals but most of them do not infect human beings.
COVID-19 is the name given to the disease caused by a new kind of CoronaVirus which was originated from Wuhan Province in China. Cough, fever and shortness of breathing are the major symptoms of COVID-19 virus. And sometimes, it can be severe and may result to death. It can easily get transmitted from one person to another. And so far, there is no such vaccine yet to cure this disease and is diagnosed with a laboratory test.
How to get protected from the Novel CoronaVirus(COVID-19)?
Here are some of the ways provided by World Health Organisation in order to get protected from COVID-19.
Frequently Hand Washing:

This is the best way to protect yourself from any kinds of viruses. Washing hands with soap and water or with alcohol(e.g sanitizers) kills viruses presented in your hand/s.

Maintain Social Distance:

Avoiding contact with a person is another method to be protected from viruses like COVID-19. Instead of greeting people with a hug or handshake, start with the Nepali way of greeting people (by doing Namaste).

Avoid touching mouth, eyes and nose:

If your hands are unwashed then, its recommended not to touch the sensitive parts like mouth, eyes and nose . The virus may easily transmit through these sensitive organs.

Follow respiratory hygiene :

If you're infected with any kinds of viruses like coughing, sneezing, then you should cover your nose, mouth with mask or tissues and drop them immediately (into the dustbox/ garbage bin).

Stay informed and follow advice:

Stay updated with health news or national health authorities to get latest info regarding the spreadness of coronavirus(COVID-19) and be alert accordingly.

Seek medical care in case of emergency:

Do not neglect if you've got signs that may predict COVID-19 then, please call or visit local health authority and follow the provided direction.
Now, after getting some introductory info regarding CoronaVirus, it's time to discuss its global impact. So, what is the situation worldwide?