Trekking Agencies
Népal Aventure
Sur notre site, nous vous proposons plusieurs circuits de trekking au Népal, durant lesquels vous serez toujours accompagné par un de nos guides natifs de la région. Vous profiterez donc durant votre randonnée au Népal des conseils avisés d'un professionnel et pourrez découvrir les plus grands secrets du pays, souvent cachés aux simples touristes.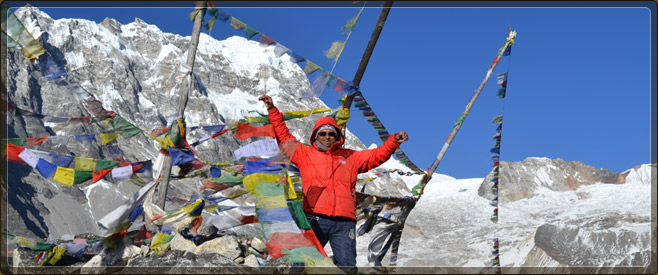 Un trek au Népal est le meilleur moyen de découvrir ce pays, véritable carrefour civilisationnel et culturel aux confluences de deux religions. Vous pourrez vous balader à travers les ruelles aux innombrables temples des cités royales de Bhaktapur et de Patan ou de la trépidante Katmandou. Vous pourrez aussi profiter d'un trek au Népal pour partir à la rencontre des ethnies sherpa, gurung ou tamang. Les plus aventureux s'élanceront pour des marches plus longues et engagées leur permettant de se rendre dans des lieux époustouflants en direction des sommets. Les Annapurnas, le Langtang, le Mustang ou encore la région de l'Everest représentent un terrains de jeux fantastiques pour pratiquer la marche à pied. Vous serez à coup sûr sous le charme et prêt à partir faire un trek au Népal.
Nepal Aventure vous invite à découvrir le Népal, ce pays aux saveurs envoûtantes au cœur de l'Himalaya. Ce paradis du trek saura se faire apprécier autant par ceux et celles qui sont animés par des envies de découverte des modes de vies locaux que par les sportifs à la recherche d'un challenge. Quelles que soient vos envies, un trek au Népal vous amènera dans des lieux mythiques et à la rencontre de cultures ancestrales pour un dépaysement total.
NEPAL AVENTURE (P).Ltd comprises of well-educated and ecologically -concerned staff of very high standards. Our primary goal is to present you with wonderful traveling opportunities and culturally enriching adventures. We pride ourselves on the level of experience that every one of our guides. They have trekked and guided in all regions of Nepal.
Népal Aventure a le plaisir de vous proposer des programmes dans chacune des régions de ce haut-lieu du trek vous assurant à coup sûr de trouver le trek au Népal de vos rêves.